2015-16 week three reports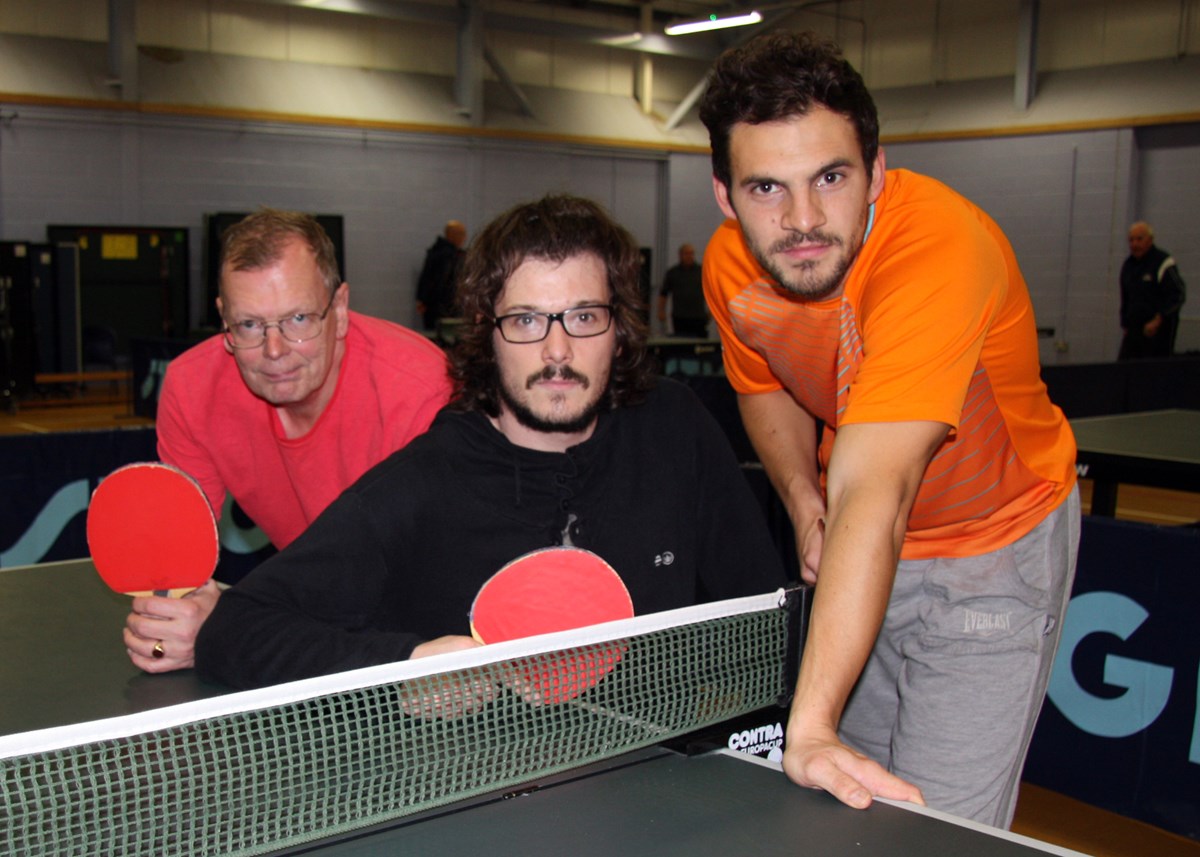 The Hit Squad - from left: Guy Whiting, Ross Dransfield, Richard Dent
*** Player of the Week - TONY INGHAM (Picadore B) ***
SCARBOROUGH FLOORING Division One
THE HIT SQUAD 8 v WHITBY SPRINGHILL 2
Ross Dransfield and Richard Dent blew away all the opposition for the Hit Squad. Both players looked in terrific form and won all their singles and the doubles together. Dransfield in particular went through all his rubbers without dropping a set. Whitbys reply came from Bob Evans and Barbara Kearney who both beat a defiant Guy Whiting.
ROLO 8 v CORINTHIANS B 2
Rolos Ethan Lowe had a great night by winning difficult rubbers against both Pete Kirk and Ed Wardman. He celebrated a hat trick by having a straight set win over Trevor Teasdale. Team-mate Ben Rowe had to be content with a single after narrowly losing to Wardman 9-11 in the decider. Martin Lowes treble and a doubles triumph with Rowe were the victors other scorers. Corinthians other win came from Pete Kirk.
HACKNESS A 7 v BRIDLINGTON OLD BOYS 3
A predictable scoreline with Ashley Hodgson winning all his rubbers for Hackness in straight sets. In form Neil Raine lost out on a treble, losing to Brid number one Simon James. Raines match with Mark Chajecki was the game of the night, Raine edging it 11-9, 11-5, 4-11, 11-9. Raine also partnered Ashley Hodgson in a doubles win. James Hodgson added a single for Hackness. Brids reply came from a james brace and a single for Chajecki
CORINTHIANS A 10 v HACKNESS B 0
Hackness B put up a brave fight but found the Corinthian trio of Mark Marshall. Glen Hodgson and Dale Symons in fine form. All three Corinthians scored trebles with only Hodgson dropping a set. A resilient Chris Found had offered some resistance before losing 15-13, 4-11, 9-11, 9-11 to Hodgson. The doubles was won in straight sets by Marshall and Hodgson.
SCARBOROUGH FLOORING Division Two
PINDAR 5 v PICADORE B 5
A terrific unbeaten display by Tony Ingham gave Picadore a share of the points. He got the better of both Nigel Clapham and Guy Hutchinson over five hard sets. Ingham then recorded a shock doubles win with partner Steve Atkinson. They beat Clapham and Hutchinson by taking the decider 12-10. Atkinson was Picadores other scorer. Pindars reply came from a brace each for Clapham and Hutchinson and a single for Mick Holder.
WHITBY ENDEAVOUR 8 v SCALBY OLD BOYS 2
Whitby continued their fine start to the season with an eight point win. Barry Davies remained unbeaten while Graham Cripps and Jon Parkinson hit a brace each. Scalbys best player was Allistair Hutchinson who lost out on a treble by losing to Davies 13-11, 5-11, 6-11, 4
HOBNOBS 5 v PICADORE A 5
A rejuvenated Nigel Hird was a thorn in the side to Hobnobs. Hird won all his singles despite missing all of last season due to injury. Team-mates Martin Zammit and Chris Smith scored singles. Smith had a great win over Derek Harris 10-12, 12-10, 11-7, 7-11, 11-9. Hobnobs reply came from an Allan Thurling brace, singles for Harris and Ajay Tandan plus a crucial doubles victory.
SCARBOROUGH NEWS Division Three
DELPHSTONE 6 v ROGUES N JOSHERS 4
A close dual dominated by Delphstones Jon Wanless who enjoyed straight set wins in all his rubbers. Will Wanless nearly copied his father by hitting a brace. Will just lost out to Tom Wild by losing the decider 11-13. Brother Chris had a great win in five sets to register the six point triumph. Rogues reply came from new signing Tom Wild who hit a brace
LIBERATORS 7 v SCALBY SCHOOL 3
Game of the night saw Brian Goodliffe stage a great comeback to defeat Scalbys Luke Howland. Goodliffe took the last two sets 11-9, 13-11 against the promising junior. His unbeaten display and a doubles success in the doubles with Karl Cousins was added by a Cousins brace and single from Kath Edwards. Howland won his other two singles for Scalby and Will Rennard was their other scorer.
NEWBY JFS 7 v EASTFIELD TERMINATORS 3
Two new teams in the league gave a good account of themselves. Newby turned out victors thanks to another treble by Sam Lowe. The Newby youngster showed remarkable composure to defeat Peter Ozon and Jonathan Woodhead in four hard sets and then paired up with Jack Louth for a doubles triumph. A Rod Ives brace and a single for Frazer Ives were Newbys other scorers. Eastfields Peter Ozen impressed for the losers with a brace and Woodhead was rewarded for his efforts with a single.
Author:
Peter Lee
via Scarborough Table Tennis League
Article Published:
Last Updated: