In 1939 a 16 year old Johnny Leach won the Romford Men's
table tennis championships. Ten years
later Johnny went on to win the World Singles Crown (in 1949), a feat he
repeated in 1951. Johnny is one of only
12 players to have ever won the world singles title twice and one of only 2 English
men to have won it at all, the other being Fred Perry who also won 3 Wimbledon
tennis titles.
The Romford table tennis league was founded in 1937 and this
year celebrated its 76th anniversary. In its heyday it boasted 8 divisions and over
80 teams, all based within 10 miles of Romford town centre. Those teams were littered with some of the
top players in England.
Reflecting the sport in general the Romford league suffered
a decline from the early 80's onwards as teams, players and venues
decreased. The increasing costs of
premises (still a factor today) plus the disappearance of work based sports and
social activities caused a loss of venues which have been impossible to
replace. A lack of sponsorship and TV
appearances resulted in the sport losing popularity across the country and so
as the older generation retired there was no one to take their place.
Now the league is much smaller with teams such as RAF
Hornchurch, Romford Press and Romford Brewery consigned to its history books.
The factors which have affected the Romford League have also
affected the game nationally. It's a far
cry from when Johnny Leach would pack out venues such as Wembley or from when
he had his own weekly column in the News of the World – but it is not all doom
and gloom.
Just over 10 years ago a few volunteers took the bold step
of setting up a coaching club with the idea of training young players in order
that they may compete in the Romford league.
They welcomed guest coaches such as Desmond Douglas (former world number
7) and steadily began bringing young talent back into the league. Now those young players are competing across
all the divisions and this year one of their prodigy's became county under 13
champion.
In schools, table tennis is seeing something of a
renaissance. With the help of Havering
Borough Council during 2013 the league has been able to send coaches to 4
different secondary schools to help bring table tennis to PE lessons and run
after school clubs.
Nationally the game itself is also on the rebound. Table tennis is one of only 5 sports to show
an increased level of participation since 2005 and last year showed a further
increase with nearly 250,000 people now playing the game at least once a month.
The Romford League may not see another Johnny Leach, but it
remains competitive and with junior coaching sessions now running on a Tuesday
evening at Coopers Company & Coborn School in Upminster and a Saturday
Morning at Bretons Farm in Rainham, perhaps the league has another 76 years
ahead.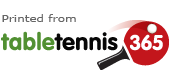 This image is the true size it will appear on your website.
Close Preview
Close Preview

Last Updated: