PTTA takes part in Preston Sports Fest 2016
This summer saw the launch of Preston Sports Fest taking place over the two weeks following the much anticipated 2016 Rio Olympics. Did you know your league took part?
Switch on to That's Lancashire 6pm ( freeview channel 7) on Saturday night (10 Sept, 2016)
You may get a surprise.
Our leagues aim is to promote public interest in the game of Table Tennis and good fellowship among its members so it made sense to also take part in Preston Sports Fest 2016 and help encourage people in our local community to get active and take some part in table tennis - one of the sports showcased in the games.
Over the course of 2 weeks (27th August - 11 September) we opened our doors to people of all ages and abilities and ran sessions where they could turn up and play for free to give them a taster of how much fun table tennis can be.
On Monday nights at our coaching session, we saw an increase in young children attending for the first time. On Friday nights our social sessions saw a big increase in "new" people trying out table tennis for the first time, not only juniors but also a lot of seniors and families. Some came down because they'd never played on a "proper" table before and wanted to see what it was like and have fun. Others were interested in getting better and wanted to try out the excellent facilities and coaching sessions we provide as a club at the St Augustine Centre (does anyone remember turning up to play Deepdale and having to walk through a pub to an out house, climb up some steep stairs more like ladders and sit in what felt like a loft, with portable heaters blasting out to stop you freezing to death in winter and no toilets - unless you fancied running the gauntlet of the dogs back in the yard and walking through the pub to get to them)?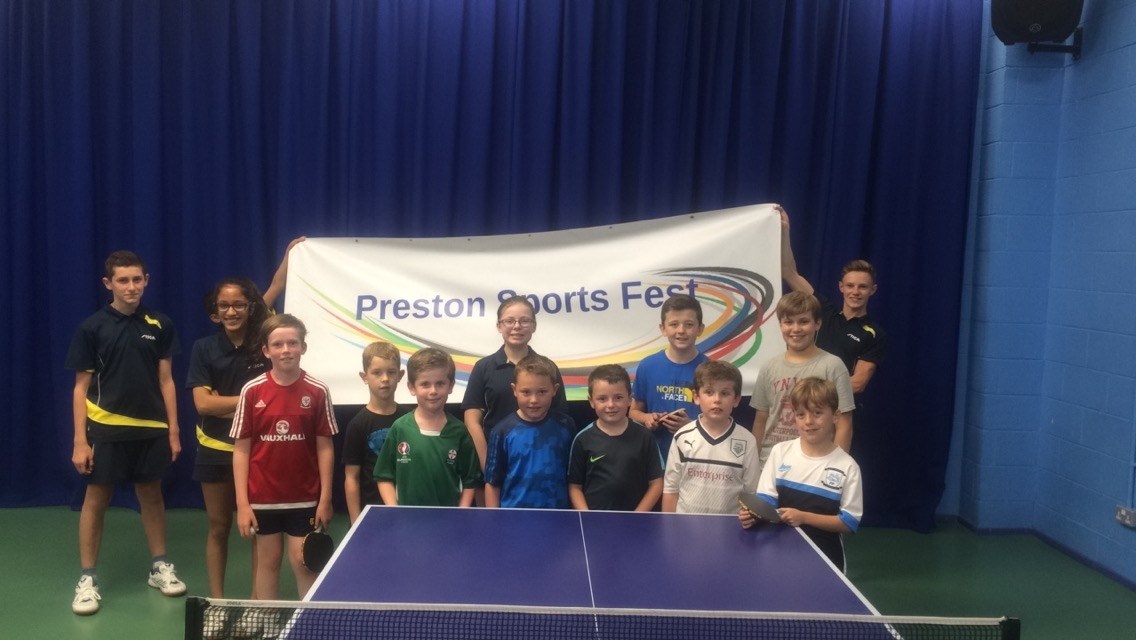 Preston Juniors and Cadets welcome new players to Preston table tennis as part of Preston Sports Fest 2016: Photo courtesy of Jessica Clegg Preston Sports Forum

But it's not just about "giving away" a few taster sessions. As a Table Tennis England Premier League Accredited Club, we are required to involve our community in playing and enjoying table tennis. If we don't we can lose that accredited status and if we lose that status we can lose funding and have trouble getting grants (yes, we apply for and receive grants to help develop table tennis in Preston, support our Junior and Senior / Vets City Teams and replace equipment on your behalf). And if we lose funding, that means you'll have to pay more if you want to play table tennis in Preston. So it's in everyone's interest we take part in these types of events.
But it doesn't just end after September 11th. Not only are we required to increase the numbers of people playing table tennis for the first time, Preston Sports Forum is also interested in us keeping at least some of those players playing table tennis and they'll be checking up on us to see if we can deliver on that goal. For us that doesn't just mean getting people to try one session, it means bringing them back week after week and maybe even starting to play in our league. And that means we will have to compete with lot's of other sports in Preston for peoples valuable time and getting people to want to play table tennis more than other sports. And that means we need to find ways to keep bringing people back, week after week and to do that we need volunteers to support these types of initiatives.
If you have any ideas on how we can promote table tennis in Preston, or you want to volunteer to help us do this please contact any member of our Executive Committee. We can't do this without you.
And remember, you're all ambassadors for Preston Table Tennis. If you know someone - family, friend, neighbour, work colleague who you think might enjoy playing table tennis, why not point them in our direction.
More information about Preston Sports Fest 2016:
Author:
Paul Grayham
via Preston Table Tennis League
Article Published:
Last Updated: