Semi Final Rounds - Handicap Team Points
Here are the Handicap Team Points for the Semi Final Rounds of the Handicap Knock Out Cup and Plate Competition 2017-18, which is due to take place next week. (See attached Handicap Fixture List and Table which include Handicap Team Points).

Semi Final Rounds - Handicap Knock Out CUPCompetition
Archway D (170) vs Huntingdon A (26)
Hampton D (107) vs Hampton Juniors (260)

Semi Final Rounds - Handicap Knock Out PLATE Competition
Hampton A (62) vs Lovells (97)
Warboys A (180) vs Whittlesey A (141)

I must also remind you all again that it is the responsibility of BOTH Team Captains (at the time of the match) to ensure that the Scorecard is readable, completed correctly and is sent in with 72 hours (3 days) of the match being played.
Please make sure if you have to postpone a Handicap Match that firstly you make sure you inform myself of this, secondly that match may not be postponed beyond the Friday of the week preceding the next round.
If match has been postponed then the Completed Scorecard will need to send on the night of the rearranged Match.
Semi Final Rounds must be played before Friday 27th April 2018.
Please email your Completed Handicap Scorecards to this address: - padtta.fixturessecretary@gmail.com.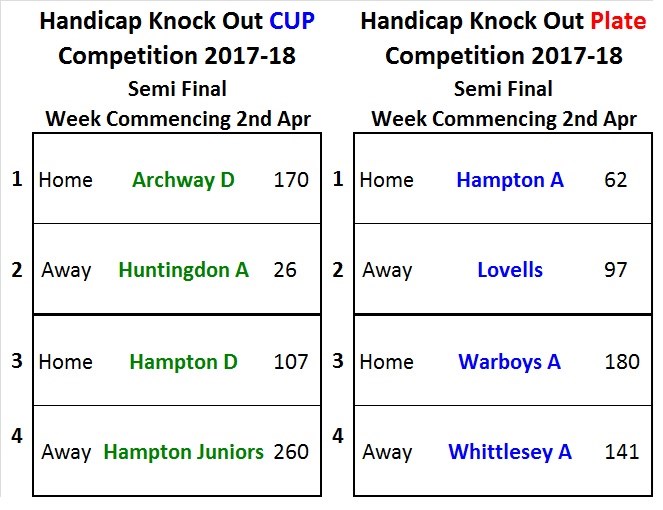 Author:
Pauline Williams
via Peterborough Table Tennis League
Article Published:
Last Updated: