Finals - Handicap Knock Out Competition 2017-18
The Finals for this season's Handicap Knock Out Competition have now come to a conclusion. I would like to congratulate all the Teams Captains and Team Members for a great Handicap Knock Out Competition.

Here are the Teams that have got through to the Final Rounds.

Final Round - Handicap Knock Out CUP Competition
Huntingdon A vs Hampton D
Venue: - Warboys Table Tennis Club.
Venue Address: - Warboys Sports & Social Club, The Sportsfield, Forge Way, Warboys, Huntingdon PE28 2TN.
Date: - Tuesday 1st May.
Start Time: - 7.30pm.

Final Round - Handicap Knock Out PLATE Competition
Hampton A vs Whittlesey A
Venue: - TBC
Venue Address: - TBC
Date: - TBC
Start Time: - TBC

As before, I will be advising all Team Captains and Club Secretaries of their Teams Handicap Points on either Friday 27th or Saturday 28th April.

I must remind the Teams who are playing in these 2 Finals that it is the responsibility of the Home Team to provide the Blank Scorecard, a brand new (never used) 40mm Plastic ball even though you will not be playing these Matches at Home.

I would hope that as many Club Secretaries, Team Captains and Teams Members will come along and support both Teams at the host venues.

Please email your Completed Handicap Scorecards to this address: - padtta.fixturessecretary@gmail.com.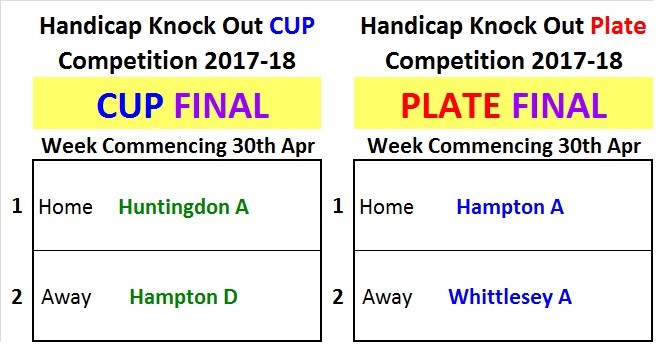 Author:
Pauline Williams
via Peterborough Table Tennis League
Article Published:
Last Updated: