County Junior Championships at Harlow Sat 1st December
Todd and Pelin steal the show
Division 2C
v Hertfordshire lost 4-6
v Essex 2 won 6-4
v Bedfordshire lost 4-6
v Suffolk drew 5-5
Overall record: played 7, won 3, drew 1, lost 3: 36 (F) -34 (A)
For the second half of the programme, held at Batts TTC in Essex, we introduced three new players, with Lilli Foreman (Banbury) making her debut at this level, likewise Robbie Greenfield (Didcot) and Arthur Anstis (Oxford). First up we took on table-toppers Hertfordshire, who had strengthened their team with two new number ones, Finley Cameron-Prior and Samadhi Udamulla. Todd Stanmore, not long turned 13, has been the backbone of this team, and once again delivered a superb performance to beat both Finley and Samuel Flaum. Kiarash Shaddel also had a great win over Finley (a top 100 junior), but the other three boys' singles were lost. Kiarash has made a brilliant effort throughout this competition – I don't think anyone could have given more for the team – but to my mind the biggest revelations were Todd, whose top-spinning game has improved out of all recognition, and another 13 year-old, Pelin Karabulut, who here swept away Samadhi (junior ranked 35) with her brilliant counter-hitting on both wings! Alas, the normally reliable and opportunistic Vicky Coll just didn't get out of the blocks here and Isabelle Lacorte just got the better of Pelin to give Herts a 6-4 victory.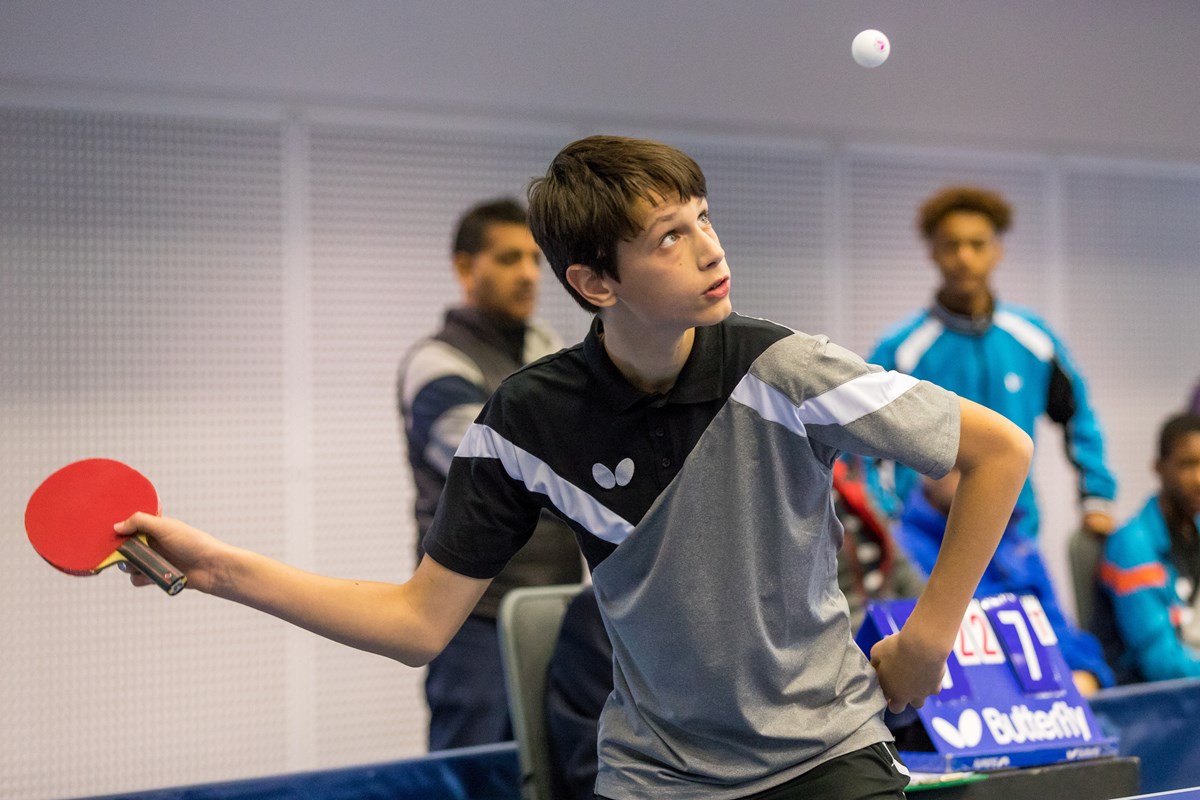 Todd Stanmore with a high toss serve
Pelin Karabulut in action at the Banbury Graded
Our only win of the day came against Essex 2, courtesy of another brace from Todd, one win from Kiarash, two from Vicky and one from Arthur, who gave a fine account of himself and looked the most likely of the players we fielded as no 3.
Todd's amazing run came to an end losing to Bedfordshire no 2 Ben Reddy, after having beaten no 1 Oliver Horswell in straight games. Fatigue was also showing in Kiarash, whose all action style takes its toll against such quality opposition. He tried to save the match for us against Oliver, taking the 4th 11-2 to reach a decider, which he lost 7-11. Robbie took the first from Ben, but at this level opponents and experienced coaches, such as John Alsop, soon come to terms with his defensive style. Pelin had a fine match v Shaniely Edwards, winning at 11-5 in the 5th, and both Pelin and Lilli easily defeated Sirona McLere, but here the girls' three wins were of no avail, as the boys only won one.
We put out our strongest team on the day to face Suffolk, whose boys were the highest ranked trio in the competition. We dominated the girls' events with Vicky and Pelin not losing a single game to Lucy Curtis (ranked 61) and Lucy Needham. What a way to end the day for these two girls, whose overall record was 19/24! Our boys tried manfully to provide some support, but a fading Todd Stanmore was well beaten by top 50 junior Kian Burgess and Kiarash just fell short of forcing a decider v Luke Davies-Stokes (ranked cadet 38) at 12-14 in the 4th. We came to the last two boys' singles with the match tied at 4-4. Todd made a bright start v James Davies-Stokes (ranked junior 63) 11-2, 11-9, then fell away 5-11, 5-11, finally dredging up a big effort to come home at 11-7 in the 5th, against a player he had lost to a few weeks ago. Going for the win, Arthur took Luke to a decider, finally succumbing 6-11 after a huge effort to raise his game to this level. A 5-5 draw against Suffolk was probably our best performance, but in fact our three defeats were all 4-6, so we were very competitive throughout.
With our two talented 13 year-olds and a very able 16 year-old who will only get better, we have the foundation of a strong county side. We will lose Vicky and Arthur next season, leaving a fine opportunity for a third boy and a second girl to join the squad. To make further progress we will need to fill those positions with quality players.
Pelin, Todd & Kiarash could be the foundation of a strong junior side.
Author:
John Birkin
via Oxfordshire County Table Tennis Association
Article Published:
Last Updated: