ENGLISH SCHOOLS CHAMPIONSHIPS
Six Oxfordshire players took part in the Butterfly ESTTA National Championships, with over 300 competitors converging on Aldersley Leisure Village in Wolverhampton on Saturday, 21st April. This is a tough event with only two players qualifying from each group, so effectively you have to be in the top 12 or 16 in the country to get through into the final stages of your age group! This is a harsh reality check for many a young player.
There were no outstanding performances from our contingent. Todd Stanmore did manage to qualify in Under 13 Boys by winning 3/4 matches in his group, but an early 0-3 reverse at the hands of Adam Szabo (South Yorkshire) cost him dear, as it left him taking on the number one seed, Ben Hee (London East), in the last 16: Todd won the first game, lost the next two narrowly and was well beaten in the 4th. Nevertheless there is some consolation for Todd, who will still be in the same age group next year: he is striving to close the gap on the very best and you can see the improvements he is making; he won some brilliant rallies against Ben, who went on to win the English Schools title.
Our next best contestant on the day was Bicester's Christelle Rajapaksa in Under 19 Girls. She made a fantastic effort to reach the final 12, but just fell short. She came from 0-2 down to defeat penholder Karen Chu Kiu Yan (Worcs); then she went a game up against Mollie Patterson (Lincs), the 2nd seed and eventual runner-up, before going down 1-3. There followed a walkover v Hannah Page (Suffolk) and a win over Dominique Williams (Cornwall) at deuce in the 5th. But she lost another nail biter against Temeesha Hobbs (Hants) 8-11 in the 5th, so as to finish 3rd in her group. Christelle will shortly be leaving juniors, but will still be eligible for Under 19s in the Schools' events next season. After a six year absence from the game, she is making a very impressive comeback.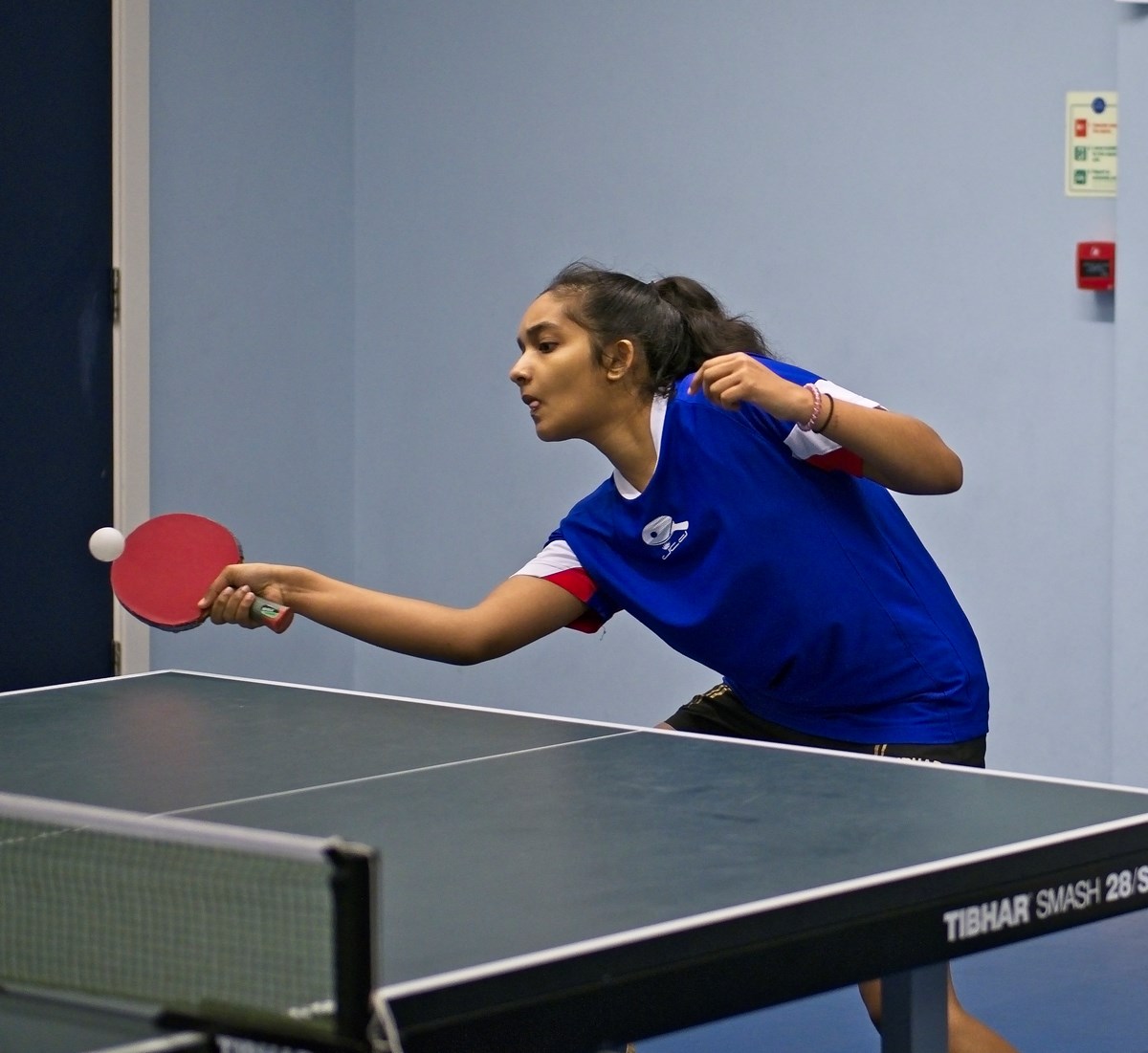 Rafe Fleming pulled off excellent wins over William Fricker (Bucks) and Jensen Hatcher (Cornwall) in Under 16 Boys, taking two of his five matches. He has developed excellent technique and some fleetness of foot over the last year or more; this will stand him a very good stead, as he adds more power to his game.
One of the most remarkable sights of the day was Joseph Fisher competing in Under 11 Boys. Hereby hangs a tale. He's a newcomer on this scene and was looking forward to giving his best in elite company, but broke his elbow on Friday, playing playground football. He was nevertheless determined to take part and pleaded with the medics at Horton General Hospital, who reluctantly allowed it. Thus Joseph commenced battle against England's no 1 ranked player, Oliver Maric-Murray (London South), with his left arm strapped in a sling and using his right arm only to catch the ball and serve! This was always going to be a very disappointing day for him and he eventually retired in some pain, but only after recording a 3-0 victory over James Hobbs (Lincs)!
Pelin Karabulut was placed in a very powerful group in Under 13 Girls, defeating Sofia Pittortou (Hants), but well beaten in her other three matches. Two of her opponents went on to reach the semi-finals and England's 17th ranked cadet girl got eliminated along with Pelin.
Laurence Pennant Jones played four matches in the Under 19 Boys' section and showed moments of real brilliance in some amazing rallies, but he also showed his nerves. In a number of games he got himself into good positions but couldn't finish the job. In his last match he went toe to toe with Jack Green (Wa) and there were some wonderfully aggressive rallies, but sadly he fell just short.
Author:
John Birkin
via Oxfordshire County Table Tennis Association
Article Published:
Last Updated: