Oxford cadets out in force at Cippenham
OXFORD A TEAM 5th in National Cadet League
We were at full strength with nine Oxford cadets in action for the final Sunday of the National Cadet League (South) at Cippenham on 6th March. With both A and B teams promoted and 5 matches to play in an 8 hour + marathon, squad rotation was used throughout.
Hoping to justify our elevation to the 1st Division, the A team (Arthur Anstis, Ollie Keen and Kiarash Shaddel) took on third-placed Reading A: Ollie and Kiarash were delighted to get one win each in a 2-4 defeat. Vicky Coll and Jamie Dagg were introduced against Warren Spring A, also gaining one win each in another 2-4 defeat. There followed two 0-6 losses against the table-topping big hitters of Crusaders A and Chiltern A, one-sided results, but we did not go down without a fight. Kiarash returned for the final encounter with Crusaders B, winning two matches to keep us in the hunt, leaving Ollie to defeat Isaac Fung 3-0 to gain us a draw. Best win of the day was that of Kiarash over Matthew Pang, while Vicky Coll did exceptionally well to take Ajay Potavadoo to 8-11 in the 5th. At the time, we assumed that we had come last, but the final tally revealed that we were level with Crusaders B, actually taking the 5th place medals and consigning them to the bottom of the division on a 12-10 games countback!
The B team quartet of Todd Stanmore, Bertie Anstis, Jack Smith (captain) and Jamie McNeil, appearing in Division 2 for the first time, made a very good job of it. Todd, fresh from making the quarter-finals in the National IAPS Championships, was magnificent throughout and took an 8/8 maximum. First up were Hillingdon A, who had begun the season in Division 1: Todd's wins over Reece Galloway and Luke Sherbourn-Frost paved the way for a 4-2 victory, with vital "assists" from Bertie and Jack. The next match against recently relegated Cippenham A was drawn: Todd's two wins were supplemented by one from Jack. The encounter with Crusaders C provided the brightest highlights, with Todd taken the distance by both Mikaeel Toosy and Will Hart, and then Jamie weighing in with a splendid 3-0 win over Will, giving us another 3-3 draw. Mikaeel is the nationally 8th ranked boy in Under 11s (Todd's age group), so this was a big win for our rising star. We were brought to earth against Chiltern A, who went on to win the division after a 6-0 win. The final match against Ashford A, who went on to finish 2nd, saw Todd brought back for two more great performances, and Bertie and Jack picking up another win each in a 4-2 victory. I haven't seen the final table yet, but I guess we finished a close 4th.
The players ended the season in buoyant mood, as seen in the team photos below. There was plenty of parental support throughout, and the B team was particularly fortunate to have Richard Anstis in charge, with a great gift of leadership for young people, and Carl Stanmore also providing valuable advice. For the A team John Keen was always on hand to offer tactical advice and encouragement. Profuse thanks, as always, go to organiser, Mike Atkinson, who runs an amazing one-man show, keeping us all on our toes, if not quaking in our boots.
A team captain Vicky Coll, Arthur Anstis and B team captain Jack Smith will go up to juniors next season, but it is to be hoped that we will still be able to muster two competitive cadet teams. Todd, even at 10 years and 4 months, is more than ready to move up to the A team. Ollie Keen, Jamie Dagg and Kiarash Shaddel did not disappoint in their efforts at taking on some very talented players in the top division; they have made very pleasing progress over the season and could go on to flourish as Division 1 players. The B teamers also improved a huge amount, and we should have Jamie McNeil and Bertie Anstis back next year. Bertie, in particular, is one to watch, rather in Todd's shadow at the moment, but he is still some way from his 12th birthday and looks to have bags of potential.
John Birkin (City Team Manager)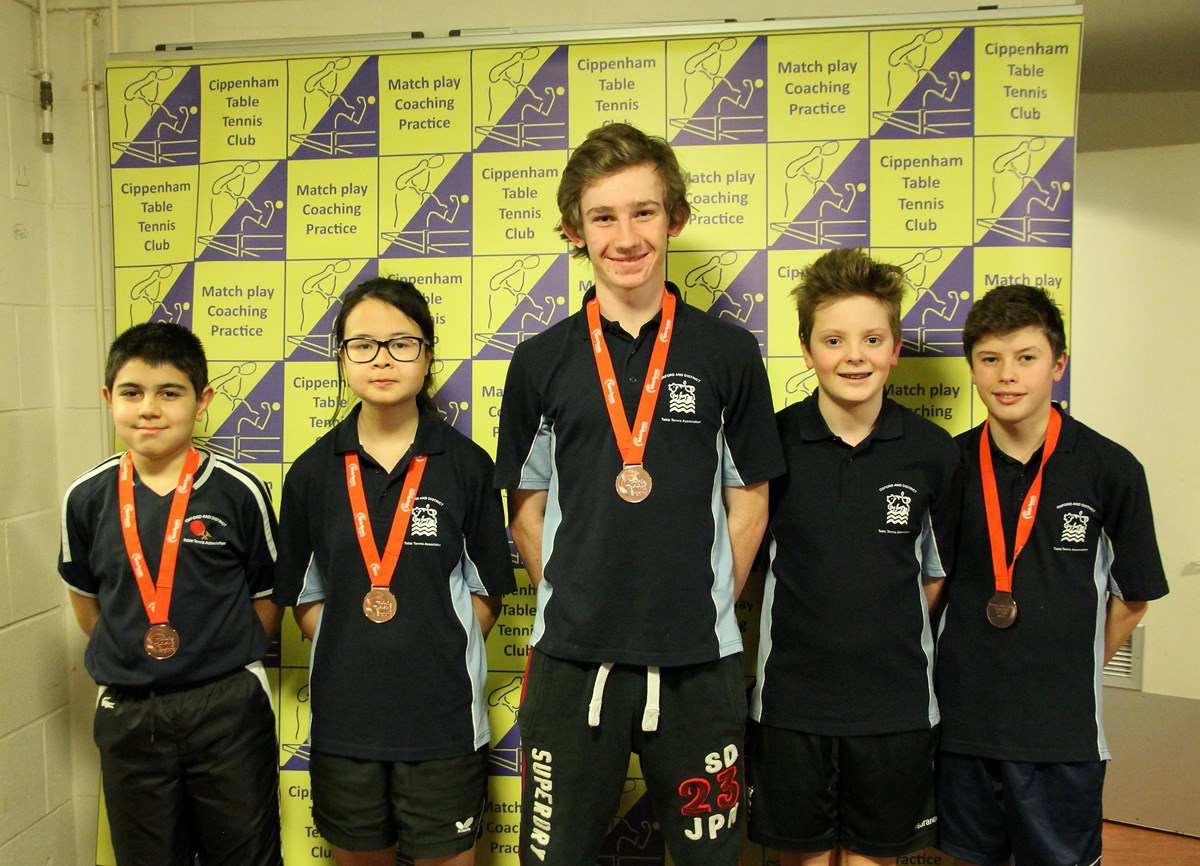 The Oxford Cadet A team: Kiarash Shaddel, Vicky Coll, Arthur Anstis, Jamie Dagg and Ollie Keen, with their 5th place medals
B teamers Jamie McNeil, Jack Smith, Todd Stanmore and Bertie Anstis with their certificates for winning Division Two earlier in the season.
Author:
John Birkin
via Oxfordshire County Table Tennis Association
Article Published:
Last Updated: