The Aubrey Hughes Handicap Shield Competition For 2016-17
Handicap system explained (pdf)
Sample completed scoresheet (pdf) (from Didcot league)


Final:

Forum B win
Forum B v Vikings B 404 - 365
Forum B from left Andrew Flint, Jeremy Flint, Fraser Harris and Ross Henderson: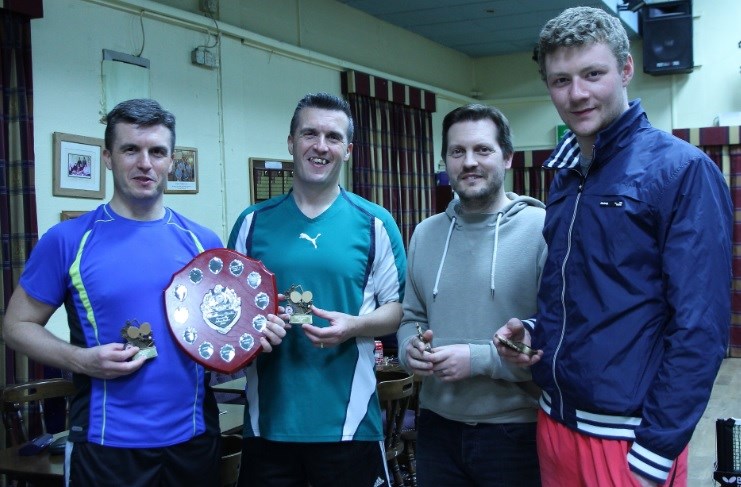 Vikings B from left Mike Aistrop, Simon Cox and Paul Borrowdale:

Semi-finals:


Forum B v Forum E 422 - 407
Holton A v Vikings B 373 - 424
Matches to be played by March 31st.
Second round matches:
Forum E v Vikings C 439 - 363
Forum B v Academy A 413 - 278 (2 players)
Holton A v Forum C defaulted to Holton A
Forum D v Vikings B 375 - 402
Matches to be played by Friday March 3rd.
Schedule for the group stages:

Week 1

Mon Jan 9 Bicester B v Holton C 417 - 414
Mon Jan 9 Bicester A v Forum E 439 - 413
Mon Jan 9 Forum A v Forum D Forum A withdrawn
Mon Jan 9 BR v Academy A 438 - 429
Tue Jan 10 Vikings A v Glads B 415 - 383
Tue Jan 10 Begbroke v Holton A 396 - 430
Wed Jan 11 Forum C v Forum G 432 - 352
Wed Jan 11 Forum H v Vikings C 318 - 414
Wed Jan 11 Forum F v Vikings B 391 - 432
Thu Jan 12 Glads A v Forum B 389 - 426
Week 2
Mon Jan 16 Academy B v Forum A Forum A withdrawn
Mon Jan 16 Vikings C v Vikings A 424 - 422
Mon Jan 16 Bicester C v Glads A 397 - 406
Mon Jan 16 Forum I v Forum F 330 - 354
Tue Jan 17 Vikings D v Bicester A 492 - 440
Wed Jan 18 Forum G v Bicester B 371 - 374
Thu Jan 19 Holton C v Forum C 404 - 429
Thu Jan 19 Bicester D v Begbroke 472 - 423
Thu Jan 19 Holton B v BR 444 - 440
Thu Jan 19 Glads B v Forum H 430 - 380
Week 3

Mon Jan 23 Forum D v Academy B 440 - 386
Mon Jan 23 Vikings B v Forum I 424 - 398
Mon Jan 23 Forum B v Bicester C 439 - 405
Mon Jan 23 Academy A v Holton B 431 - 401
Tue Jan 24 Vikings A v Forum H 431 - 418
Wed Jan 25 Forum G v Holton C 409 - 360
Wed Jan 25 Forum E v Vikings D 429 - 379
Wed Jan 25 Forum C v Bicester B 411 - 366
Thu Jan 26 Glads B v Vikings C 404 - 421
Thu Jan 26 Holton A v Bicester D 401 - 391
Group 1
Forum C Wed 3 150
Bicester B Mon 2 -39
Forum G Wed 1 -34
Holton C Thu 0 -77



Group 2
Vikings C Mon 3 115
Vikings A Tue 2 43
Glads B Thu 1 1
Forum H Wed 0 -159



Group 3
Forum E Wed 1 24
Vikings D Tue 1 2
Bicester A Mon 1 -26



Group 4
Forum D Mon 1 54
Academy B Mon 0 -54
Forum A Mon withdrawn


Group 5
Vikings B Mon 2 67
Forum F Wed 1 -17
Forum I Mon 0 -50



Group 6
Holton A Thu 2 44
Bicester D Thu 1 39
Begbroke Tue 0 -83



Group 7
Academy A Mon 1 21
BR Mon 1 5
Holton B Thu 1 -26



Group 8
Forum B Mon 2 71
Glads A Thu 1 -28
Bicester C Mon 0 -43

Provisional Rules:
1) The competition shall be open to League teams from divisions 1 to 4.
2) Entry will be made and fees paid when teams are registered at the start of the season.
3) The first round of the competition will be arranged on a round-robin group basis, with the winning team of each group going into the draw for the next round. Subsequent rounds of the competition will be on a knock-out basis, with the winning team at each stage going into the draw for the next round.
4) A handicap will be calculated for each player, based on their results in the first half of the league season and the previous two seasons if applicable. For each match, one team will receive zero points and their opponents will receive a point allowance, being one third of the difference between the sum of the handicaps for the players on each side, rounded up to the nearest whole number, subject to a maximum of 375.
5) The team scoring more points, including the Handicap awarded, will be declared the winner of each match. In the event of the points being even, fractional points will be taken into account. If the scores remain even, the match will be awarded to the away team (as shown in the draw). However, if the Final results in a tie, a further doubles rubber featuring different pairings will be played to find a winner. The Handicap for this extra rubber will be one tenth of the match allocation. If still level on points, a third set will be added to the eleventh rubber; with the handicap being one twentieth of the match allocation. Any parts of whole numbers will be rounded up.
6) The winning team of each group in the round-robin stage will be the team with the highest number of wins in the group. If there is more than one team with the same number of wins, the winner will be the team with the largest total points difference. Fractional points will be taken into account in the event of a tie.
7) Specific weeks of the season have been allocated for the first round of the competition. The first named team shall be the home team and matches should be played on the normal Home night as shown in the League Handbook (no confirmation of the fixture is required). However, matches may be played on another mutually agreed night within the weeks laid down by the Tournament Organiser.
8) In the quarter-final and semi-final rounds, the Home team must offer at least two dates for the match, giving reasonable notice to their opponents. Matches must be completed within the timescale laid down by the Tournament Organiser.
9) Any team conceding a match must immediately inform the opponents' captain, their Club Secretary and the Tournament Organiser. Also, they may be liable to a fine, as for league matches, if so decided by the Tournament Organiser.
10) All matches shall consist of nine rubbers of singles and one rubber of doubles, the doubles being played by two of the players of the singles. Each rubber shall be of four sets only. The winner of each set will be the player(s) to reach 11 points first. Order of play will be as for normal league matches, with the doubles rubber played as the last rubber of the match.
11) Players may only participate for one league team, except for appearance as a substitute as allowed by this rule. To qualify for the competition they must have played in at least one ODTTA league match for their team (not including any walkovers) and still qualify under ODTTA rules to play further league matches for that team. In exceptional circumstances these restrictions may be relaxed, subject to scrutiny and approval by the Tournament Organiser, by allowing one substitute for a match. A permitted substitute may only be used once in this role.
12) A completed result card must be posted or scanned and emailed to the Tournament Organiser by the winning team, within 48 hours of the match being played. It must arrive by the Tuesday following the match. Non-compliance will result in a fine, as in League matches. Also, failure to send in a result card may lead to the disqualification of the winning team.
13) All matches shall begin at 7.15 pm prompt. Any player not present when nominated to play shall forfeit all games 11-0. If a team fails to arrive by 8.00 pm the match shall be deemed to be forfeited by them. The opposing team must remain at the venue until 8.00 pm, with a view to commencing the match. In the event of a team not showing, the team not at fault must contact the organiser by e-mail, within forty-eight hours, to claim the match. Teams or players arriving late may incur a fine, as for league matches.
14) The Final will be held at the Gladiator Club, on Thursday, 6th April 2016 (7.15pm start).
15) The Shield will be presented to the winners of the Competition whose Club will retain it for one year. Also, personal mementoes will be presented to members of both teams contesting the Final.
16) The Tournament Organiser will rule on any matters not covered by these Rules. Their decisions will be final and binding.
All communications should be directed to the Tournament Organiser:--
Max Jackson 151 Bagley Close, Kennington, Oxford OX1 5LU Tel: 01865 730009 e-mail: max@jackson6.me.uk
Last Updated: