National Junior League Saturday March 9th Cippenham
Kiarash leader and mastermind
The Kidlington Forum teams took the field for the final bumper session of NJL (S) matches in much better shape than they had been in January, with the Anstis brothers back in harness and Joseph Steane captaining the D team, which brought its numbers up to strength with the recruitment of Rani Khanafer (14). There were five matches to play, a whole division's worth in each division.
Rani Khanafer takes on Cippenham's Kwame Sousseing. Joe Steane looks on.
Arthur Anstis (3) added plenty of verve and fitness to the A team, carrying on where he had left off in raising his game to meet the standard for our Junior County Championships team at Harlow. His hard fought 4/8 gave Kiarash Shaddel (1) and Robbie Greenfield (2) a fighting chance of competing for 2nd place, starting the day well behind Warren Spring A, but tied for 2nd place with Ashford A and just above Reading A. The medals are awarded cumulatively over the whole season and Kiarash had worked out a scheme for deploying our squad of four to best advantage, with Jamie McNeil being the 4th player. We began with a 2-4 loss to the champions elect, but the key matches came later with a fine 5-1 win over Reading and a hard fought 4-2 victory over Ashford. It still went right down to the wire, with Robbie beating Kush Tanna of Cippenham A 11-9 in the 5th from 6-9 down to squeeze out a one point margin over Ashford. Kiarash's 7/8 and Robbie's 6/8 were the standout performances of the day and Kiarash's overall contribution was simply outstanding. Earlier in the season Ollie Keen contributed some vital wins before leaving the team. Over the whole season it was ever-presents Kiarash and Robbie who held it together, with Robbie's BH defence and sharp FH hitting causing plenty of mayhem.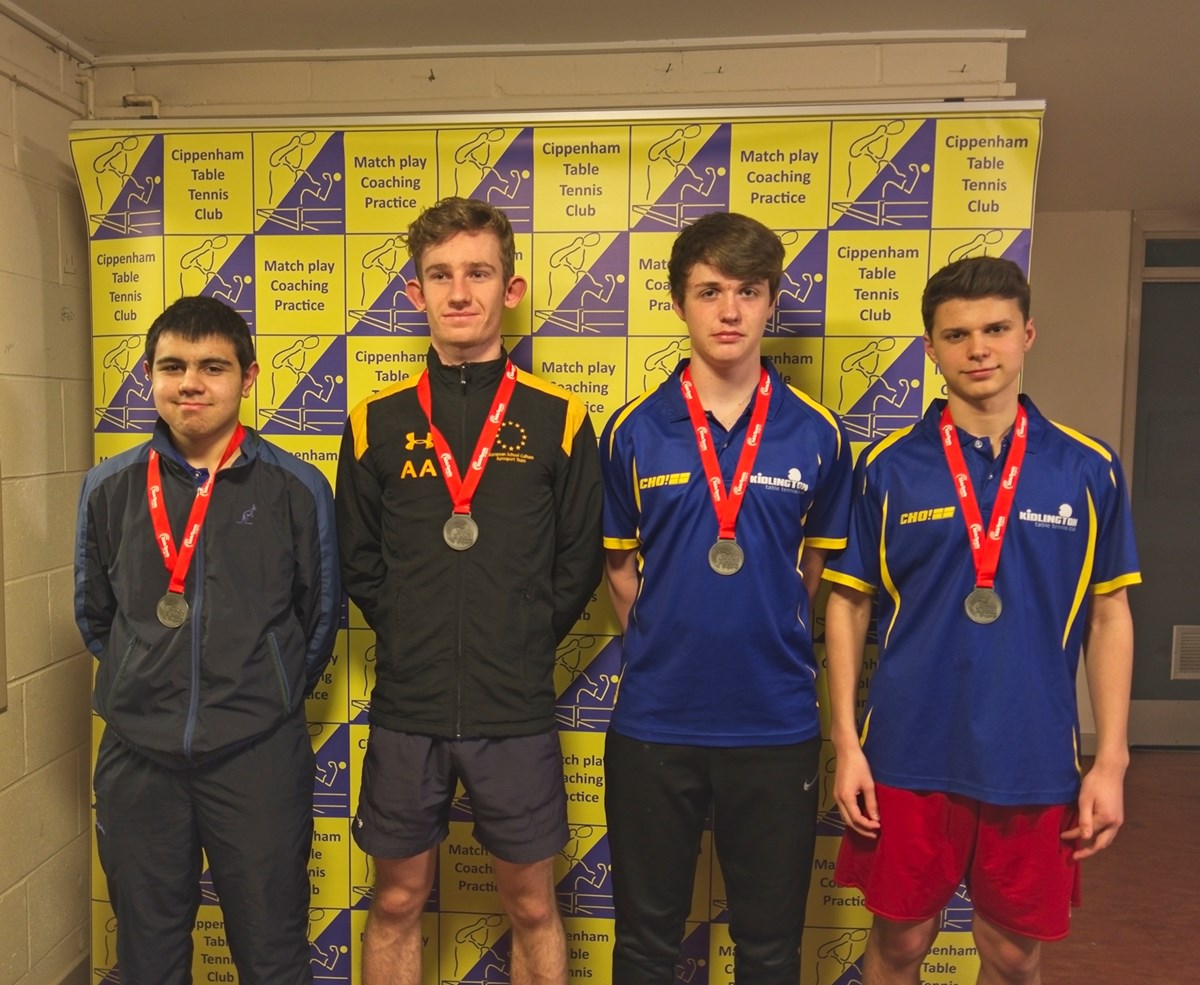 Forum A finished 2nd in Division 1: Kiarash, Arthur, Jamie and Robbie
Bertie Anstis (1) was restored to the B team in Division 2 but was well below par in winning 2/8. Ethan Morgan (2) kept up his excellent form to win 5/8. Jack Smith (3) and Cooper Whitford (4) began the season in Division 3 but found their right level here, competing well and winning 2/6 and 4/6 respectively. The team finished 5th/6, one point behind Cippenham B.
The C team had another fine day in Division 3, led by Ben Hague (2, 9/10) and Scott Campbell (1, 7/10) with Adam Jenner (3, 4/10) faring better this time round. After several fine wins, a 2-4 loss to Chiltern B was decisive, although they ended strongly to finish a close 2nd overall. There was a fine team spirit here, nurtured by Paul Campbell, and plenty of parental support.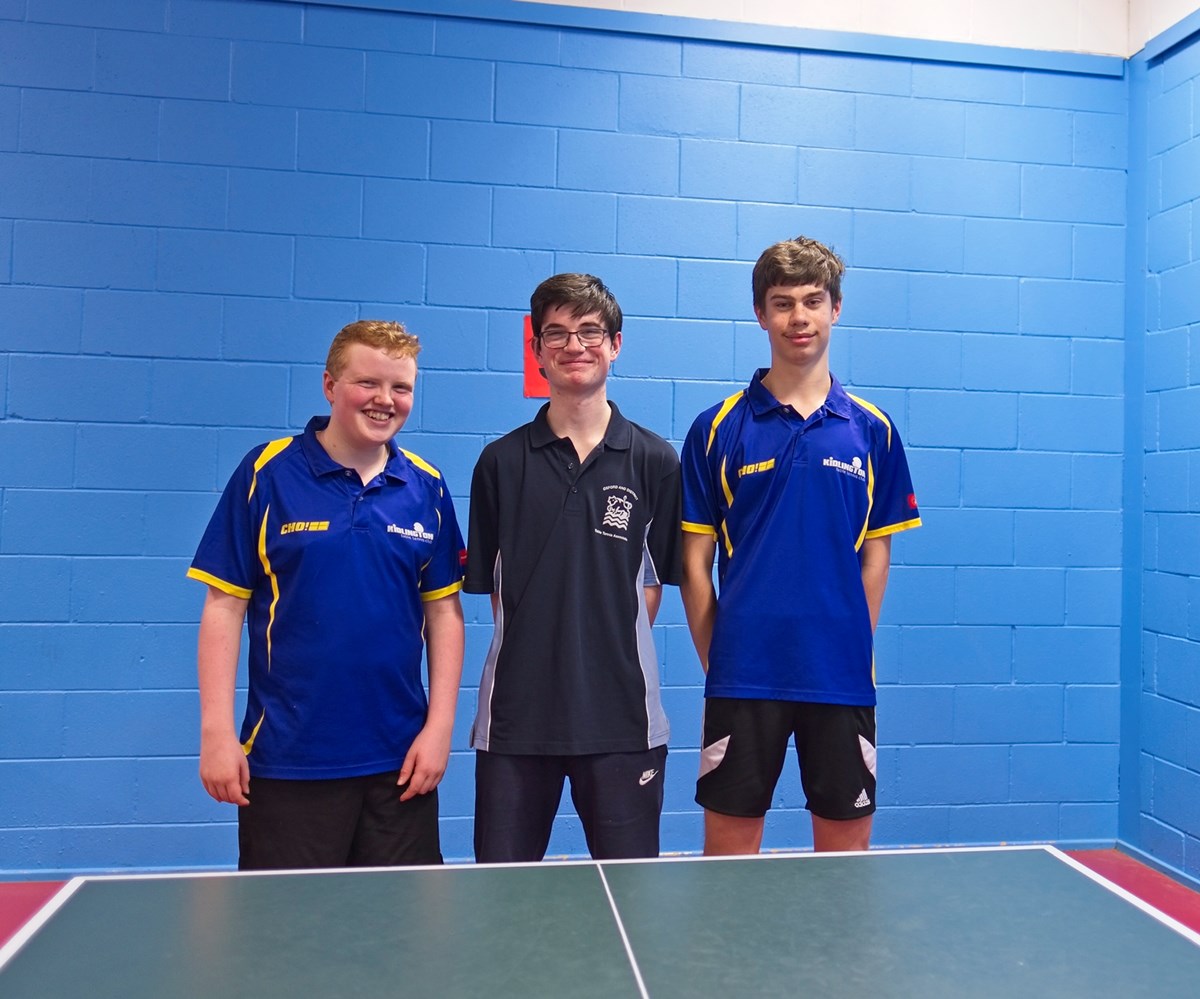 Adam Jenner towers over his C team friends, Scott (L) and Ben (M)
The reconstituted D team competed splendidly in Division 4 with Joseph Steane (1) and Tom Williams (2) giving loads of support to newcomer Rani Khanafer. The first match v Warren Spring D was the toughest: Joe was out of sorts, but Tom got a fine win over Heidi Oestereicher (her only loss of the day) and his two plus one win from Rani salvaged a draw. Tom kept up his form for the whole day, while Rani grew in confidence and as Joe gradually raised his game, the team became more and more competitive, scoring 5-1, 4-2 and 5-1. At the end of round 4, we were level on 17 points with Warren Spring D and Chiltern D, but they had to play one another, while we took on Cippenham C. The team seized this opportunity, winning several very close matches on their way to a 6-0. This was more than enough to take the title, as our two rivals were locked into a much harder battle, ending in a 3-3 draw and leaving us 3 points clear. Tom won 9/10, while Joe won 7/10, as did Rani, a particularly fine outcome on his first trip to Cippenham.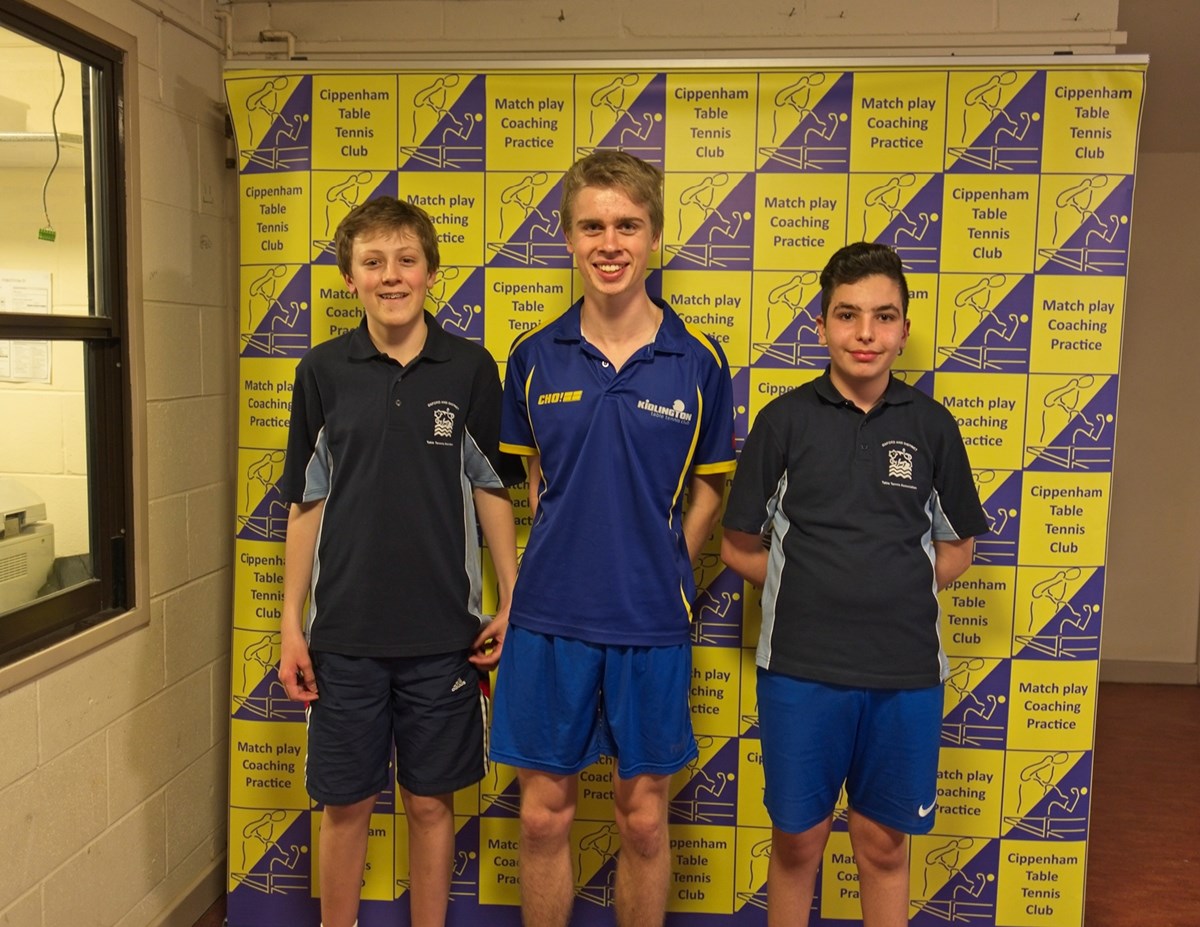 The victorious D team: Tom, Joseph, Rani.
Author:
John Birkin
via Oxford Table Tennis League
Article Published:
Last Updated: