English National Schools Todd Stanmore runner-up
Breakthrough for Todd
Abingdon Prep's Todd Stanmore took the runner-up trophy in Under 13 Boys in the Butterfly ESTTA National Championships at the Aldersley Leisure Village in Wolverhampton on Saturday, 27th April. Todd has been in the top 10 or top 20 English players in his age group for some time, but the best he had ever done previously in a national event (apart from being twice winner at IAPS) was one quarter-final appearance.
This time he had a decisive win over Jake Haygarth (Durham) in the quarter final (11-5, 11-6, 11-7). He also had a straight game victory in the semis over Tom Powlesland (Gloucs), winning with exactly the same score line. In the final Connor Green (Notts) won his second individual title, after picking up the Under 11s two years ago, as he beat Todd 3-0 (11-6, 11-7, 11-8).
Daniel Gifford (Moulsford), taking part in only his third tournament, finished 4th in his group of 6 in the Boys Under 11 event. He beating Connor Austin (East Sussex) 12-10, 11-6 and 12-10 and narrowly lost to Alexander Bloom (Herts), pulling it back to 2-2 after being two games down, with the final two points of five games being a net and an edge: 11-8, 11-9, 5-11, 6-11, 12-10.
Pelin Karabulut (Europa School, Culham) performed well to win three of her five group matches in Under 16 Girls.
For a full report of the whole competition, see here.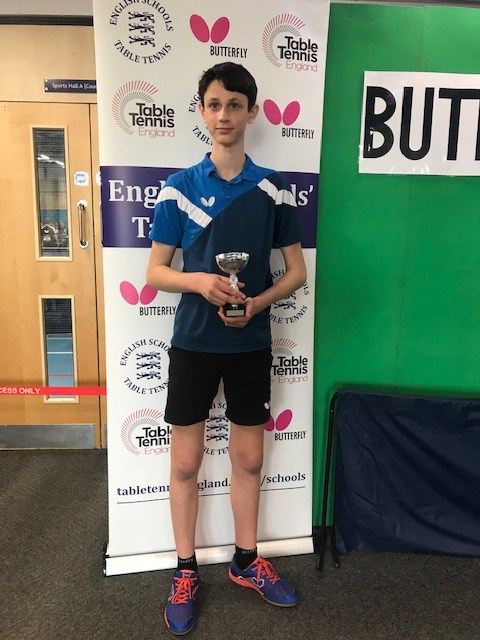 Todd with his trophy, a fitting reward for his tremendous application to the sport.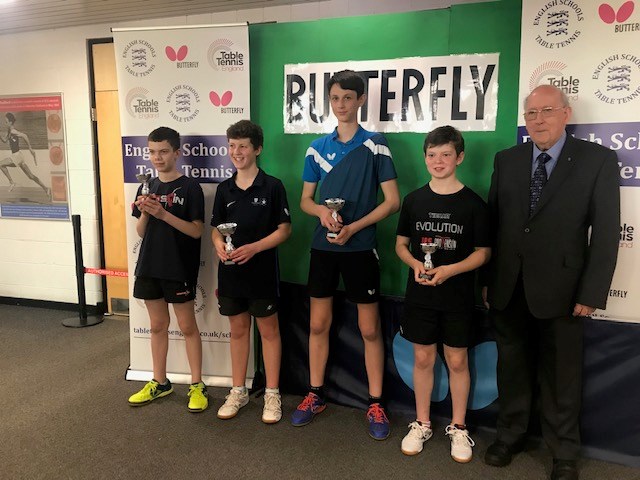 The medallists with John Arnold MBE, former President of ESTTA
Author:
John Birkin
via Oxford Table Tennis League
Article Published:
Last Updated: