NJL Report 2nd session November 24th
National Junior League (South) Cippenham
A team in 2nd place, B team promoted to join them in Division 1

The A team kicked off in 3rd place and managed to hang on in there, in spite of losing 4-5 to closest rivals Reading A in the first match. Kiarash Shaddel, well in command against Johnson Xu and Jamie Barlow, went on to notch up a fine maximum by defeating Rayaan Asghar, to whom he had lost in the Junior County Championships match against Berkshire three weeks ago. Robbie Greenfield also beat Johnson, but Ollie Keen was badly out of sorts, not at the races.
Next up were Chiltern A, also in the doldrums, having to field a substitute and destined for relegation. Here Kiarash claimed an easier maximum, while Robbie and Ollie each won two in a 7-2 victory. This completed the first round of matches and left us still one point ahead of Reading and on equal points with 2nd placed Ashford A, whom we met in the last match of the day, which was in fact the first match of the second round or series. With Kiarash losing to Ayush Buche and Ollie continuing his downward spiral against Artur Bose, Robbie kept us afloat at 2-2 by winning his first two matches. Kiarash then beat Amol Apte and a phoenix rose from the ashes, as Ollie rediscovered some enthusiasm and flair to overcome both Ayush and Amol. Robbie completed a fine maximum, as we sped to a 7-2 victory over a team to whom we had lost 4-5 in the first series, a remarkable turnaround, propelling us into a cumulative 2nd place overall by a whisker. Much was owed to Kiarash with his solid 8/9 providing leadership for his team-mates throughout the day.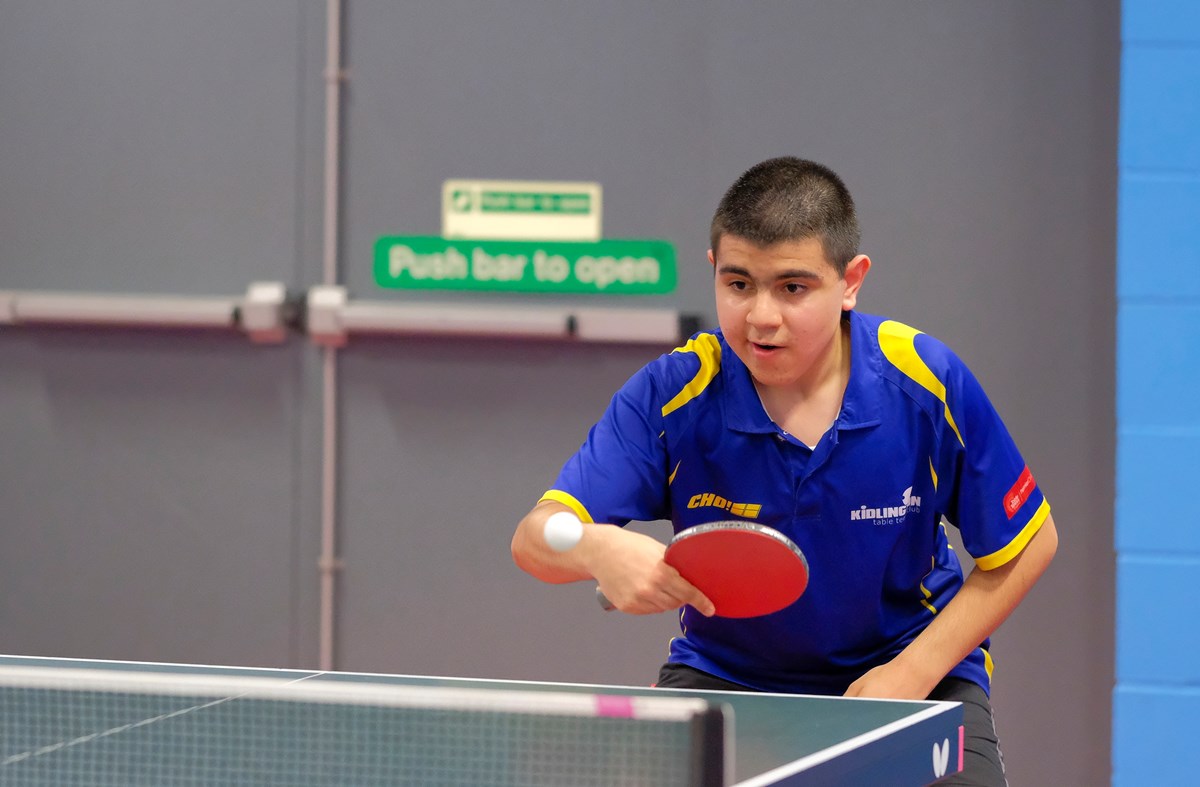 Kiarash Shaddel was on top form at Cippenham
Bertie Anstis and Ethan Morgan joined Jamie McNeil in the B team, replacing Arthur Anstis and Vicky Coll, and inheriting the chance of promotion, having equal points with our first opponents, Warren Spring B. This was a hard fought encounter and the team was held together by the brilliance of Bertie, who had one of those days when everything clicked: his maximum was supported by one win each from Jamie and Ethan in a 5-4 victory. This completely paved the way for promotion as the next match was against bottom side Reading B, while our rivals had a tougher proposition in the form of Cippenham B. We duly consigned Reading to relegation with a 7-2 margin, in spite of Mo Cook's stern resistance. Having reached the promised land of milk and honey, we took on Reading A, the 4th placed team in Division 1; Jamie and Ethan gave a good account of themselves without winning any matches, while Bertie beat both Johnson Xu and Benedict Carless before his run finally came to end at the hands of Rayaan Asghar.
Bertie Anstis piloted the B team into Division 1
The C team's hopes of promotion from Division 3 took a dive at the first time of asking against Chiltern B, who overturned a two point deficit in a resounding 7-2 triumph. This was a fine match, closer than the score suggests, as much turned on the very first battle between Jack Smith and Bilal Mobarik, which went to 12-14 in the 5th. Jack went on to draw a blank, as did Scott Campbell, and it was left to Cooper Whitford to produce fine wins over Bilal and Lawrence Knowles: for Chiltern Alex van der Swart registered a fine maximum. Our fortunes did not improve much against Chiltern C, although Jack got off the mark with two wins and Cooper got one. The team finished 2nd overall.
Meanwhile the Ds, threatened with relegation from the same division, welcomed Joseph Steane into the team and cast care aside with a 9-0 walloping of Warren Spring C. The next match was a fine, evenly balanced sporting encounter with Hillingdon B, resulting in a 4-5 defeat: Lilli Foreman, replacing Ben Hague, won one, as did Joseph, while Tom Williams won two. Thus both our C and D sides stayed put in Division 3 and reprised the first match of the season by confronting each other, but no 9-0 this time, as Ben Hague played a blinder to defeat both Adam and Scott, then went two games up against Cooper, almost winning in three before running out of steam – credit to Cooper for his resilience here, winning the last three games from 9-10, 8-8 and 8-8. Adam and Scott took two each, making it 7-2. With Ashford C promoted from Div 4, Division 3 will be even stronger next time round, a stiff challenge for our C and D teams.
Special thanks go to team managers Farshad Shaddel, Richard Anstis and Paul Campbell for their tactical advice and gentle counselling. Without this knowledgeable and sympathetic support from parents, it would not be a sensible idea to run four junior teams in the National League!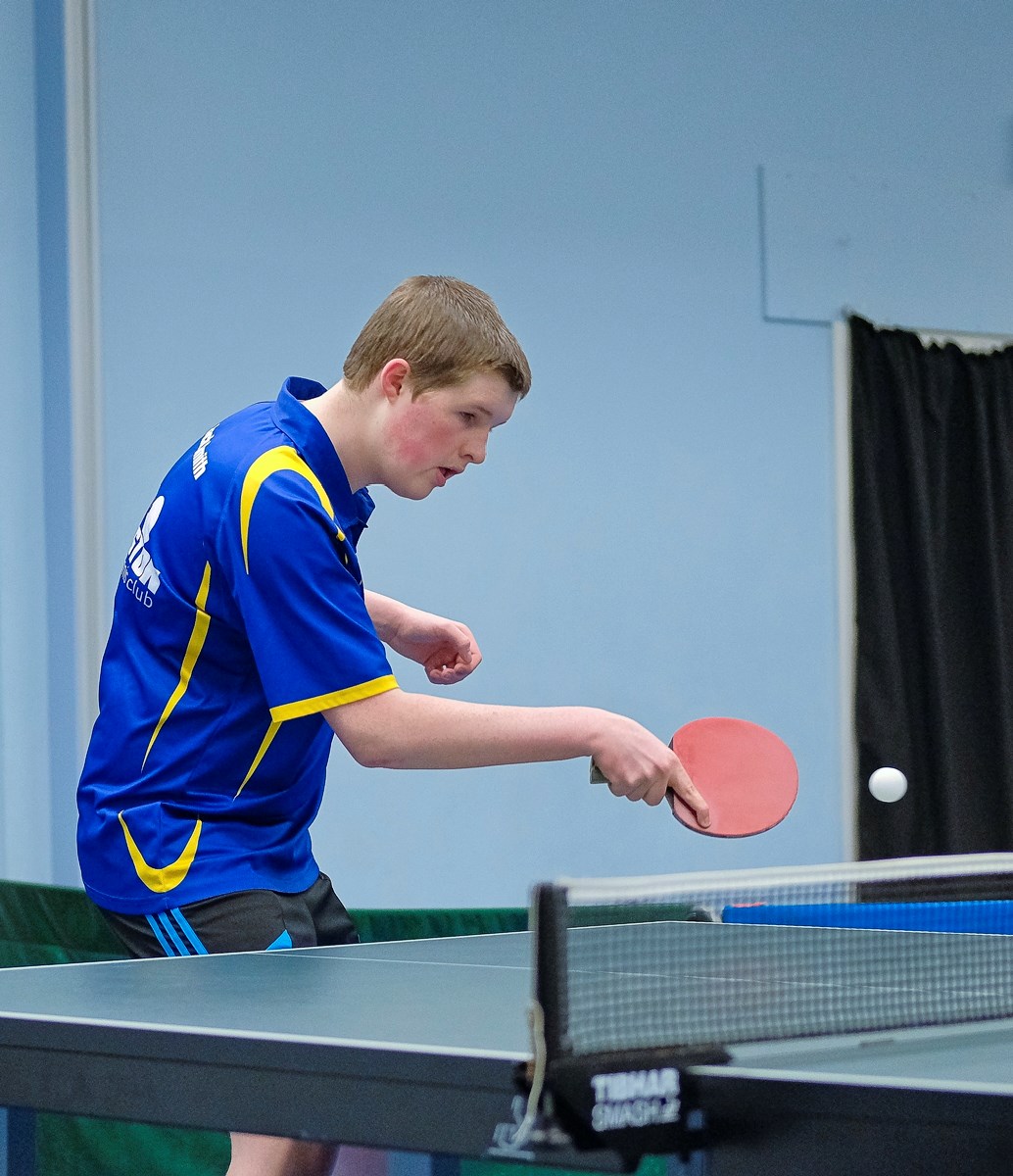 Jack Smith made his first appearance at NJL for two years
Author:
John Birkin
via Oxford Table Tennis League
Article Published:
Last Updated: