LILLINGTON GRADED REPORT NOVEMBER 17TH
Toby Dow wins cadets; Vicky Coll wins Grade C
A contingent of Oxfordshire players made their way down the M40, across the River Avon and through the delightful St Nicholas Park in Warwick to take part in this season's second Lillington Graded. While Peter Harris (Banbury) and Farshad Shaddel (Oxford) contested the Senior events, no fewer than eight young players from Oxford and three from Banbury were also in action.
Two boys from Banbury were the top performers in the morning age-groups: Toby Dow won all his group matches and marched on undefeated to take the cadet title; in fact his closest call came against Oxford's Pelin Karabulut, who on her maiden appearance at Lillington finished in 3rd place; and Joseph Fisher reached the semi-finals of the Under 13s, bowing out after a close five-setter. Oxford's Morris Wong was a slow-starter, but recovered sufficiently to win the Under 13 Consolation event, thus keeping up his record of successive trophies at Lillington. Another (reluctant) trophy winner was Kiarash Shaddel, who missed out in his junior group on countback after a triple tie: he had to be content with taking home the Junior Consolation trophy.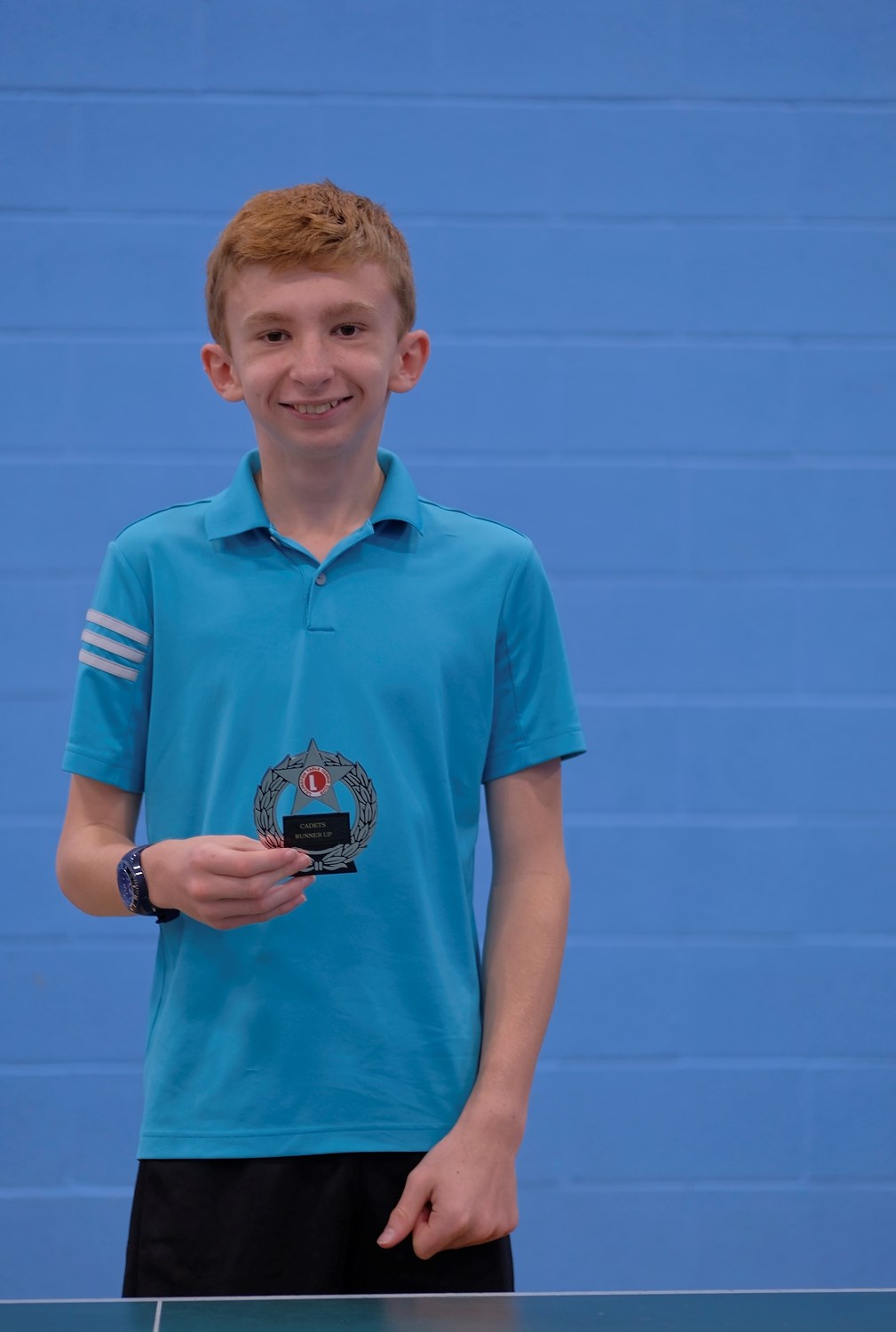 Toby Dow, winner of the cadet singles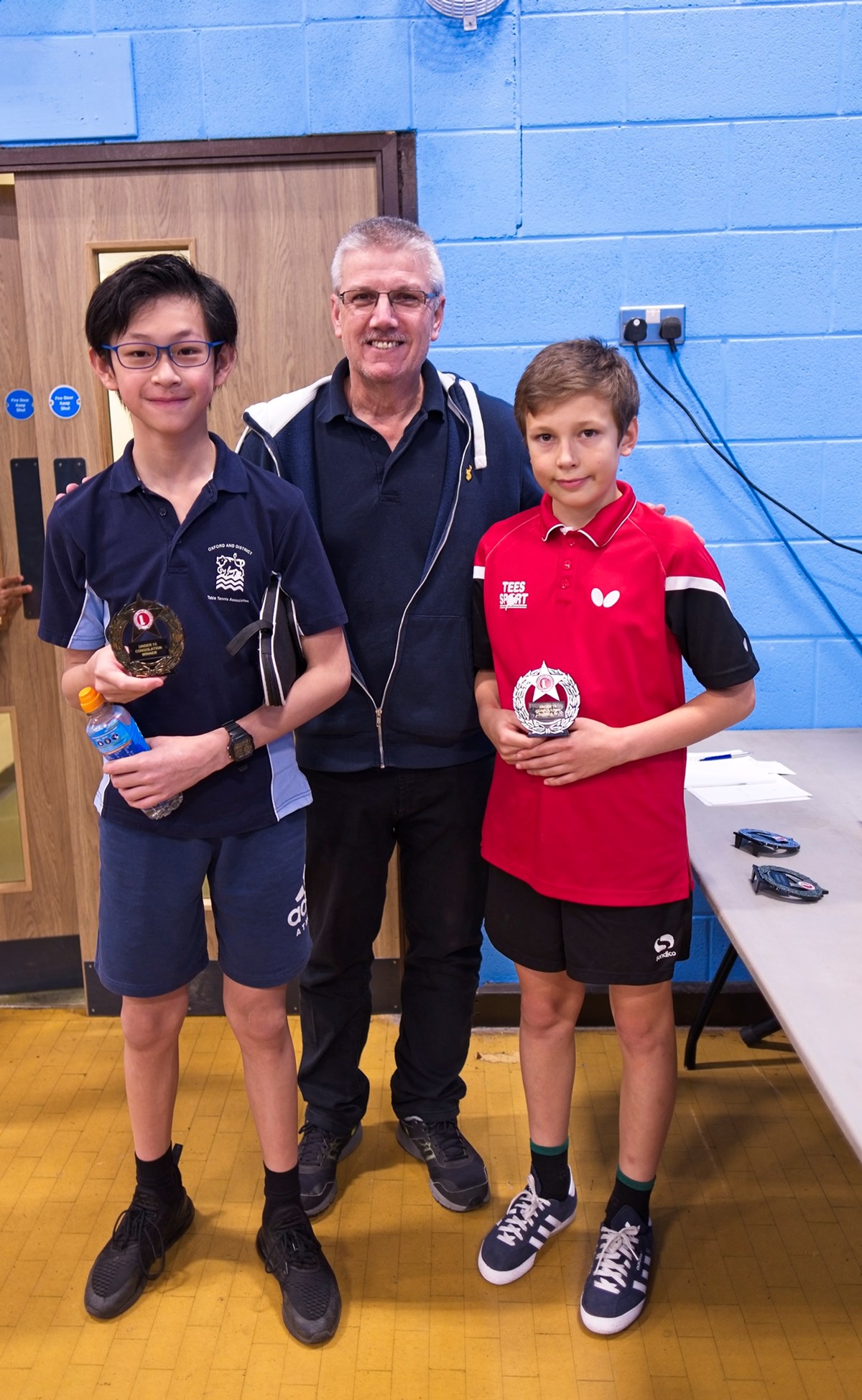 Under 13 Consolation winner, Morris Wong, pictured with the runner-up, Michael Khovanov (Lillington FC) and Richard Hancox, who presided over both Under 13s and Beginners with aplomb.
In the afternoon's Graded competitions Christelle Rajapaksa reached the main draw in Grade B, losing to Farshad Shaddel, who went on to win this category. We had three newcomers taking part in Beginners: Sam Shankar (11) had several very close matches without winning any of them, while both Ethan Zhang (8) with three group wins and Yingke Xu (11) with two wins progressed to the main draw, only to be eliminated in the quarter-finals.
Sam Shankar (11), Yingke Xu (11) and Ethan Zhang (8) made their debut in Beginners and were delighted to find that they were not out of their depth.
Remarkably, as the arena began to close down late in the afternoon, we had four Oxford juniors in at the death. Kiarash Shaddel had a great run to the semi-finals in the top flight, Grade A, losing the decider from 5-3 up at the change of ends. In Grade C Vicky Coll and Pelin Karabulut played magnificently to oust all the boys and conduct their own private duel in an all-Oxford final: Pelin (still 13) has improved dramatically in recent weeks and had good chances of winning here in a sharp counter-hitting battle, interspersed with spells of accurate pushing; not converting a 10-6 lead in the opener may have been crucial, as this fine match ultimately went Vicky's way at deuce in the 5th. Meanwhile Morris Wong hit his very best form in Improvers, defeating Jack Bradbury (Lillington FC) over five close games in the semi-final and then losing to Nathan Jackson (Lillington FC) after another titanic battle in the final. These four players are to be congratulated for their resilience and sparkling form at the end of a long day.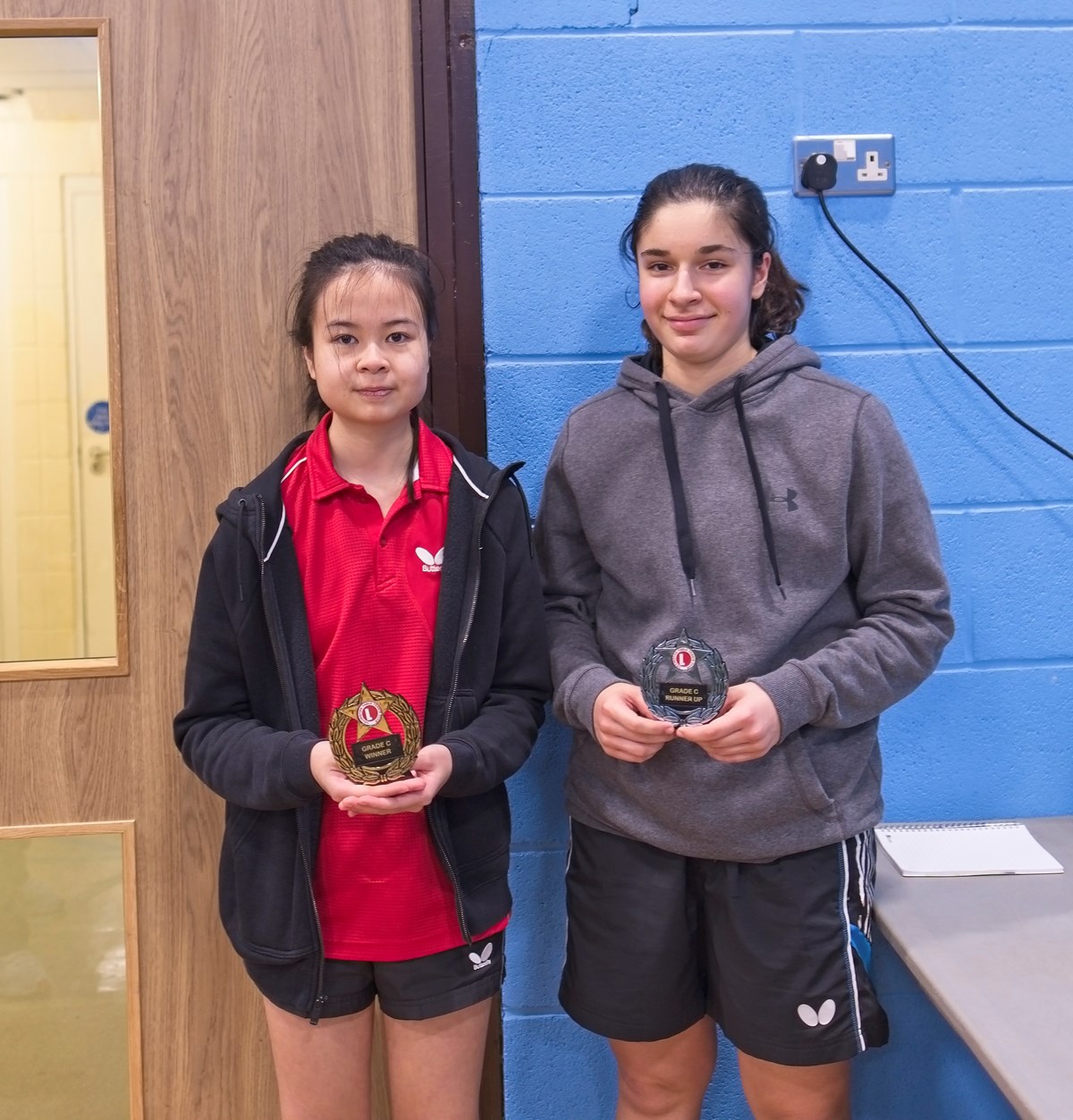 Vicky Coll and Pelin Karabulut contested an all-Oxford final in Grade C, after eliminating all the boys!
The host club's Nathan Jackson took the Improvers' title after Oxford's Morris Wong had fought back from two games down to force a decider.
Author:
John Birkin
via Oxfordshire County Table Tennis Association
Article Published:
Last Updated: