National Cadet League South Sunday 2nd December
B team promoted on countback!
Our A team still found it very hard going in Division 1, sustaining two whitewash 0-9 defeats against Crusaders A and Warren Spring A, interspersed with a 5-4 victory over Cippenham A, with Bertie Anstis and Toby Dow each contributing two of the wins and Pelin Karabulut one. Warren Spring are the top team here and we made heroic efforts to find a chink in their armour, with Pelin taking Arshbir Singh to 17-15 in the 5th and Toby not only taking the same player to a decider but also coming very close to upsetting James Hamblett, the top-ranked player in this competition. The top three teams are very strong and we will find ourselves battling it out with Cippenham A and Chiltern A for places four to six.
Division 3 was well contested with five teams of a very good standard. Our B team began the day one point adrift of Chiltern B, but immediately found themselves locked in a fascinating tussle with the trio of girls representing Warren Spring C. Morris Wong did his best but was unable to get any change out of Heidi Oestreicher, Satveer Pavar and Shaniely Edwards. With captain Zain Ali also losing to Heidi, it was left to Hari Selvaraj to beat all three and carry the team to an exciting 5-4 victory. On the adjacent table Chiltern B came out of a similar epic against Dacorum with the same score. Hugh Mortimer replaced Morris for the next match v Hillingdon, for whom Catalin Alcaz chalked up another maximum, leaving us winners by a 6-3 margin. Chiltern B could only manage another 5-4 v Warren Spring C, which brought us level, but winning the division on countback by virtue of an earlier 5-4 over them. Thus the four boys who had narrowly failed to get out of Div 4 last season made it into Div 2, where they faced a rather demoralised Reading team, which had narrowly avoided relegation. This match began very one-sidedly with 3-0 wins for Zain, Hari and Morris. Hari went on to secure another maximum, while Reading improved to gain single wins over Zain and Morris. So, as a delightful surprise, we ended up with a good foothold on the higher mountain.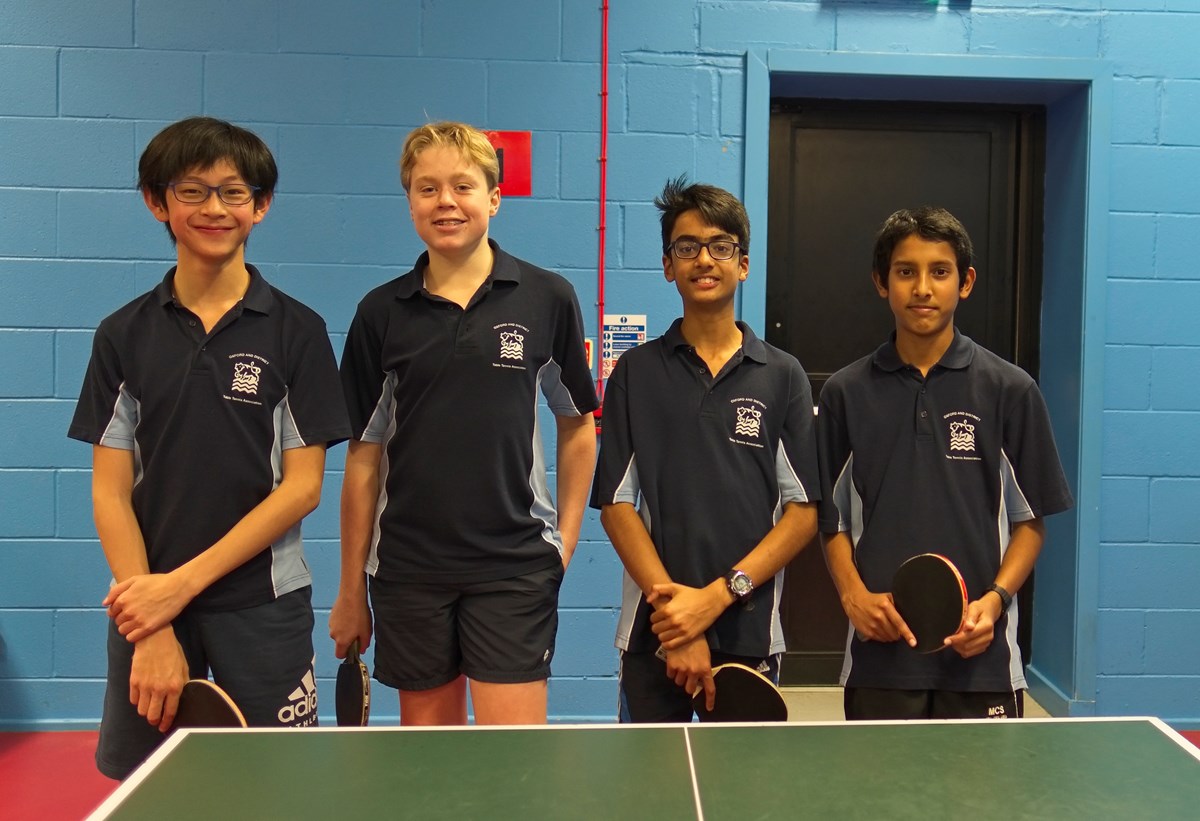 Oxford B (Morris 2/6, Hugh 2/3, Zain 6/9 and Hari 8/9) made their mark with promotion and a 7-2 victory over Reading
Author:
John Birkin
via Oxford Table Tennis League
Article Published:
Last Updated: