CITY CHAMPS RESULTS REPORT PHOTOS
Oxford City Championships 2017
The City Championships were held at Kidlington Forum on Sunday, April 9th. The entry was most disappointing with no ladies at all and only five Division 1 players, two of whom had to withdraw at the last minute! In these circumstances I reduced the whole event to an afternoon rather than a full day, but it was still difficult to provide worthwhile competition for the 18 players who did enter.
In the Men's singles, Conor Savage (Academy) gave a good account of himself, taking a game off both Karl Bushell (Forum) and Neil Cartwright. There was a key match between Neil and British Rail team mate Greg Donovan, won by Neil 11-8, 8-11, 8-11, 11-9, 11-8. The final was a fine spectacle with Karl taking a 2-1 lead at deuce, but Neil nailing some big backhands to put a new name on the prestigious Oxford Mail trophy by winning 5, -2, -10, 14, 7
Much depended on the Restricted Handicap event with an entry of 15, playing the old-style best of three games up to 21. Here unfortunately the top men, some strong players from Division 2, had a hard deal, as it transpired that the handicaps were too heavily skewed in favour of the weaker players, particularly the leading lights of Division 3, who played well above their station. This was an error in the right direction, but still an error, which I hope to correct next year. In spite of this there were some great matches. In Group A Jake East (20) dominated against cadet Scott Campbell (30), up to 21-13, 20-16, from which dire strait Scott somehow extricated himself to win 21-20, 21-19 – both players went on to qualify for the quarter-finals. Group B was decided by the handicapper, with cadet Jamie McNeil (26) in sparkling form and veteran Viking Feng Gu (24) given far too much leeway. Similarly in Group C the Div 3 players, Guy East (28) and Joao Camacho (16), prevailed. The remaining quarter-finalists from Group D were Clive Westbury (14) and Kiarash Shaddel (14).
Jamie eliminated danger man Joao 21-15, 21-20, while Scott put up a great fight against the skilful Feng, losing 16-21, 21-20, 15-21. Jake was too strong for Clive, who was unable to make up any of the 6 handicap. Kiarash battled, as he does, but found the 14 deficit just too much to cope with against Guy's resilient defence. That left four Div 3 players in the semis, with father and son, Guy and Jake, on adjoining tables: Jamie had 6 start over Jake, but grew increasingly frustrated as his top form deserted him; Guy's match against Feng was closer but the higher ranked Div 3 player prevailed. The final provided a fitting climax, with Jake taking the first 21-18 and holding match points in the 2nd, but Feng taking over with his stylish top-spin as far as 21-20, 7-1, from which point Jake doggedly clawed his way back to win 21-19. Here at least the handicapper seems to have got it right.
In the Men's doubles, Conor Savage & Joao Camacho just got the better of Guy & Jake East to make the semi-finals, while Justin Roake & Clive Westbury also reached the same stage. However both these pairings were blown away by the top seeded pairs, Neil Cartwright & Greg Donovan and Karl Bushell & junior Lewis Waddup respectively. Lewis showed how much he has improved this season and with some fine opportunism from Karl they took the 2nd game and competed throughout, losing narrowly from a good position in both the 3rd and 4th. Thus the two main trophies of the day went to British Rail, following up their claiming of the Division 1 team title.
These were the awards made at the evening presentations:
Team awards:
2AS Division: Runners-up: Forum J Winners: Bicester F
Division 3: Runners-up: Vikings C Winners: Forum I
Division 2: Runners-up: Gladiators A Winners: Forum D
Division 1: Runners-up: Forum A Winners: British Rail
Leading Players
2AS Division: Jose Munoz Ruiz
Division 3: Ted Arnold Shield Jake East
Division 2: Eric Minns Cup Paul Knight
Division 1: Warner Cup: Darren Jones
Ken Ford (best junior newcomer to league): Rafe Fleming
McKechnie/Hawkins (junior boy of the year): Joe McKenna-Jones
Hawkins/McKechnie (junior girl of the year): Pelin Karabulut
Dave Hawkins Trophy (most improved junior): Kiarash Shaddel
Alan Hopwood (outstanding services to the Association): Anne Borrowdale
Results

Men's Singles: Neil Cartwright v Karl Bushell 5, -2, -10, 14, 7
3rd: Greg Donovan 4th: Conor Savage
Men's Doubles:
Greg Donovan/ Neil Cartwright v Conor Savage/Joao Camacho 6, 4, 2
Karl Bushell/ Lewis Waddup v Justin Roake/Clive Westbury 4, 3, 4
Greg Donovan/ Neil Cartwright v Karl Bushell/ Lewis Waddup 9, -7, 10, 9
Restricted (Handicap) Singles:
Jake East (20) v Jamie McNeil (26) 16, 16
Feng Gu (24) v Guy East (28) 20, 16
Jake East (20) v Feng Gu (24) 18, -20, 19

The array of glittering trophies
Greg Donovan and Neil Cartwright (British Rail) with the President's Cup; Karl Bushell and Lewis Waddup (Kidlington Forum) take the runners-up medals.
Jake East (Forum) narrowly defeated Feng Gu (Vikings) in the Restricted Final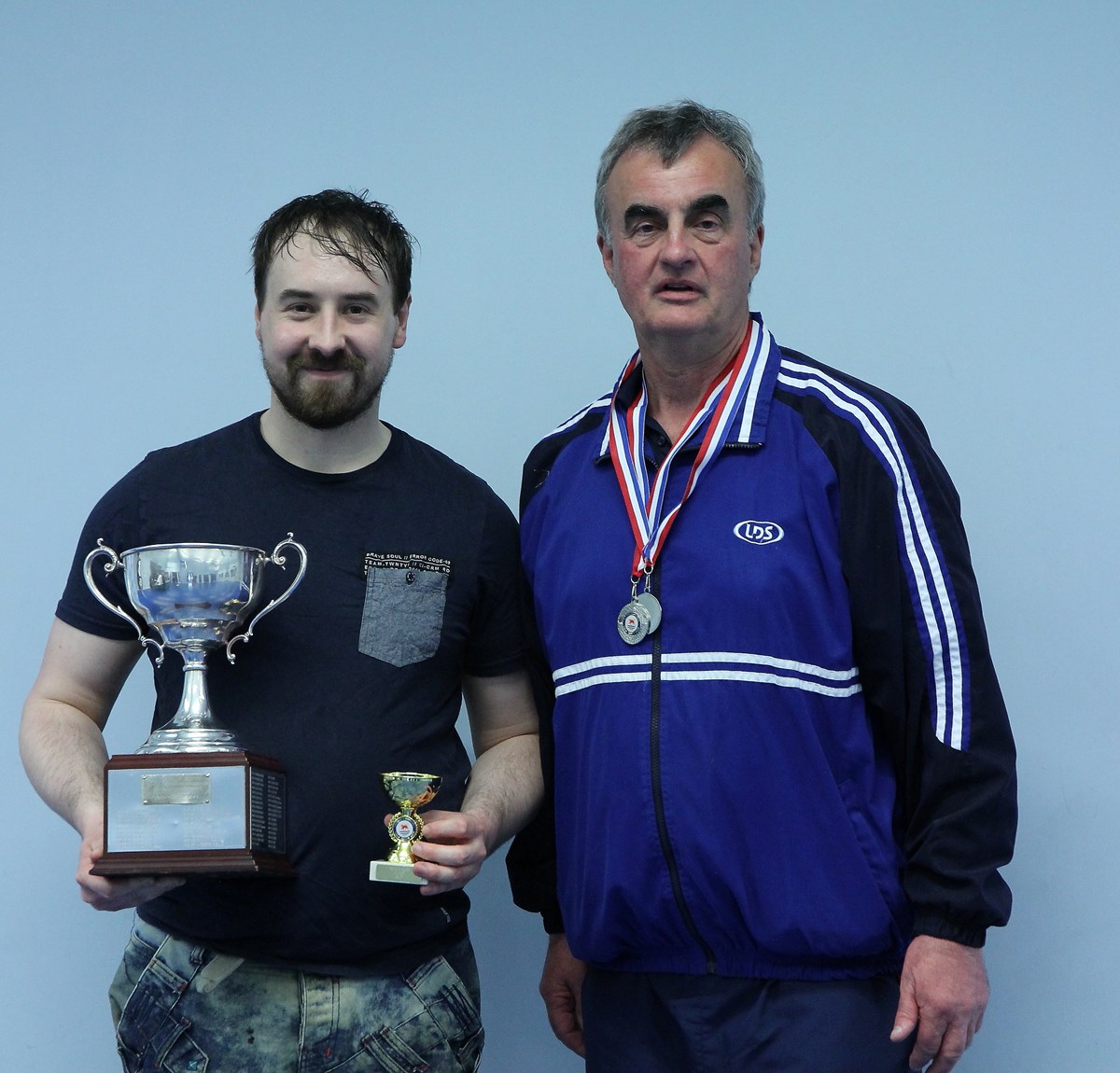 Neil Cartwright came back from 1-2 down and deuce in the 4th to take the Oxford Mail Cup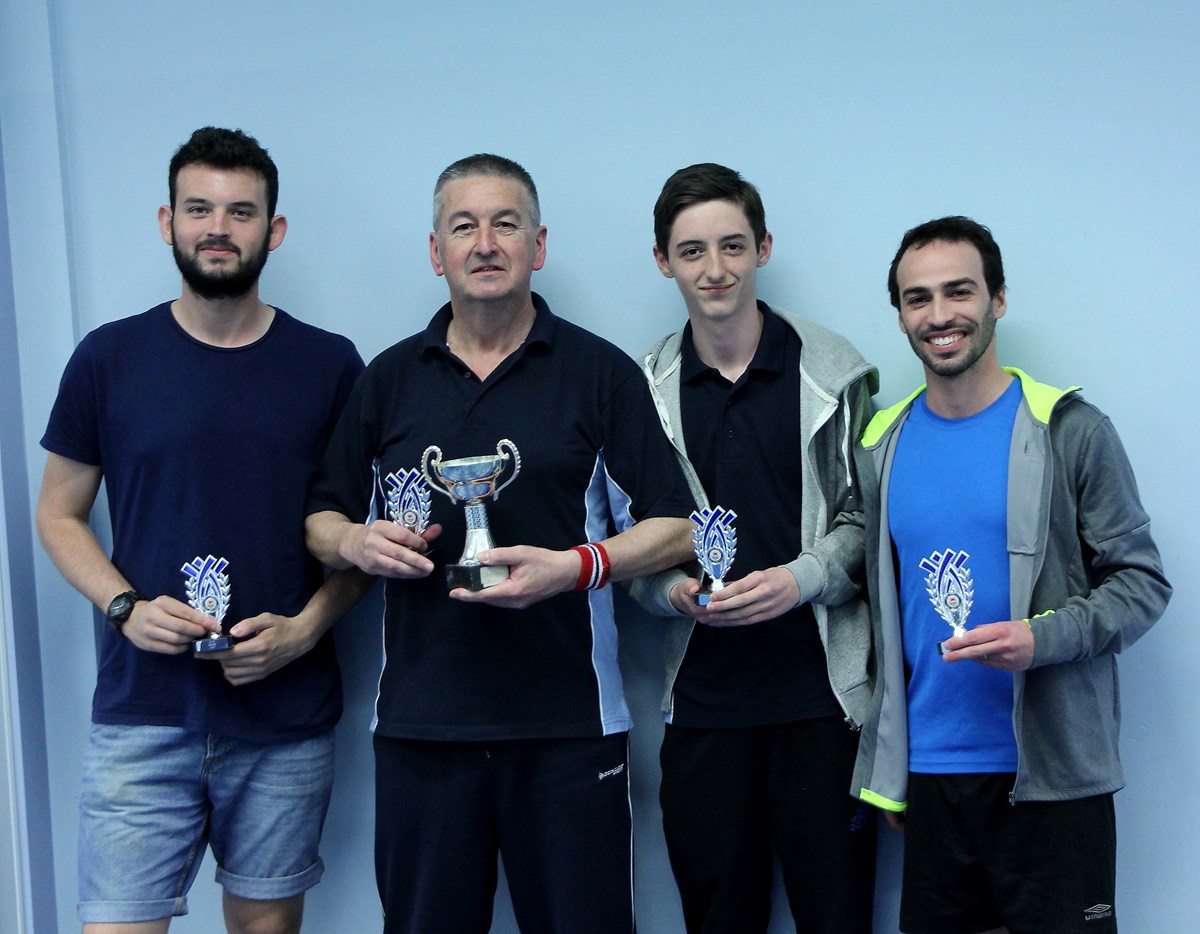 The East family were out in force: Jake, Guy and James won Division 3, with a little help from Joao Camacho.

Div 3 runners-up, Vikings C, represented by Feng Gu and Max Jackson
Paul Casey collected the Div 2 trophy for Forum D.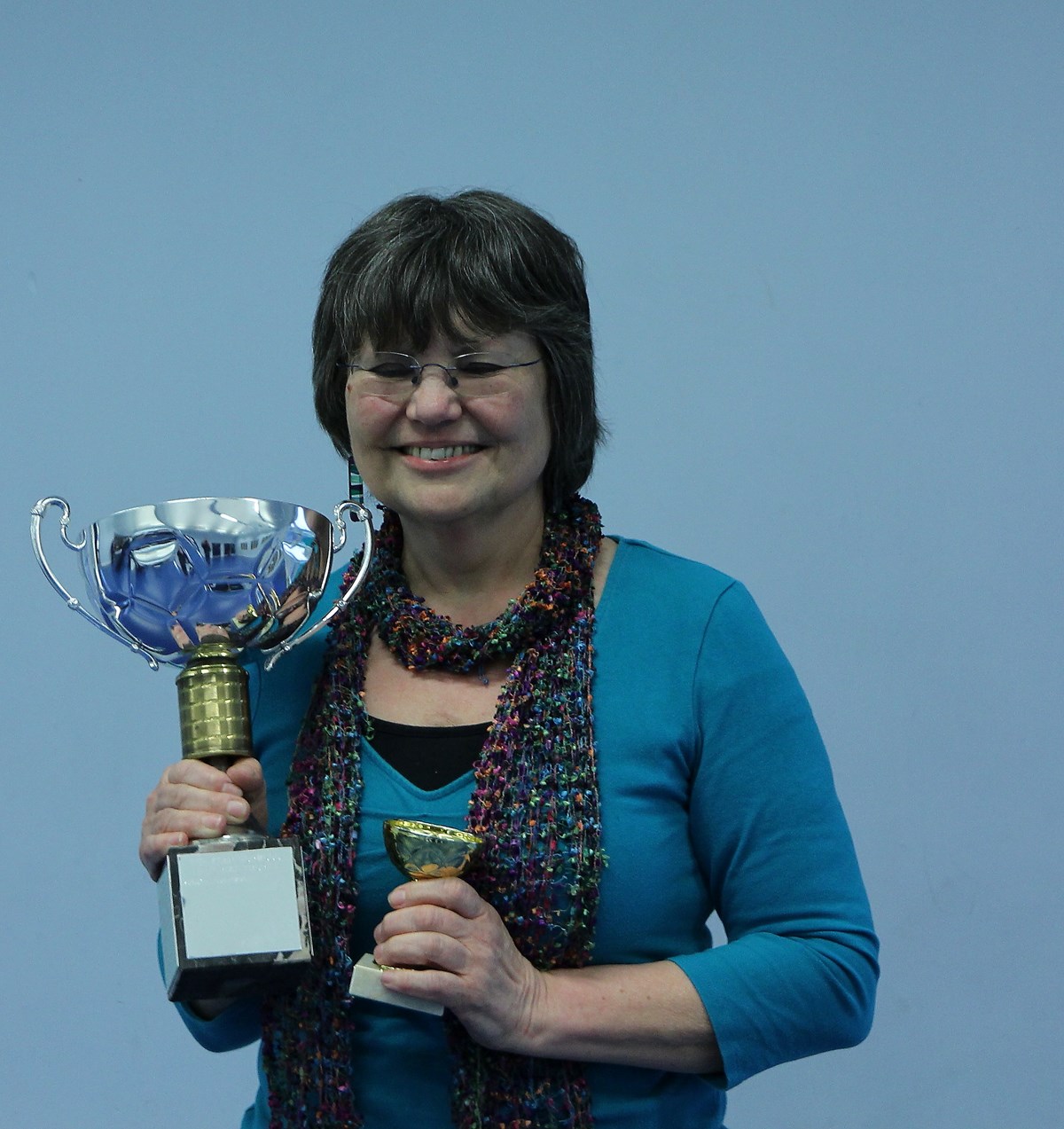 Anne Borrowdale was awarded the Alan Hopwood Trophy for her work on behalf of ODTTA, in particular her development of Cowley Table Tennis.
Kiarash Shaddel received the Dave Hawkins Trophy for most improved junior player.
Sheila McKechnie presides over the trophies with meticulous care.
(Photos and Sheila's coffee by courtesy of Justin Roake)
Author:
John Birkin
via Oxford Table Tennis League
Article Published:
Last Updated: