Oxford Cadets up to 2nd in final round of NCL
4th (Final) Sunday at NCL (South)
Todd Stanmore leading 10-8 in the 5th v Angus Norman (Crusaders A)
We took a contingent of 15 players to contest the final round of matches in the National Cadet League at Cippenham on Sunday, 26th March, leaving one reserve at home! The A team worked wonders, rounding off the season with a stellar performance, witness the following results:
v Crusaders C won 5-1
v Warren Spring A won 5-1
v Ashford A won 6-0
v Crusaders B won 4-2
v Crusaders A lost 1-5
It was a long and gruelling day (10 hours from pillar to post). In retrospect it was unfortunate to meet the strongest opposition at the very end, but by then we were secure in 2nd place and in 3rd position in the cumulative count over the whole season. The team went from strength to strength, with the same three players appearing in every match: back in November it looked as if Todd Stanmore, just turned 11, would have to carry the team, a very tall order, but both Kiarash Shaddel and Ollie Keen rose to the challenge and eventually made up a very competitive trio at this level, not only beating strong opponents but engaging them in some spectacular counter-hitting or top-spinning duels to thrill the spectators. There were so many exciting matches, with about five of them (I lost count) going to deuce in the 5th, two of which we won on a net or an edge and one of which Todd won at 18-16. After the mid-season switch to County Championship format he excelled in the pressure role of no 1 player – his tally of 8/10 on this final day is fair testament to his blossoming talent. With him anchoring the no 1 spot, both Kiarash (5/10) and Ollie (8/10) suddenly broke through to a higher level, beyond my expectations.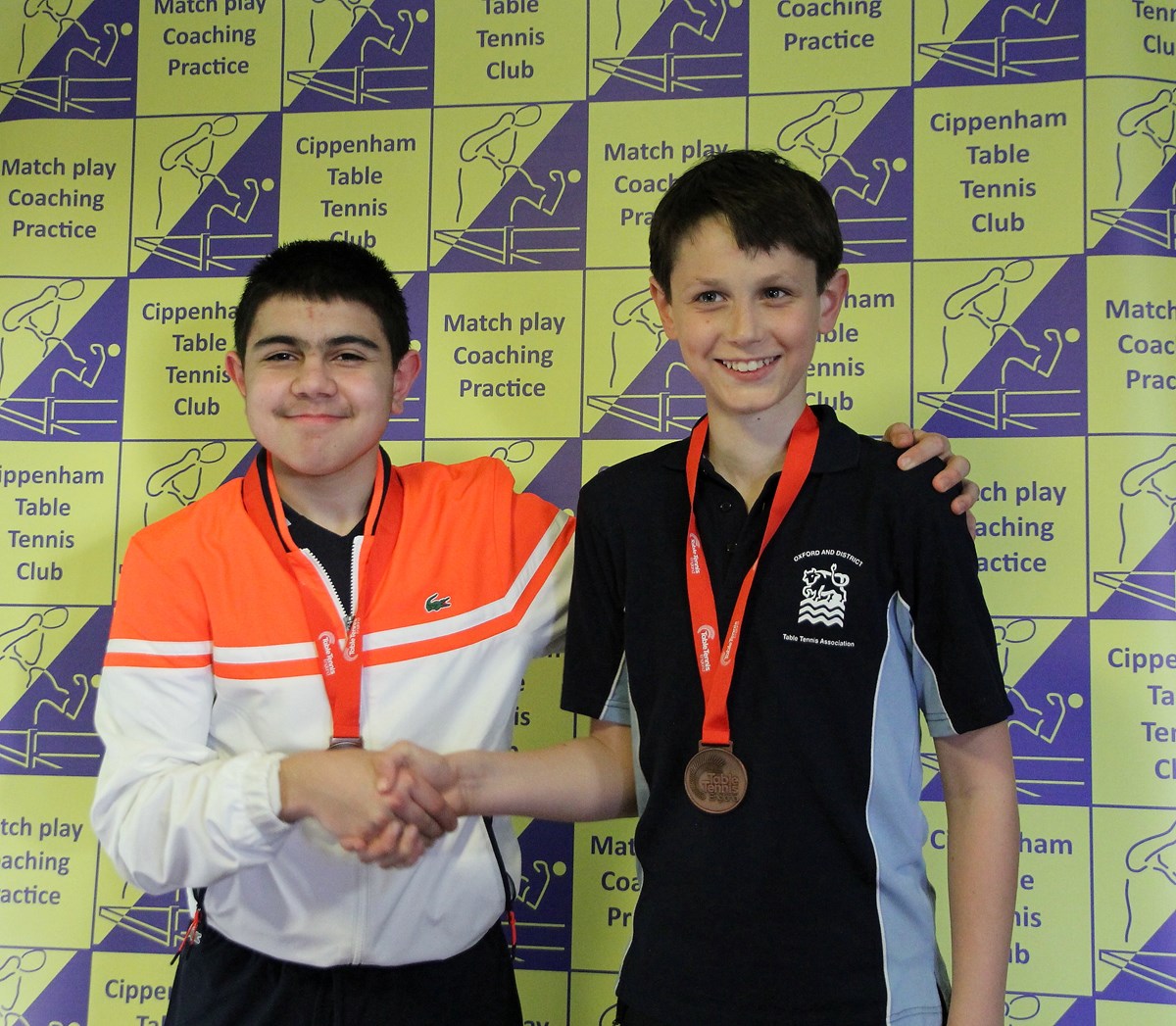 Kiarash and Todd had plenty to smile about.

The B team, with Richard Anstis in charge, have found Division 2 hard going this year, but have stuck at it and were finally rewarded with 2nd place on this occasion, so gaining the last set of medals available (for the top 8 teams overall)! Rafe Fleming, another very dedicated player on the way up, led the way with 7/8, but Bertie Anstis (12), Jamie McNeil and Dylan Morgan, promoted from the C team, all played their part. It needed all 6 points from a final 6-0 victory to secure 2nd place in a photo-finish:
1st St Albans A 20 pts
2nd Oxford B 19 pts
3rd Cippenham A 18 pts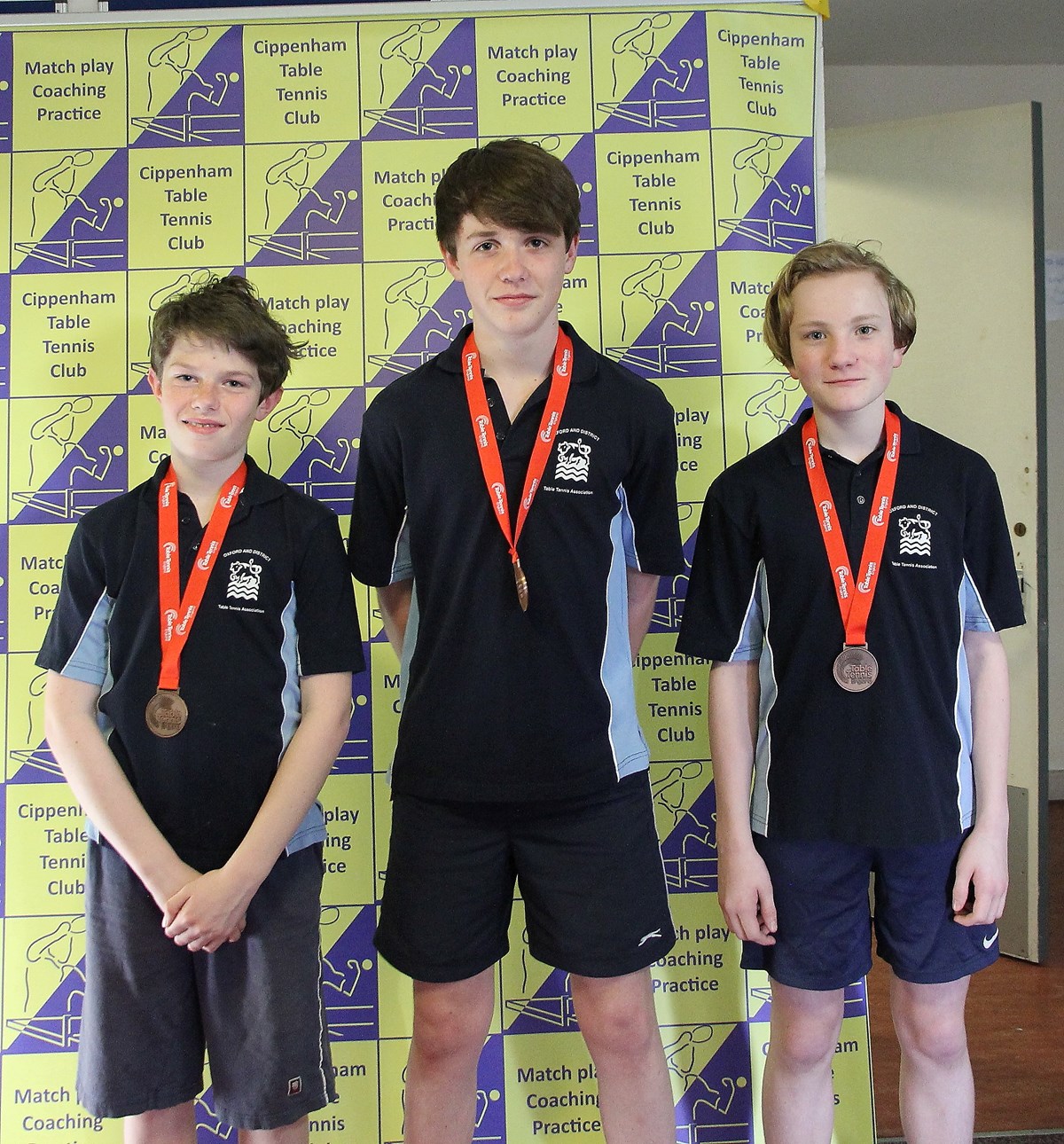 Bertie, Jamie and Rafe - the B team looking particularly smart for the Presentations
Both the C and D teams ended the season strongly in 2nd place in their respective divisions. Toby Dow (12) was promoted to join Pelin Karabulut, Cooper Whitford and Edward Davis in the C team, which scored 5-1, 5-1, 2-4, 5-1 and 2-4. In fact Toby was top scorer here with 7/8, making the most of his opportunity as no 3 player. Edward Davis (11) continues to impress with his skill, athletic ability and a wonderful fighting spirit.
Equally successful were the D team, losing only to Ashford D, inspired by Scott Campbell (7/8) and Adam Jenner (6/8). Ben Cattell and Miles Davis also gave a good account of themselves.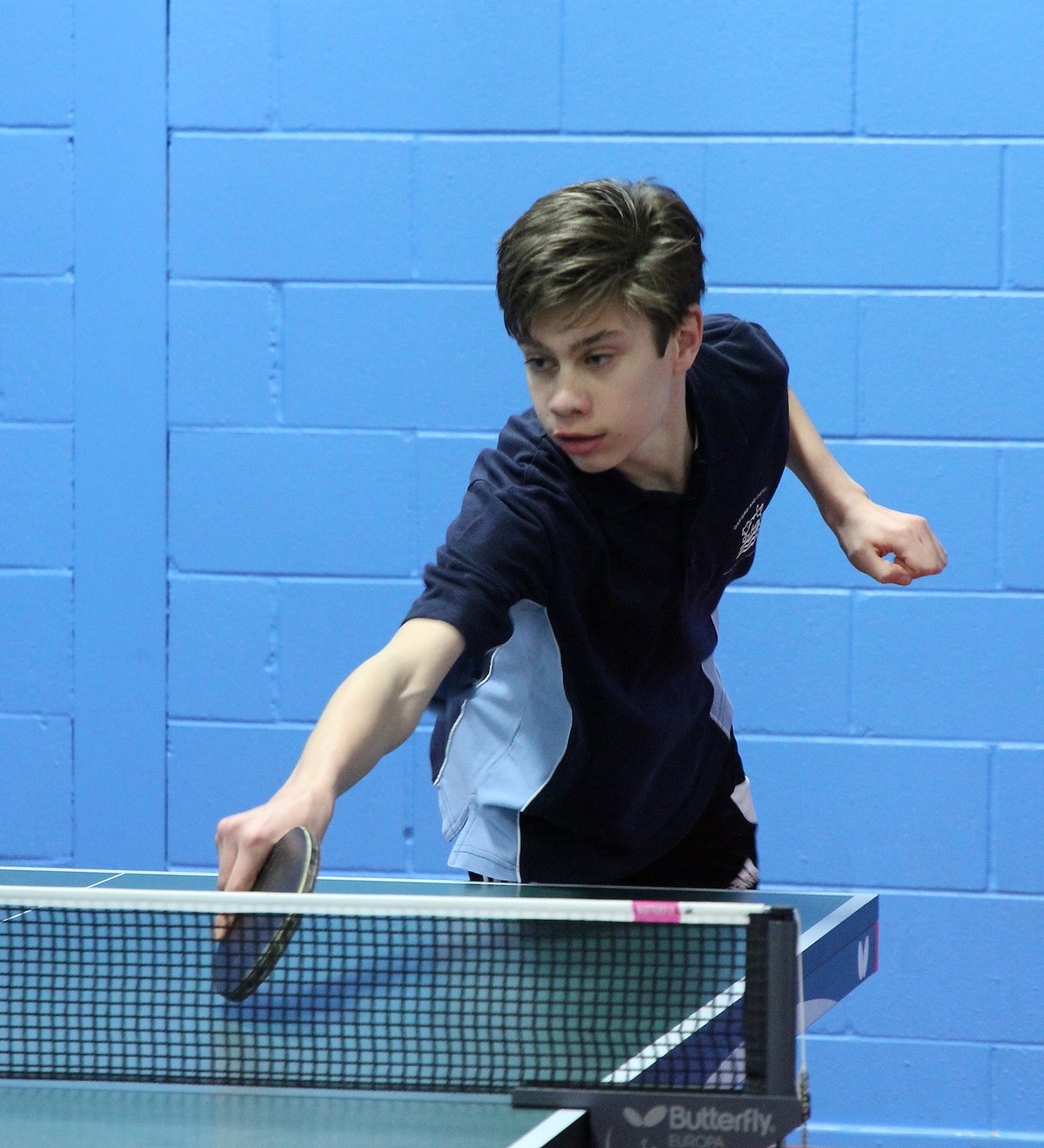 Adam Jenner had a very good day, winning 6/8.

Five of the 16 players who have represented the Oxford teams this season have 02 birthdays (four of those being from the A and B teams): these will make their way up to boost the junior ranks in September, leaving some vacancies in the cadets, above all for a player to accompany our ever-improving youngsters Todd (11) and Bertie (12) in next season's A team. Someone or other will have to make a big leap forward!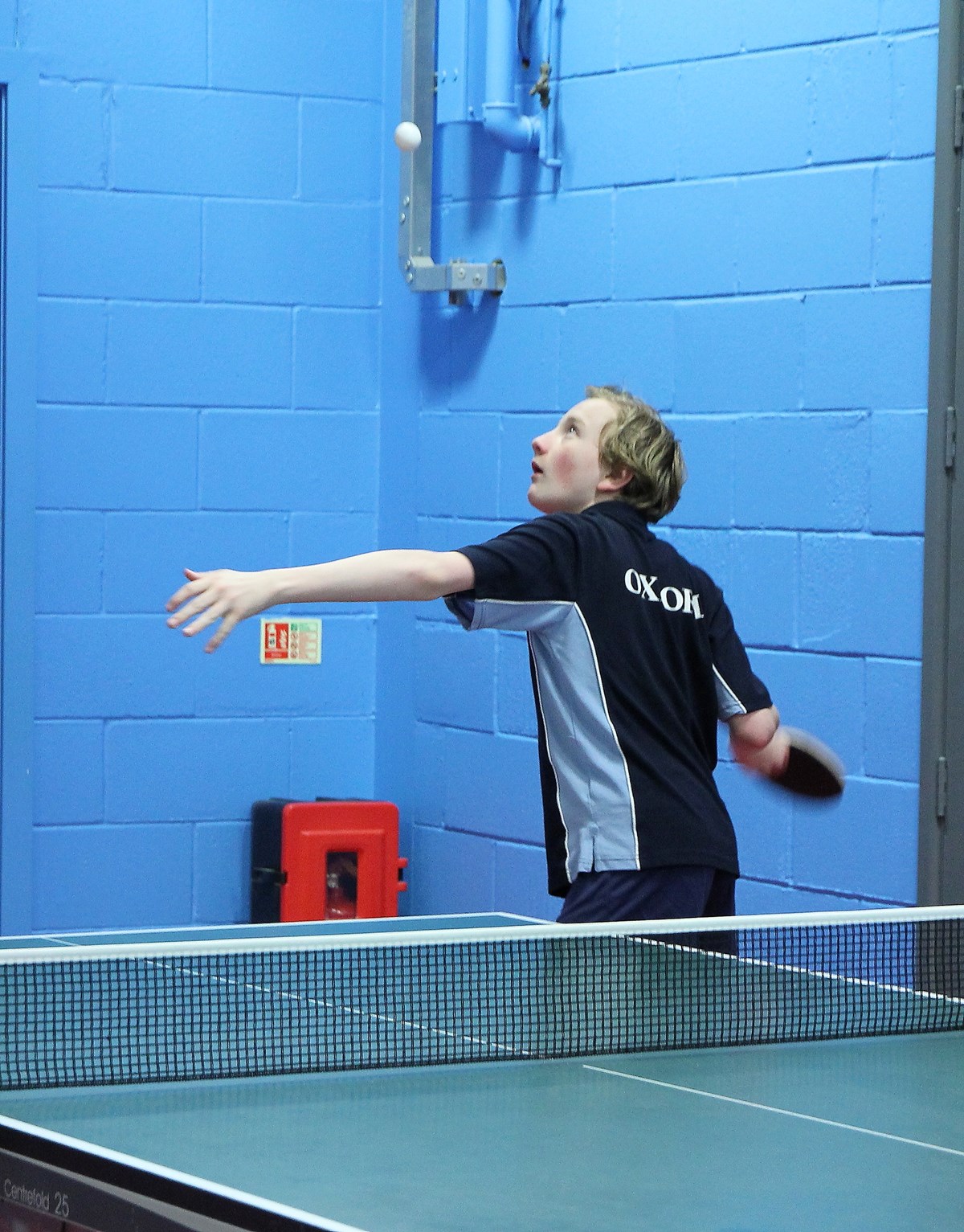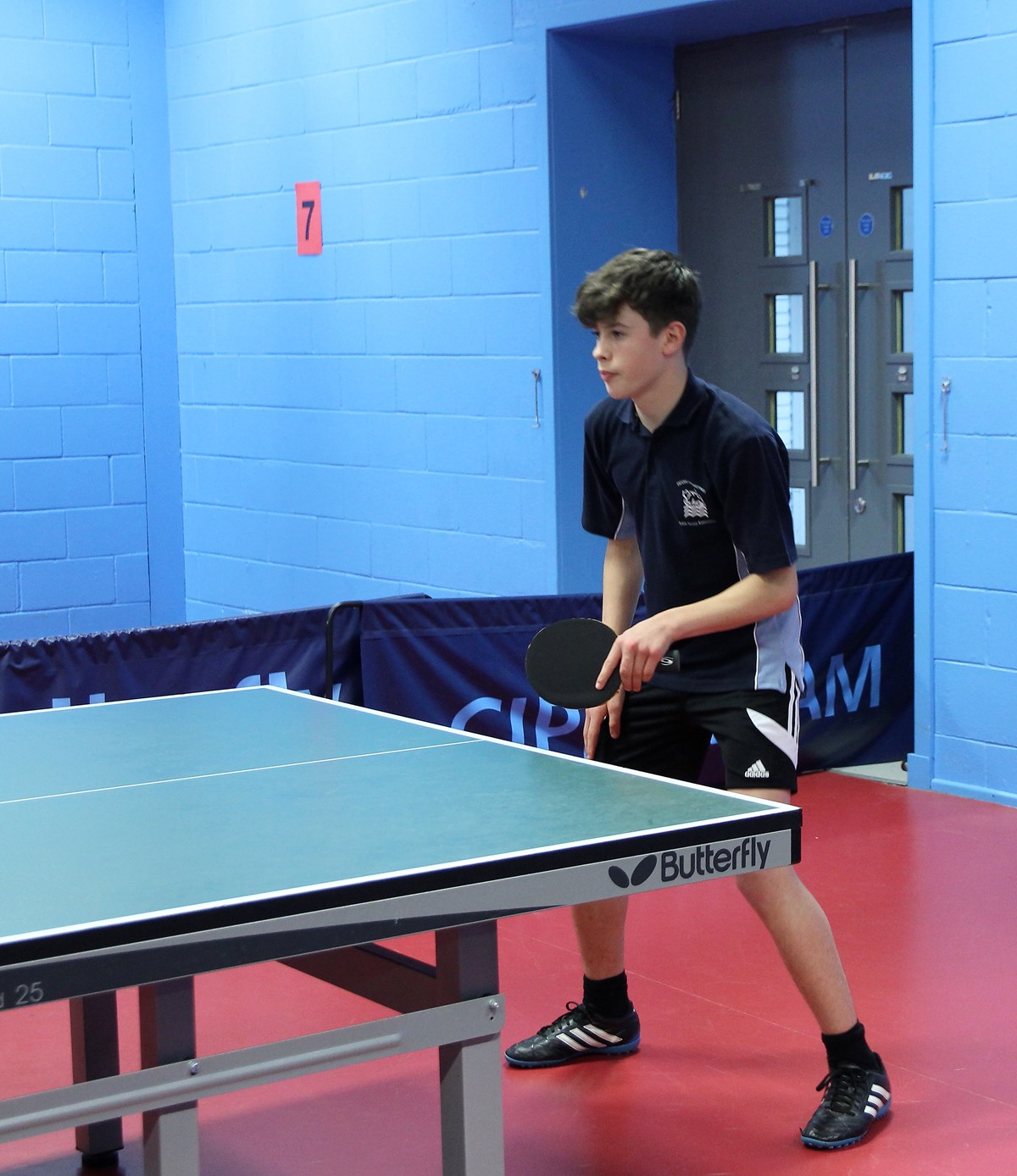 Ollie Keen nailed down the no 3 spot for the A team, losing very few matches in that role.

Author:
John Birkin
via Oxford Table Tennis League
Article Published:
Last Updated: