Divisionals Reports
OXFORD LEAGUE DIVISIONALS 2017
11th Hewitt Cup victory for Karl Bushell
In the Division 1 groups Dom Juiwong (Vikings) gave Greg Donovan (British Rail) a scare, leading 2-1 before Greg pulled himself together. Andrew Flint (Kidlington Forum) won the group, beating Greg in straight games. Ross Henderson (Forum) was well beaten by Stuart Pringle (Rutherford), who took 2nd place in a group dominated by Karl Bushell (Forum). Stuart then gave a near flawless performance in his semi-final to defeat Andrew 11-9, 10-12, 11-7, 11-5. In the second semi-final Karl lost the first game against Greg but took the next three comfortably. After all Stuart's earlier heroics, he came badly unstuck in the final against Karl, who took the Hewitt Cup for the 11th time with a score of 11-3, 11-4, 11-6.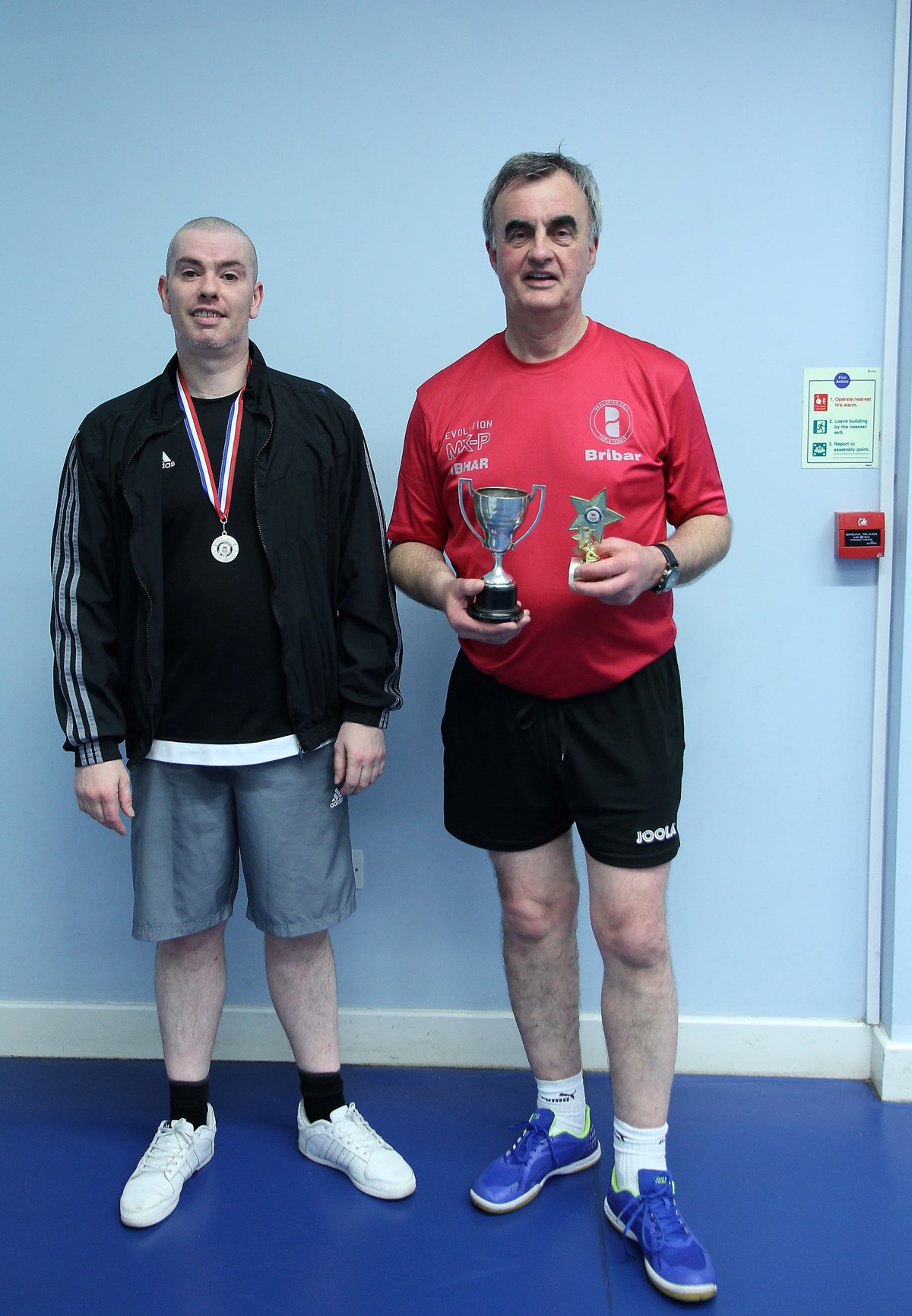 Karl Bushell (Kidlington Forum) takes the Hewitt Cup, after a brilliant performance by Stuart Pringle (Rutherford Appleton Labs) to reach the Final.
JOHN HO takes Div 2 title
There was a good entry for the Division 2 event, producing four hours of intensive competition at Kidlington Forum. Top seeded junior John Ho (Holton) dominated Group A, dropping just one game to both Eddie Carter (Forum) and Clive Westbury (Gladiators), while cadet Kiarash Shaddel (Kidlington Forum) qualified as a best loser. In Group B Paul Knight (Gladiators) emerged on top, after winning a marathon match with John Duncalfe (Forum) at 11-2 in the 5th; James Speedy (Academy) took a creditable 2nd place, ahead of Wing Ho (Holton). Group C was the most protracted, with Tak Wa Yau (Forum) taking all his opponents the full distance, only to lose each time, twice at 9-11 in the 5th. Damon So (Forum) was undefeated, with Terry Ruane (Forum) 2nd and Justin Roake (Gladiators) 3rd; Terry's games profile of +7 -7 (his two wins both having gone to five) left him off target by 3% in the quest to become one of the "two best losers".
After all these gripping long drawn-out matches, the proceedings were wrapped up with surprising speed. James reached the semi-finals with some rapid counter-hitting, eliminating Kiarash in straight games, but met his match in John, who won 11-5, 11-9, 12-10. In the other semi Damon was able to hit through Paul's defence 11-2, 11-6, 11-7. The stage seemed to be set for a close final, but Damon was never able to dominate with his spin serves and quick hits, losing 7-11, 11-13, 9-11. So, a triumph for Holton junior John Ho (17), who backed up his league average (equal top at 83% with Paul Knight) with a mature, concentrated performance, peaking in the final stages. Interestingly for any EJ*s out there, John now has Big Dipper on his forehand, following many of the top Chinese with a sticky, spinny FH and a faster punching BH (Tenergy): he has always had good attacking technique, let down by lack of foot speed, but seems to have improved in all aspects this season.
* Apologies for this piece of modern jargon = Equipment Junkies (as in golf, expensive cameras, mountain bikes etc)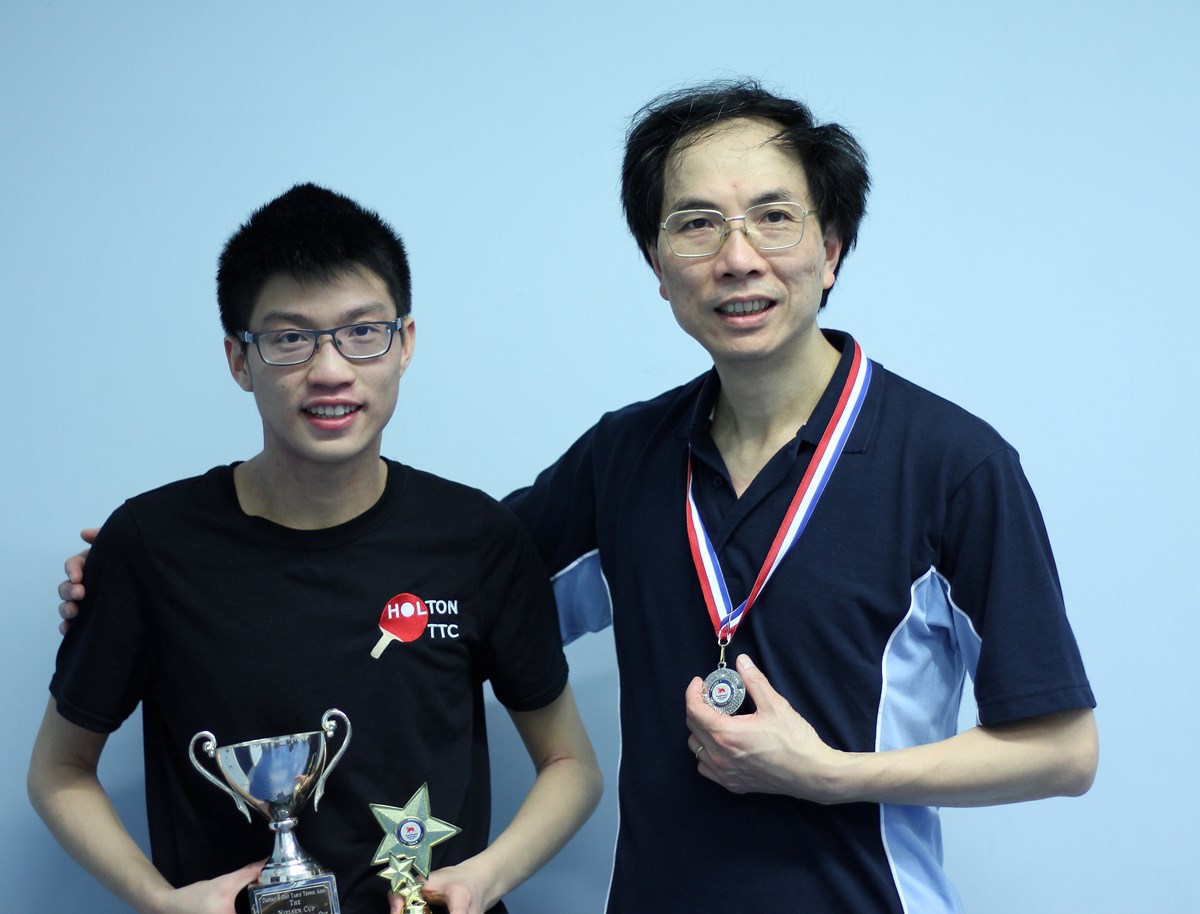 John Ho (winner) pictured with Damon So (runner-up)

JOAO CAMACHO SUPREME IN DIV 3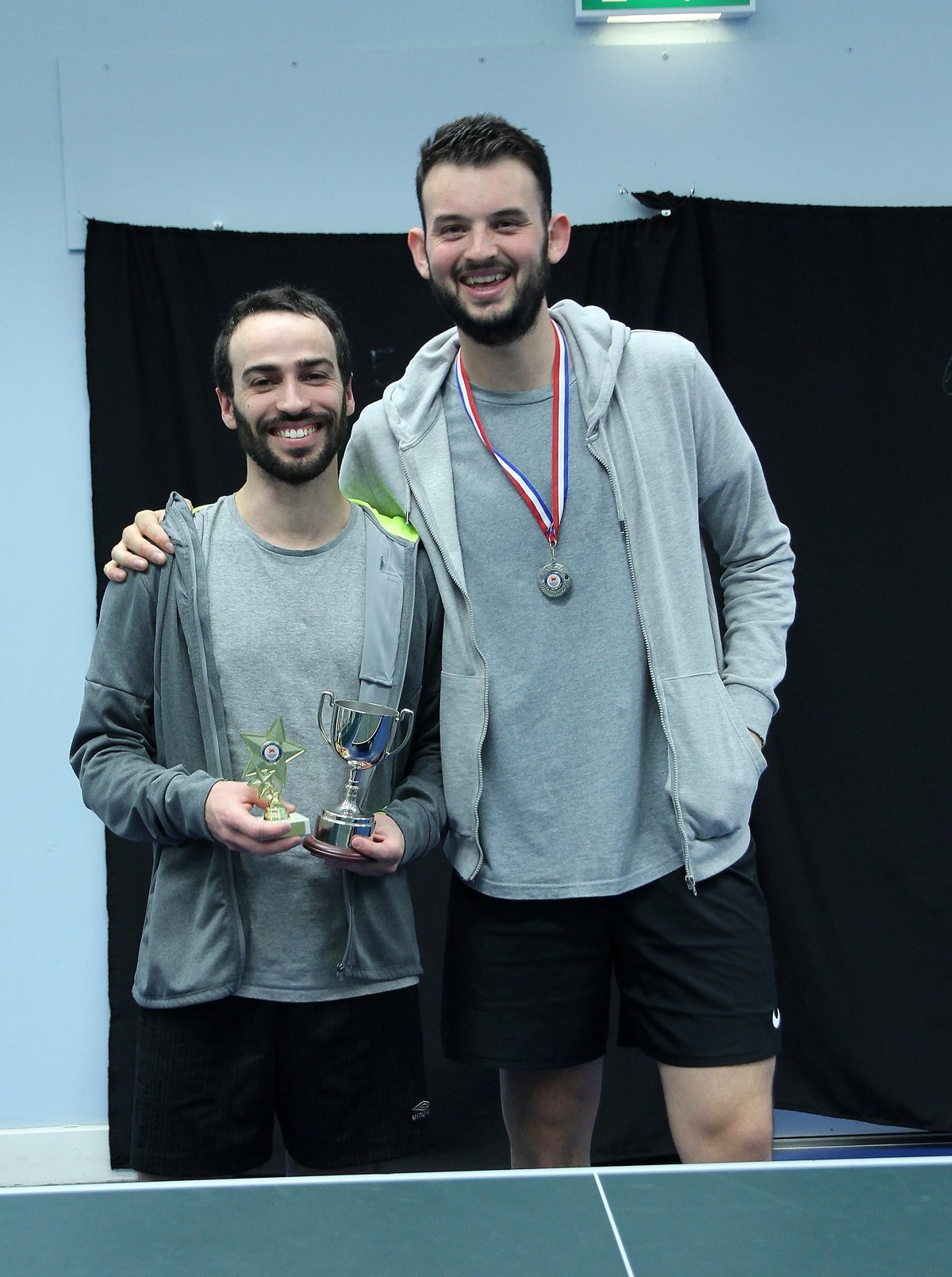 Joao Camacho with runner-up Jake East

Only five players entered the Div 3 event, one of whom withdrew on the day with an injury sustained at work. Table topping Forum I were out in force, with Joao Camacho the star of the show. Improving cadet Jamie McNeil took the first game off Jake East with some controlled topspin, but was unable to capitalise as Jake tightened up his game, winning 8-11, 11-9, 11-7, 11-7. Jamie went on finish 3rd, also taking a game off Joao and defeating Guy East 11-2, 11-9, 11-6. In the deciding contest Jake took the 3rd 11-4 to open up a 2-1 lead, but then Joao reasserted his classy ability, taking the last two games 11-6, 11-2, a fair reflection of his standard, which looks a cut above Division 3.
A group photo of the Div 3 entrants, Joao, Jake, Guy and Jamie
Two late withdrawals left the Two-a-Side section with a paltry three contestants. Nevertheless there was a worthy winner, in Kidlington Forum's Rafe Fleming, a newcomer to the league this season, who beat Terry Goddard 11-8, 11-1, 11-7 and James Rowland 11-1, 12-10, 9-11, 11-5. Terry secured the runners-up medal by defeating James 11-6, 12-10, 13-11.

2AS winner, cadet Rafe Fleming (Forum) with runner-up Terry Goddard (Bicester)

Author:
John Birkin
via Oxford Table Tennis League
Article Published:
Last Updated: