FORUM JUNIORS MAKE LATE SURGE FOR BRONZE AT NJL
NATIONAL JUNIOR LEAGUE (South) Cippenham, February 25th
A team bronze medallists

The Kidlington Forum A team brought their NJL season to a fine conclusion, stealing the 3rd spot from Cippenham A by making up an 8 point deficit in the final full round of matches. The positions are determined cumulatively over the whole season and Forum had easily the most consistent set-up with Joe McKenna-Jones (1), Lewis Waddup (2) and Ryan Hambridge (3) appearing in every single match over the four month period. These three players had oscillated between Divisions 1 and 2 in previous years, but have stuck at the task and improved their game, also drawing on their experience in this competition.
One important lesson learnt is to be undaunted by defeats at the hands of very strong opponents. On this occasion, we were fast off the blocks, with a 5-1 victory over Cippenham A, halving our deficit. But Reading A were out in force with the quartet of Yonatan Slobodskoy, Harry Munro, Joe Barraclough and Felix Thomis steamrollering through all opposition on the day and eventually taking the trophy from the previously dominant Crusaders A. One or two individual matches went right down to the wire, but ultimately we had to accept a 0-6 defeat. Next up was a narrow hard-fought 2-4 loss to Crusaders A. There followed a brief lunch hour walk in the fresh air and relief from the oppressive atmosphere, which worked wonders, as we gained a crucial 6-0 afternoon victory over Ashford A. In the final match of this campaign promoted Crusaders C provided stern opposition, and with Jon Vai-Chung taking his two singles, we had to recover from 1-3 down to get a draw. In the final tally we were 3rd on the day, one point behind Crusaders A, and had gained a decisive 11 points over Cippenham A, who had collapsed through the loss of one star player. Joe won 5/10, Lewis 6/10 and Ryan 5/10.
In Division 2 the B team, managed by Carl Stanmore, won two matches and lost three, finishing in 4th position only on countback. Throughout the season the standard at the top has been really high and only Todd Stanmore has been able to match it, winning 20/24, a remarkable achievement for an 11 year-old. The best compliment I heard was in conversation with some of the leading lights from Crusaders, who just couldn't understand why Todd was not playing in our A team! Cameron Aris and Jack Smith have battled manfully to hang on to a mid-table position. Cadet Rafe Fleming finally managed a full day's play at NJL, winning 5/8. Rafe is a very keen player, definitely one to watch as he moves on from cadet to junior age. Cameron has been an exemplary figure in this team for two seasons, a tall, benign presence, presiding over the younger elements with fatherly care: it was a fitting touch of the A team squad that he was allowed to receive their 4th medal (they only used 3 players), as he's the only player on our books currently in his last year as a junior.
The C team shuffled their pack bewilderingly during the season, at least for our esteemed organiser, Mike Atkinson, who was at a loss as to who should be awarded the certificates for winning not only Division 4 earlier in the year but also Division 3 on this occasion. This team exceeded all expectations. The cast in order of appearance was: Luka Kerridge, Dylan Morgan, Cooper Whitford, Luke Plowman, Bertie Anstis, Vicky Coll, Arthur Anstis and Robbie Greenfield - and they all contributed to the success. The supervisor holding the whole edifice together with unflappable calm and skill was Richard Anstis. Taking the stage on this final day were Luke, Bertie, Dylan and Robbie. We scored 6-0, 5-1, 4-2, 3-3 and 3-3, just enough to take the Division 3 title, a great achievement for Richard and his boys, who had narrowly missed out to Ashford B last time. Luke played well in the vulnerable no 1 spot, but Bertie stole the show with 8/8, and Robbie once again made his mark with 6/8. Top scorers over the whole season were Luka, Luke, Bertie and Arthur. We lost Luka at the mid-way point to go back onto the operating table and have his pins removed. These four could certainly compete in Division 2 next season, when we hope to see more of Arthur and to have Luka restored to fill fitness. 12 year-old Bertie tends to pass under the radar with all the achievements registered by Todd Stanmore, but he is clearly emerging as quite a talent in his own right.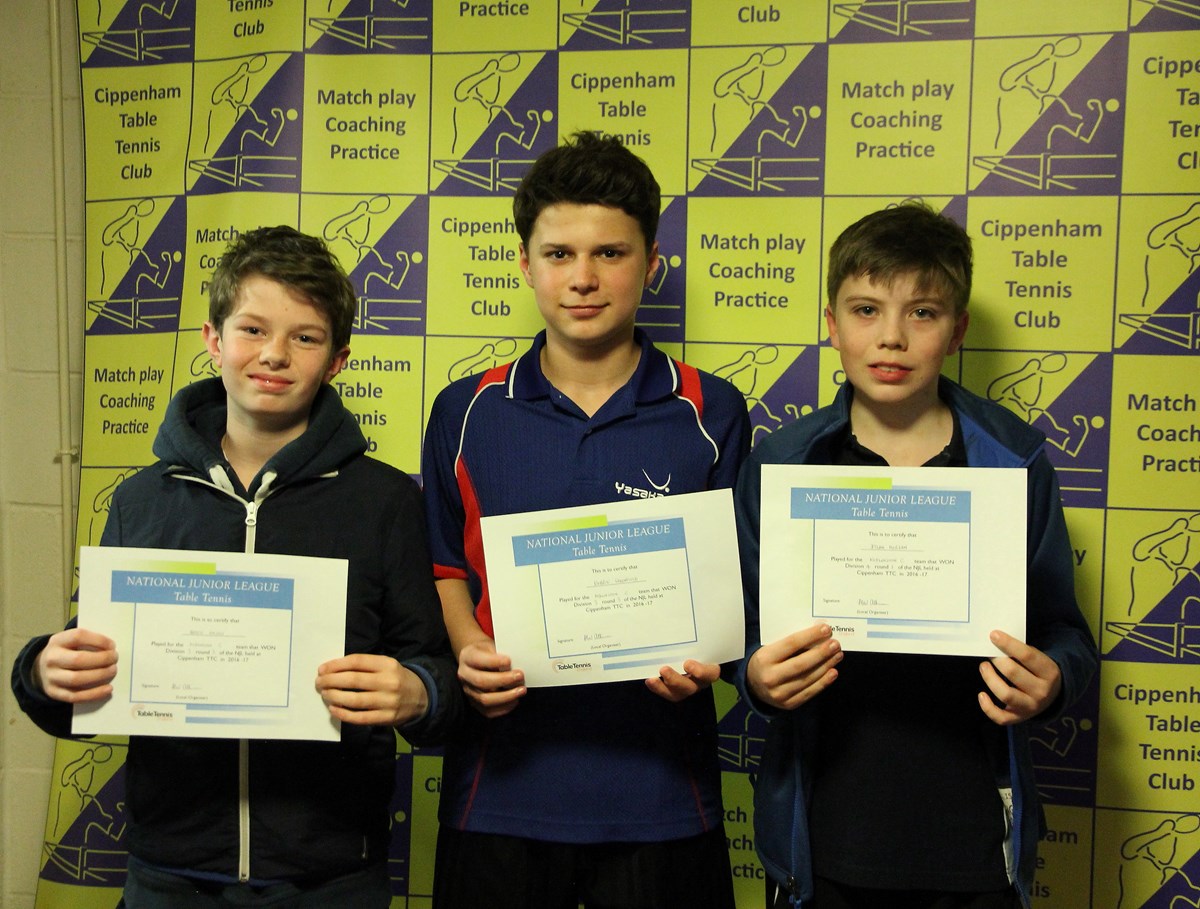 Bertie, Robbie and Dylan with their certificates for winning Division 3.
Over the season I've enjoyed organising these players and attempting to give them good advice. By the end there was real depth in the squad, with so many accomplished players in the C team. As well as observing the civilised behaviour and staunch determination of the players, I've also valued having two strong characters in Carl and Richard, full of good humour, managing the B and C teams. The humour is often needed at Cippenham for reasons many of you will appreciate.
Author:
John Birkin
via Oxford Table Tennis League
Article Published:
Last Updated: