CITY JUNIOR TOURNAMENT results report photos
City Junior Tournament, January 22nd, 2017
Todd Stanmore sweeps the board; Kiarash Shaddel in two finals;
Pelin Karabulut retains Graded Singles title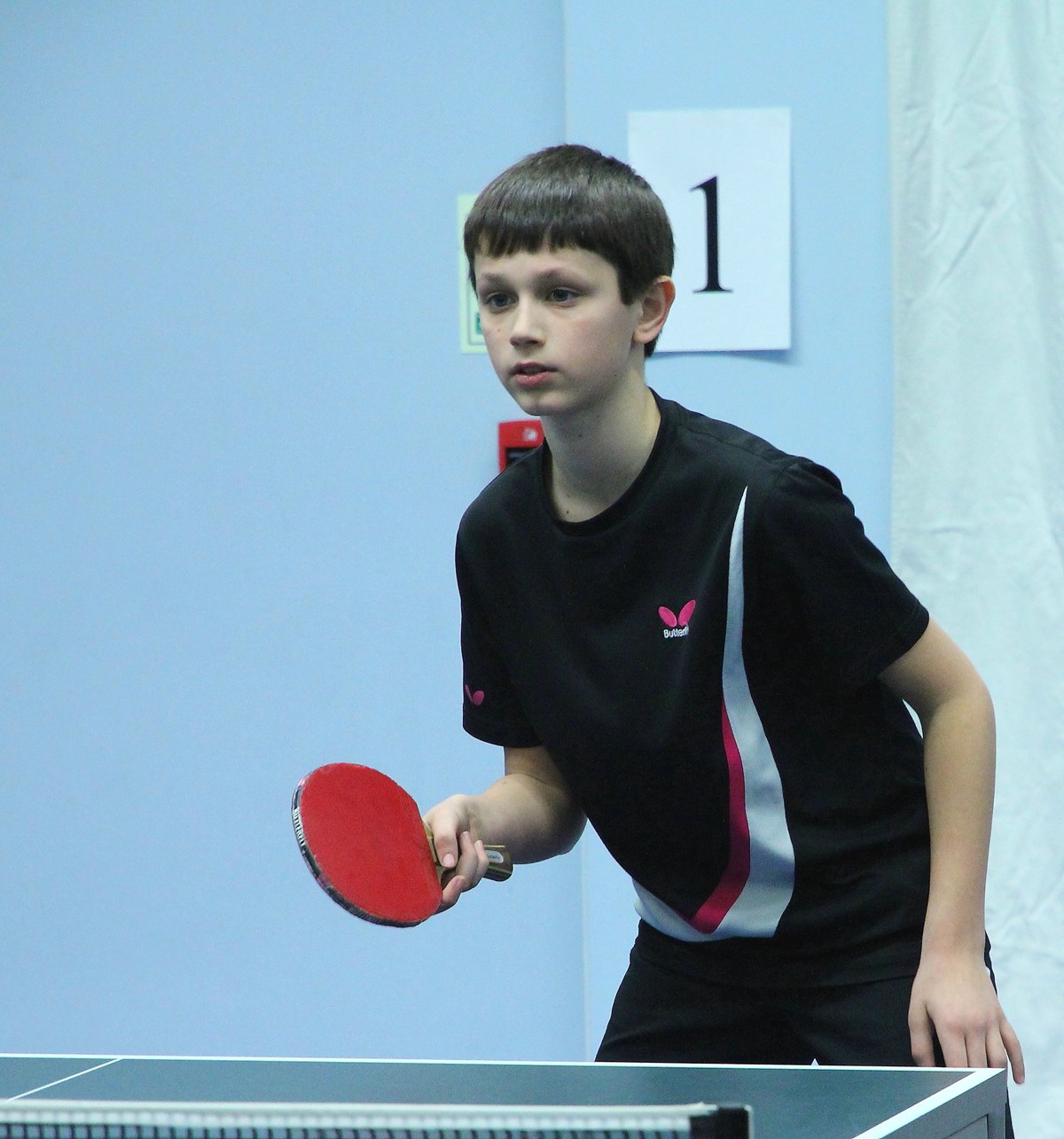 Todd Stanmore stole the show at the Oxford League's annual Junior Tournament, held at Kidlington Forum on Sunday, 22nd January, with a clean sweep of the three Boys' Singles titles, a remarkable achievement for a Primary School boy! At 11 years 3 months Todd is in fact still eligible for the Under 11 event in the forthcoming English Schools competition and should be a contender at National level. Kiarash Shaddel (14) was his opponent in two of the finals and it was pleasing to see the huge effort he puts into the game rewarded with some excellent performances.
The tone was set bright and early by three fine young players battling it out in the Under 18 group matches. Bertie Anstis (12) took on the mighty Todd (who has been ranked in the top ten in England in his age group) and had the edge in the first two games, with Todd just clawing his way back to deuce to reach one all before prevailing at 11-8 in the 4th. Greater drama followed as Bertie took a 2-0 lead over Kiarash Shaddel, who then saved 6 match points in the 3rd before eventually winning 12-10 in the 5th! Kiarash then started hitting through Todd and outspeeding him to the tune of 11-5, 12-10, a big wake-up call for the young pretender, who duly responded with 7, 9, 7. After these breathtaking matches it came as no surprise later when Kiarash and Todd then defeated older opponents, namely Lewis Waddup and Jamie McNeil, in their respective semi-finals, and they provided a fine spectacle in the final, demonstrating just how much they have improved this season.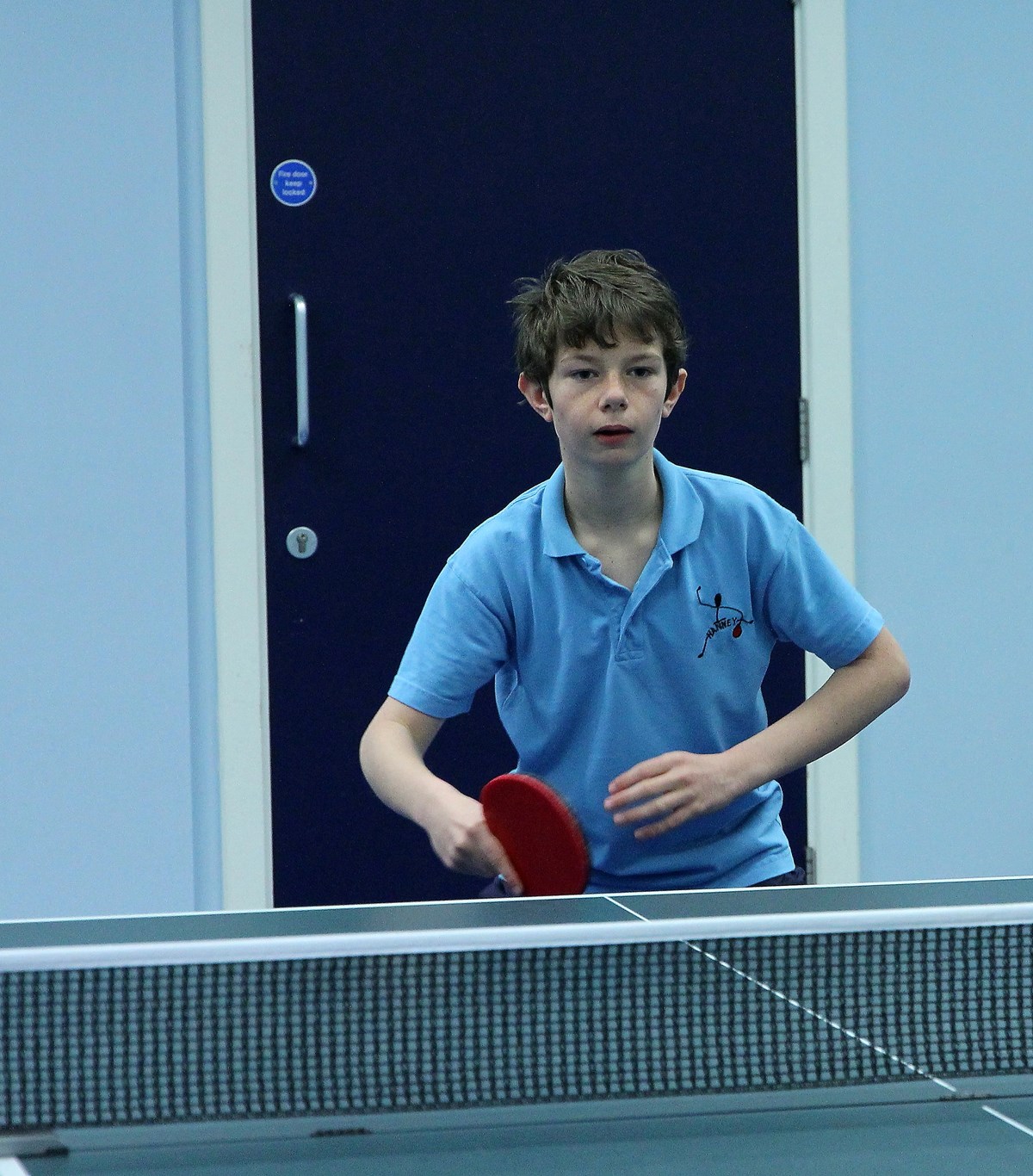 Bertie Anstis
Also making his mark was the effervescent Dylan Morgan (13), who won his Under 16 group, just getting past Toby Dow (12), and took a game off Kiarash in their semi-final. Toby scored a notable win over Jamie McNeil and can certainly count himself as one of the many really promising youngsters participating here. Dylan reached the Under 14 Final after a remarkable turnaround ("I don't know how I won that") against Pelin Karabulut (12), who had dominated the match for two and a half games with her powerful counter-hitting.
Toby Dow
Meanwhile the Graded Singles was taking place in RETRO mode, with 3 games up to 21 and sudden death at deuce; this was to give the handicapper greater scope. We welcomed newcomer Saqib Hussain from the Cowley club and also James and Tom Williams, taking part in their first competition. Saqib and Dylan Morgan both won one match, while the group was headed by Tom Williams (13) and Scott Campbell (14). The other group saw a triple tie between James Williams, Pelin Karabulut and Toby Dow, finishing in that order on countback. The handicapping seemed to be working, with some close encounters in the final stages, in particular three sudden death wins for Pelin, who repeated her feat of 2016 with a brace of 21-20s over James Williams.
Pelin Karabulut
The Handicap Doubles was played in conventional format, apart from the 11-10 decider. Here the organiser tried to equalise the pairs so as to make it more viable. Jamie McNeil & Adam Jenner reached the semi-final, but were beaten in straight games by Dylan Morgan & Toby Dow. It was pleasing to see newcomer Saqib Hussain reach the final, partnered by top-seed Lewis Waddup, who had eliminated Todd Stanmore & James Williams. The overall standard of doubles was not high, partly owing to the random partnerships and a clutch of left-handers. At least the handicapping went well in the final with a last ditch victory for Dylan and Toby, coming from two games down to snatch a dramatic sudden death victory in the 5th! They had good rapport as a team and plenty of attacking energy.
Special thanks go to Kidlington Forum for staging the event and to Karl Bushell for setting up the arena, making the presentations and presiding with his customary stand-up wit.
John Birkin (Organiser/City Team Manager)
RESULTS
Under 14 Semi-Finals: Dylan Morgan v Pelin Karabulut -8, -6, 8, 9, 8
Todd Stanmore v Bertie Anstis 2, 7, 9
Final: Todd Stanmore v Dylan Morgan 4, 3, 5
Under 16 Semi-Finals: Kiarash Shaddel v Dylan Morgan -8, 4, 6, 10
Todd Stanmore v Bertie Anstis 3, 4, -5, 5
Final: Todd Stanmore v Kiarash Shaddel 3, 7, 9
Under 18 Semi-Finals: Kiarash Shaddel v Lewis Waddup 9, -4, 9, 7 Todd Stanmore v Jamie McNeil 3, 5, 5
Final: Todd Stanmore v Kiarash Shaddel 8, 8, 12
Graded Singles Semi-Finals: Pelin Karabulut v Tom Williams 21-20, 21-16
James Williams v Scott Campbell 21-14, 19-21, 21-11
Final: Pelin Karabulut v James Williams 21-20, 21-20
Handicap Doubles Semi Finals:
Lewis Waddup/Saqib Hussain v Todd Stanmore/ James Williams 3, 5, 3
Dylan Morgan /Toby Dow v Jamie McNeil/Adam Jenner 8, 3, 9
Final: Dylan Morgan/Toby Dow v Lewis Waddup/Saqib Hussain -7, -9, 7, 7, 10
Docos Best Performance Boys Trophy: Bertie Anstis
Docos Best Performance Girls Trophy: Pelin Karabulut
Trophy Winners, pictures with Karl Bushell, Head Coach at Kidlington Forum
Author:
John Birkin
via Oxford Table Tennis League
Article Published:
Last Updated: