Updated 23/9/20
Historically we have operated an open practice format which has surved us well for many years. However in these unprecedented times we now require all practice sessions to be booked.
Tables will be available in 60 minute slots on the days and times shown in the Booking sheet which also shows availability.
Practice is limited to 2 players per table per session only. The player booking the table is responsible for the session with regards to organising their own playing partner, and adherence to the hygiene requirements derived from Government, TTE, and Parish (our landlord) guidelines.

Before Arrival
Members advised to not attend if they or any of their contacts/household test positive for Coronavirus – until completion of the current government advised isolation period.

Equipment
The only equipment provided will be table, net and barriers. Players are required to bring all of their own equipment to play, and arrive ready to play as there is NO changing allowed (including shoes).
No equipment sharing is allowed.

Arrival
Access is through the usual front door and main hall entrance.
Wash your hands properly (following the relevant guidance).
Follow the hygiene signage.
Sign in on the track and trace register.
Upon confirming your table has been vacated you can enter and practice.

Hygiene
To allow for Hygiene routines practice is to be completed after 45 minutes. This allows for 5 minutes of hygiene protocols and vacating the premises. 10 minutes is then required as per TTE guidelines for the area to 'rest' before the next session can start.
Avoid unnecessary contact. Eg. no handshaking / slapping hands.
Players should not change ends.
Table Tennis balls to be washed regularly.
No breathing on the ball to clean, or hand wiping on the table.
Wiping down tables and other areas that have been touched after use.
Afterwards
If a participant or significant contact develops the virus within 7 to 14 days of visiting the complex it is that person's responsibility to:
Report it to the NHS Test ,track and trace line

The NHS may ask for the clubs details where the club email address and website should be provided (olopttc.co.uk).

Report it to the Parish Office earley@portsmouthdiocese.org.uk or 0118 9663711 and the OLOP TTC Club email address (olop.tt.club@gmail.com)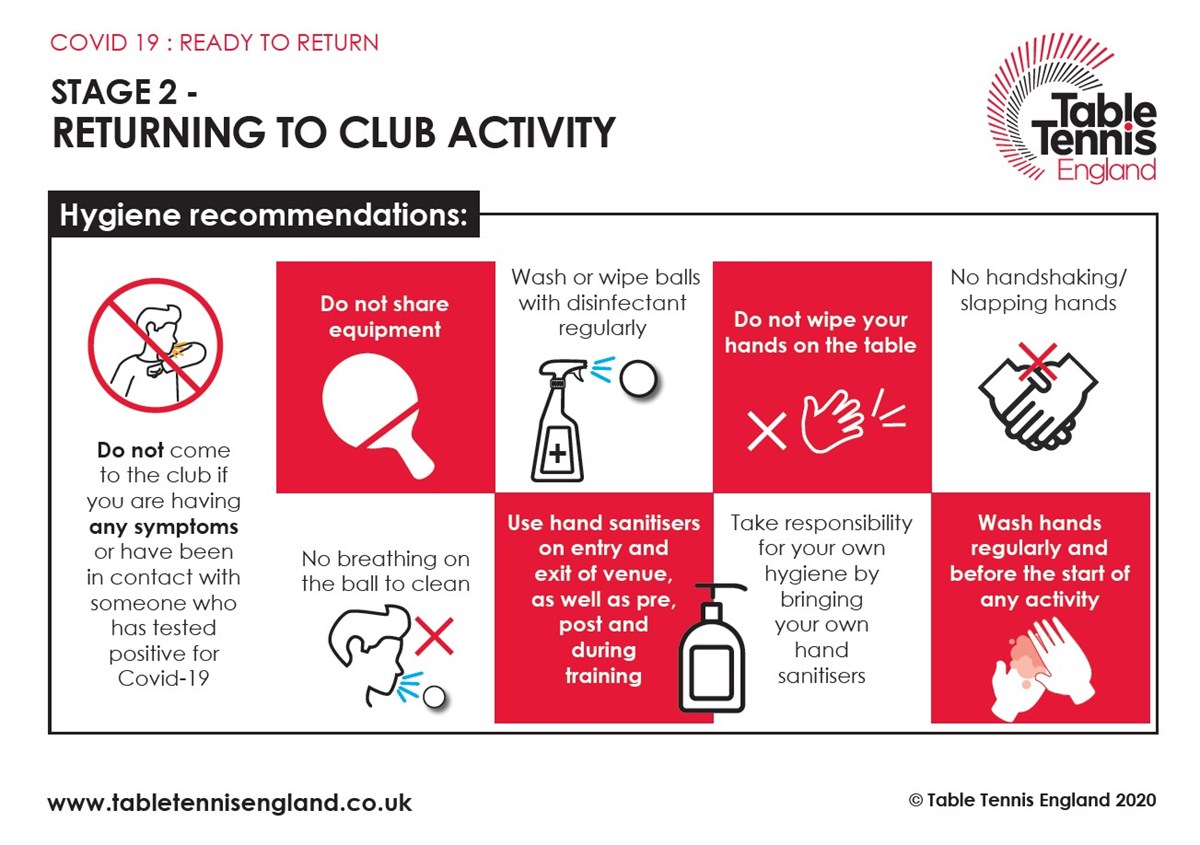 Last Updated: