League update 22nd September
Northumbria Table Tennis League Weekly Report – 22 September 2019
This week saw the first week of games in the Northumberland winter league. The league has 49 teams split across five divisions.
In the Premier division there were straightforward wins for St Chads over Mount B, and Mount A over Prudhoe. St Chads beat Mount B 7-3 with Keith Weatherby player of the match winning 3 games and supported by Paul Baines and Chris Blake who won both 2 games each. Mount A beat Prudhoe 9-1 with Bailey Pye, Anth Ainley and Phil Prady all winning their three games.
In Division one there were wins for Mitford, Tyneside A and Mount D. Mitford beat Ouston A 6-4 with Michael Bull winning his three games for Mitford. Tyneside A beat Prudhoe B with Mark Kimberley winning his three games for Tyneside. Mount D beat Cramlington Tigers 8-2 with Shirley Gelder and Ethan Brown both winning their three games for Mount.
In Division 2 there were straightforward wins for Cramlington Swifts who beat Ouston C 9-1; and Old England Crocks who beat Matfen Tribunes 8-2. The other three games in the week were closer Ouston B edged out Cramlington Trojans with a 6-4 win; and Mount E against Cramlington Reivers and Cramlington Falcons against Tyneside B were both 5 – 5 draws.
In Division 3 there was a straightforward win for Matfen Whitley Chapel who beat Ouston D 9-1. Newton B defeated Saints 7-3 thanks to John Henderson and John Manual who both won three games. The game between Tyneside C and Brandon Bravehearts ended up as a 7-3 win for the Brandon team. The game between Matfen Cohorts and Cramlington Cobras was a 5-5 draw.
Just two games in Division 4 Cramlington Dragons had a straightforward 9-1 win over Cramlington Magpies with Adrian Barnes and Pauline Long both winning their three games. The second game was a 5-5 draw between Cramlington Lyons and Cramlington Dynamos.
Over the summer there have been notable successes for Northumbria league players in regional, national and international events.
The North Eastern Masters for Veterans was held at The Beacon of Light, Sunderland in August. Andrew Wilkinson won his third consecutive over 40's title with a 3-1 win over the number 1 seed and England number 2 Jason Ramage. Andrew also paired up with Steve Scrowcroft (Lancashire) to win the over 40s doubles. Geoff Salter fresh from European success in Budapest won the over 70s singles and partnered with Barry Hill to win the over 70s doubles. Christine Burke was successful in winning the women's over 50 doubles; and Shirley Gelder was successful in winning the women's over 60s doubles.
The 7th International Veterans team event took place in August in Hilversum, Holland. Shirley Gelder was part of the England over 60s team which was unbeaten over four matches against England B, Czech Republic and German teams to win gold in the competition.
Finally, Andrew Wilkinson represented England in the Veterans Home Nations in Perth, Scotland earlier this month. The England team beat teams from Ireland, Guernsey, Scotland and Wales to win gold. Andrew then went on to win gold in the doubles and gold in the singles final beating the Irish number 1 Daryl Strong. This meant Andrew came away with an impressive haul of three gold medals from the event.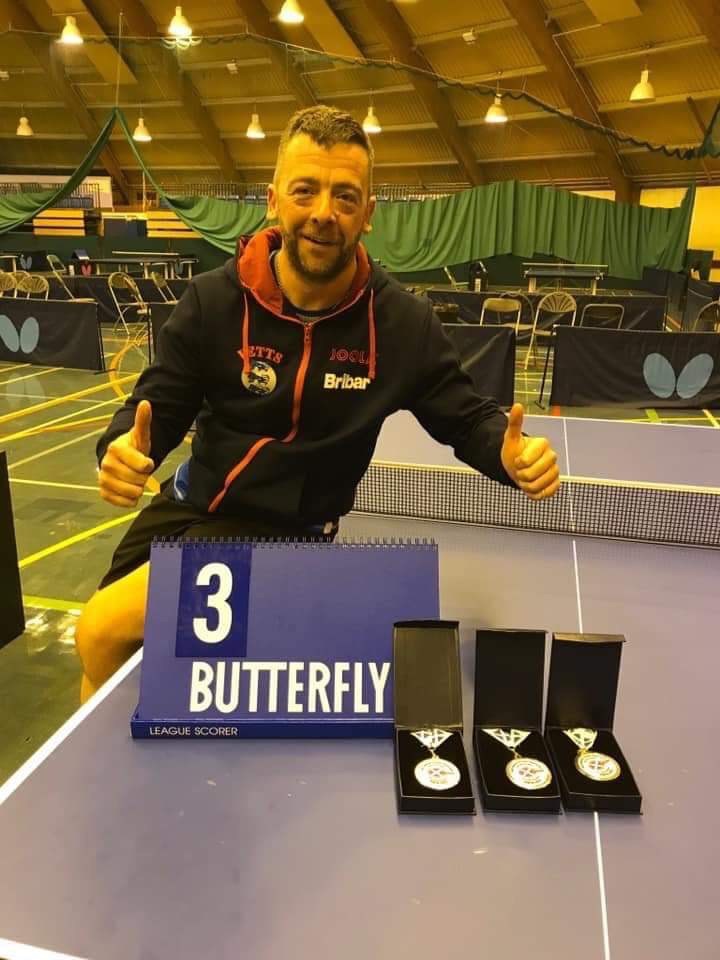 Author:
Dale Aitkenhead
via Northumbria Table Tennis League
Article Published:
Last Updated: