League update 23rd March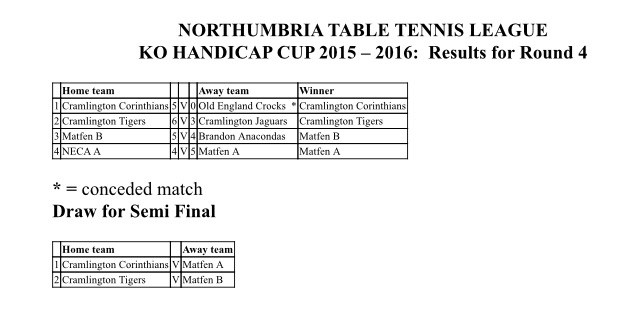 The quarter finals of the handicap took place this week and the derby match between Cramlington Tigers and Jaguars ended in a win for the Tigers team of Lee Eadington, Peter Smallcombe and Paul Jamieson. Peter Smallcombe was man of the match winning all three of his games and vitally clinching the tie with a win over Aubrey Drapkin in straight sets. Lee Eadington won two and Paul Jamieson getting one. Drapkin was supported by Joe Hastings and Daniel McManus. Matfen who also have two teams left in the cup have both teams through to the semi finals with the B team winning in a very tight match against Brandon Anacondas by five games to four. Player of the night for Matfen was Keith Hodges who won three, however the match was clinched with the score at four all by Steve Oxley who defeated Alan Perry of the Anacondas in the very last game. The Matfen A team won against the Newcastle Chinese association A team by five games to four in another close match and all three players Dave Swan, Alex Holliday and john Henderson contributed. The remaining match was unfortunately conceded to Cramlington Corinthians by Old England Crocks as they were unable to field a team.
The Senior County team were in action for their second and final round of matches at Draycott over the weekend. They lost both of their matches 6-4 against Cambridgeshire and South Yorkshire. Team Captain Andrew Wilkinson said the team was unlucky not to come away with something from the weekend but have finished mid table and credit goes to the players for performing well over the first weekend. Wilkinson was joined by talented Newcastle University student Chun Yin Yu, Jim Stamas who also played for the veterans team last week, Christine Burke and Lynsey Storey.
Author:
Dale Aitkenhead
via Northumbria Table Tennis League
Article Published:
Last Updated: