VETERANS TOURNAMENT 2019
VETS TOP 12 2019
Nigel Metcalfe overcame a group stage defeat to claim the Northamptonshire Veterans Top 12 title.
Seeded third, Metcalfe came second in his group of six after losing 3-1 to Steve Silk.
He fought past Kettering Town club mate John Fuller 5-11, 11-8, 11-8-, 11-8 to earn a shot at revenge against Silk in the final.
And with the day's play taking its toll, Metcalfe blew his rival away 11-1, 11-4, 12-10 to take the trophy home.
Silk had survived a scare against Henry Arthur in the semi-final, who saw chances come and go in a five-end defeat.
Arthur eventually came fourth after losing to Fuller in the third place play-off hampered by injuries.
Chris Haynes came fifth after demolishing Mike Hawes with Matt Rushton beating Ray Kingston in the seventh place play-off.
Ian Baldock pipped Martin Hall to ninth with Steve Kendall avoiding the wooden spoon by beating David George in his last match.
Final standings:
1. Nigel Metcalfe
2. Steve Silk
3. John Fuller
4. Henry Arthur
5. Chris Haynes
6. Mike Hawes
7. Matt Rushton
8. Ray Kingston
9. Ian Baldock
10. Martin Hall
11. Steve Kendall
12. David George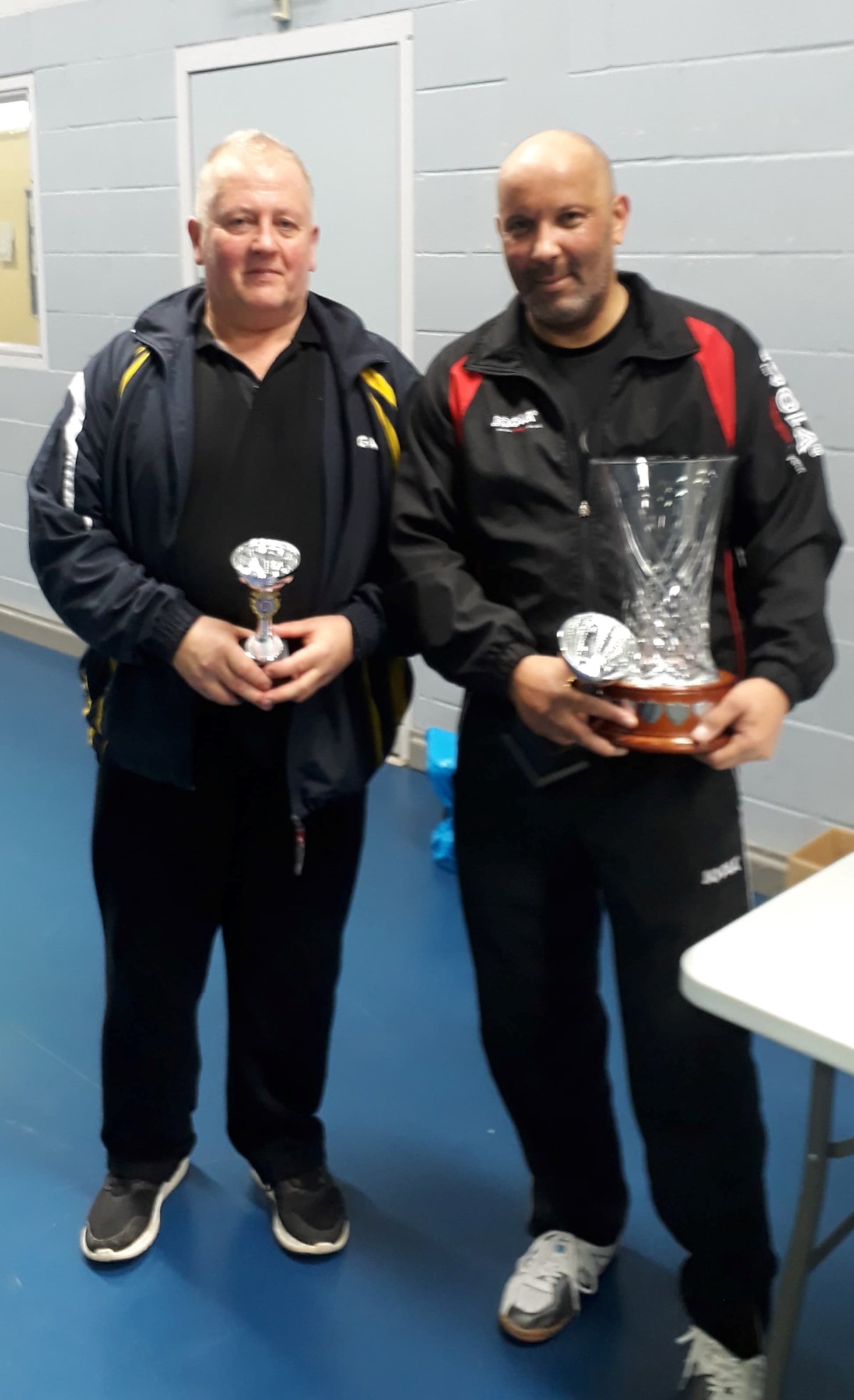 The Veterans Ladies event only had three players after Deirdre Kiziak was forced to withdraw due to illness.
All three matches went to four ends with Maxine Shears victorious, beating both Brigitta Palinkas and Clare Coles.
Palinkas had earlier beaten Coles, finishing second.
Final standings:
1. Maxine Shears
2. Brigitta Palinkas
3. Clare Coles
VETERANS TOP 12 2018
Andy Trott was in imperious form at the Northants Veteran's Top 12, dropping just one end as he took the title.
He won his group, beating third seed Vidal Graham in the process, to set up a semi-final with Group Two runner-up Roumen Stefanov.
Stefanov was forced to settle for second after losing a mammoth five-end clash with defender John Fuller took the third end 20-18 and eventually came through 11-8 at the last.
In the semi-finals Fuller eased past Graham but Trott was given his toughest test of the day by Stefanov.
The pimpled Bulgarian led 1-0 but fell away 11-8, 12-10, 11-3 to see Trott move into the final.
David George made sure he avoided the wooden spoon in the 11th/12th place play-off by beating Ian Baldock 11-9 in the decider.
Tony Woodward beat Andy Harrison into 7th with an identical scoreline and Richard Elliott beat Nigel Metcalfe 3-0 to come fifth.
Graham beat Stefanov surprisingly easily to take third place before Trott and Fuller battled it out for the crown.
In a game that has been played out countless times over the years it was Trott's topspin that won on the day as he defeated Fuller 11-5, 11-6, 11-5.
Final standings:
1st: Andy Trott
2nd: John Fuller
3rd: Vidal Graham
4th: Roumen Stefanov
5th: Richard Elliott
6th: Nigel Metcalfe
7th: Tony Woodward
8th: Andy Harrison
9th: Henry Arthur
10th: Martin Hall
11th: David George
12th: Ian Baldock
VETERANS LADIES TOP 4 2018
Maxine Shears took the title in the Women's Veterans Top Four by winning all three of her games.
She suffered a scare in her opener against Sue Armstrong, coming from 2-1 down to win 11-6, 11-4.
Armstrong came second after fighting back from the defeat to beat Claire Coles in straight games and Deirdre Kiziak in four.
Coles came third by virtue of beating Kiziak in her opening match.
Final standings:
1st: Maxine Shears
2nd: Sue Armstrong
3rd: Claire Coles
4th: Deirdre Kiziak
VETERANS TOP 12 2017
This year the winner was Roumen Stefanov who won the final against Steve Silk 11-9, 5-11, 11-9, 11-3. The order of the remaining players was 3 John Fuller, 4 Richard Elliott, 5 Alex Aston, 6 Martin Hall, 7 Nigel Metcalfe, 8 Henry Arthur, 9 Steve Hobbs, 10 Barry Thompson 11 Mike Hawes 12 Ian Baldock.
VETERANS LADIES TOP 6 2017
This was won by Christine Scaysbrook who won against Helen Watts 8-11, 11-9, 11-9, 6-11, 12-10. Helen Watts was second, Maxine Shears third, Clare Coles fourth and Deirdre Kiziak fifth.
VETERANS TOP 12 2016
The absence of an injured Steve Silk, who had won the Veterans Top 12 for the past two years made Andy Trott's task of claiming another title even easier. Four straight game wins in his group gave him a semi-final place while Nigel Metcalfe's surprise victory over Kevin Bird eased him into the top four.
John Fuller took control of the second group but had to survive a five end encounter with Roumen Stefanov before finishing in pole position. However with Richard Elliott hitting top form to beat Stefanov in straight games it was the Hingham player who had the unenviable task of meeting Trott at the at the semi-final stage.
Fuller made no mistake against his Kettering Town teammate but a surprise was on the cards when Elliott took the first two games against Trott. However Trott regained his touch to take three ends in a row and so take his place in a repeat of the recent Mens Singles final against Fuller.
The customary attack versus defence ensued with Fuller's excellent control taking the match to a deciding end. He then forced Trott into mistakes which gave the Kettering player a five one lead at he change of ends. Suddenly everything changed as Trott reeled off eight points to lead nine five. Four points later it was all over and Trott had taken yet another title.
Another player who dererved a mention was Tony Woodward who defied his No 43 County ranking to finish in sixth place.
Final positions:- 1. Andy Trott. 2. John Fuller. 3. Richard Elliott, 4. Nigel Metcalfe, 5. Roumen Stefanof. 6. Tony Woodward. 7 Kevin Bird. 8. Matthew Rushden. 9. Martin Hall. 10. Alex Aston. 11. Mike Hawes.
WOMEN VETERANS TOP 6
The Women Veterans Top 6 was decimated by illness leaving newly qualified Helen Watts with an easy task. She dropped a single end against newcomer Christine Scaysbrooke bur otherwise was untroubled.
Final Placings:- 1. Helen Watts. 2. Christine Scaysbrook. 3. Deirdre Kiziak. 4. Linda Freeman.
THORNTON'S SPORTS COUNTY RANKING LIST
Andy Trott's win in the Veterans Top 12 and John Fuller's place in the final kept the talented duo at the top of the latest issue of the Thornton's Sport County Ranking List.
Latest Positions:- 1. Andy Trott. 2. John Fuller. 3. Steve Silk. 4. Miles Chan. 5. Roumen Stefanov. 6. Przemek Sikorski. 7. Kevin Bird. 8. Dawid Przybysz. 9. Richard Elliott. 10. Chris Ross. 11. Alex Ramsden. 12. Ben Tombs. 13. Brian Wooding. 14. Chris Gibbons. 15. Lee O'Boyle. 16. Richard Bashford. 17. Chris Haynes. 18. Nigel Metcalfe. 19. Dan Smalley. 20. Mick Allsop.
Dennis Millman Northants County Press Officer
21 April 2015
Last Updated: