O

THER TOURNAMENTS

Kettering and District Junior Table Tennis League

Twenty two players signed up to compete in the inaugural Kettering and District Table Tennis League's Individual Junior League competition played at, and sponsored by Corby Smash Table Tennis Centre on Saturday 28th January. The entry consisted of several established players who have been playing and competing for several years through to those at beginner level who are still very much learning the sport. The league was split into two age categories with the older category being for those in school years nine and over, and the younger category aimed at those in year 8 and below.

The younger age group had 12 entrants and so were split into three groups of four players. Group A featured Sully Rymarz, Ethan Hunt, Ryan Fisher and Shay McCarron. Myraz was the most experienced of the players in this group and duly won all three of his matches 3-0 to top the group. Ryan Fisher (2 wins) came second with Ethan Hunt (1 win) in third and Shay McCarron fourth.

Group B followed a similar path with the most experienced player in that group in the form of Nathan Dixon finishing in first place with three wins. Samuel Tattersall (2 wins) took second place with Ethan Wordley (1 win) third and Thomas O'Callaghan fourth.

Unsurprisingly, Group C also went the same way with Alex Cochrane showing his class and experience to top his group with three wins. Nick Preston-Jones (2 wins) finished in the runner-up position ahead of Thomas Knox (1 win) and Sonny Jordan.

With ten players signed up for the older age group, they were split into two groups with five players in each. Again the cream rose to the top with the class of the experience players clearly evident.

Group A featured two players who are regulars in the Kettering and District Senior League and they met each other in the final match to decide who would take top place in this group. Adam Wilson went into the match as favourite but when Tyler Hillery claimed the first game 11-4, a shock was on the cards. Wilson looked to have turned the match back into his favour to lead 2-1 only for Hillery to win the fourth 14-12 and take the match to a deciding leg which Wilson just edged 11-8 to take pole position with Hillery in second place. Tom Clark (2 wins) came third, Josh Dodd (1 win) was fourth with Jordan Gray fifth.

On paper at least, Group B looked to be an even tougher group to call with three players all playing regularly in the Kettering League including Jacob Tattersall, who is the current Northamptonshire Cadet champion. And it was Tattersall that went on to dominate this group with four clear cut wins including a resounding victory over Northants number five cadet Lewis Hillery in the deciding match of the group. Hillery took second spot with three wins with Mack Holdman (2 wins) third, Callum Donaldson (1 win) fourth and Mateusz Potrykus fifth.

The finishing positions from this round of fixtures will be used to decide on the groups for the next round of matches on February 18th.

If you have a child who is interested in playing table tennis then you can find details and contacts by visiting the Kettering League website at www.tabletennis365.com/kettering. Details of Corby Smash Table Tennis Centre can be found at www.corbysmashttc.co.uk

Corby Smash Super League

A high quality field featuring no fewer than four of the top 40 players in England contested the latest Super League tournament to be played at the Corby Smash Table Tennis Centre in Northamptonshire. Northants own Chris Doran (ranked at number 5 nationally) was the star attraction, and was looking to win this event for the third time in succession. Would Michael O'Driscoll (ranked 10), Ismaila Akindiya (16) or Mitchell Jones (37) be up for the challenge?

The first round produced just one shock result with Steve Smith (Warwickshire) upsetting the seedings, with a 3-2 win over the number 8 seed John Fuller (Northants). Bedfordshire's Elroy Edwards almost matched Smith's performance but, after leading 2-0, he eventually slipped to five end loss against Warwickshire's Andy Frain (number 13 seed).

Round two saw young Louis Price (Avon-seeded 15) up against the 3rd seed Akindiya (Notts) and this clash was probably the match of the night. Price took the first end 11-9, but Akindiya looked to have worked out his young opponent to take a 2-1 lead (11-7, 11-2). However, Price (with Dan Ives in his corner), was not done and levelled the match with an 11-4 win. The fifth end was a close encounter but eventually the more experienced player pulled away to take the decider 11-7 and ruin Price's hopes of a tremendous and unexpected victory. This round did see a slight upset with Matt Evans (Bedfordshire-seeded 12) defeating Shandor Czuczor (Hungary-seeded 5) by three games to one.

Into the third round, and 4th seed Mitchell Jones (Middlesex) was given an almighty scare by Bedfordshire's Evans before scraping through 11-9 in the decider.

The semi-final stage saw top seed Doran play Jones with Jones putting in a strong display but Doran was too good and took the victory 15-13, 11-3, 11-13, 11-6. The other semi-final was between the 2nd seed O'Driscoll and the 3rd seed Akindiya. This proved to be an absolute classic of an encounter. Akindiya opened up a 2-0 lead courtesy of two 12-10 wins. O'Driscoll showed all of his fighting qualities to level the tie at 2-2 with two 11-6 wins of his own. The momentum looked like it had swung into O'Driscoll's favour but Akindiya showed his mental strength to take the decider 11-8.

And so the final, saw top seed Doran facing 3rd seed Akindiya. The two of them produced an entertaining match but Northants man Doran was always in control to take the crown and the £200 prize money with an 11-6, 11-6, 11-13, 11-8 victory.

Final Placings (and initial seedings)

1) Chris Doran (seeded 1)

2) Ismaila Akindiya (3)

3) Mitchell Jones (4)

4) Michael O'Driscoll (2)

5) Andy Hawes (6)

6) Tony West (11)

7) Matt Evans (12)

8) Joe Killoran (7)

9) Louis Price (15)

10) Chris Cockburn (14)

11) Pat Glynn (10)

12) Ben Willson (9)

13) Paul Beck (16)

14) Steve Smith (21)

15) Andy Frain (13)

16) Shandor Czuczor (5)

17) Dan Smalley (17)

18) Richard Hayes (18)

19) John Fuller (8)

20) Henry Arthur (22)

21) Elroy Edwards (27)

22) Anthony Ellis (20)

23) Matt Horrocks (24)

24) Peter Bannister (25)

25) Alex Aston (19)

26) Mark Conway (28)

27) Nick Howard (23)

28) Pete Hillery (32)

29) Helmuth Osborne (26)

30) Viv Rayson (29)

31) Andy Michalski (31)

32) Mateusz Filipowicz (30)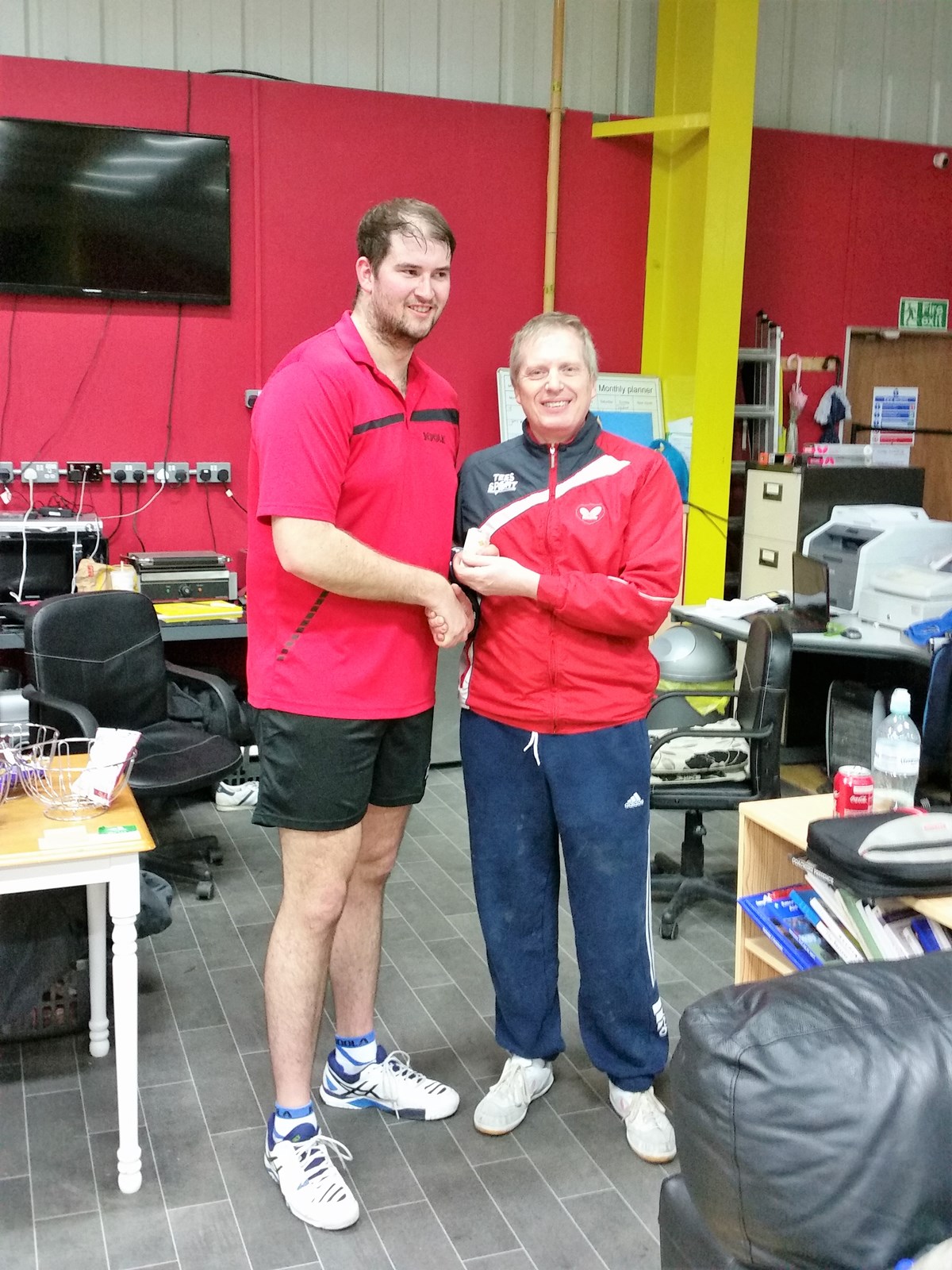 Date

Tournament

Address

3 January 2017

Milton Keynes Cadet and Junior 2*

Milton Keynes TTC, 14 Winchester Circle, Kingston, Milton Keynes MK10 0BA

7/8 January 2017

East Midlands 4* Cadet and Junior

Weavers Leisure Centre, Weavers Road, Wellingborough, NN8 3JQ East Midlands Entry Form 2017.doc

25 January 2017

Milton Keynes 2* Cadet only

Milton Keynes TTC, 14 Winchester Circle, Kingston, Milton Keynes MK10 0BA

TBA Feb 2017

County Schools Individual Tournament

Weavers Leisure Centre, Weavers Road, Wellingborough, NN8 3JQ

18 February 2017

Milton Keynes Cadet and Junior 2*

Milton Keynes TTC, 14 Winchester Circle, Kingston, Milton Keynes MK10 0BA

18 March 2017

Milton Keynes Cadet and Junior 2*

Milton Keynes TTC, 14 Winchester Circle, Kingston, Milton Keynes MK10 0BA

1/2 April 2017

Regional Qualifiers

TBA

8 April 2017

County Closed (Under 15)

Weavers Leisure Centre, Weavers Road, Wellingborough, NN8 3JQ

9 April 2017

County Closed

(Under 18)

Weavers Leisure Centre, Weavers Road, Wellingborough, NN8 3JQ

22/23 April 2017

Cippenham 4* Cadet and Junior

The Westgate School, Cippenham Lane, Slough, Berks SL1 5AH

13 May 2017

Milton Keynes 2* Cadet

Milton Keynes TTC, 14 Winchester Circle, Kingston, Milton Keynes MK10 0BA

10/11 June 2017

Cippenham YPSF Cadet and Junior

The Westgate School, Cippenham Lane, Slough, Berks SL1 5AH
Wellingborough's WDHA Table Tennis Club – Junior Team Top the First Round of Division 2 National Junior League
WDHA Table Tennis Club's Team – WDHA Juniors participated in the National Juniors League with the first round of matches played at Weavers Sports Centre in Wellingborough on Saturday 15th October 2016. The team entered in Division 2 and was promoted to Division 1 for the next round after an unbeaten record and topping the Division 2 with 24 points. They beat Westfield A 5-1, Bedford Modern 4-2, Cliffedale Chandlers A 6-0, Lillington B 6-0 and drew 3-3 against St Neots. The team players Abin Islam, Ethan Ali and Virat Patel played for the team on the day. The player averages were Virat – 90%, Ethan – 80% and Abin – 70% who finished in second, third and fifth positions respectively.
The team has entered the National Junior League this season for the first time in the club's history and this is a great achievement for not only the club but also the team and the players.
The club's head coach Graeme McKim was present on the day and had the following to say: "The boys played well, extremely well and it just shows that their hard work has paid off. It was great to see the team beat some of the experienced sides in this competition. The next round of matches in Division 1 will be tough playing against some of the other experienced sides".
NJL.docx Photo of successful WDHA TTC players
Corby Smash Super Leagu
A high quality field featuring no fewer than four of the top 40 players in England contested the latest Super League tournament to be played at the Corby Smash Table Tennis Centre in Northamptonshire. Northants own Chris Doran (ranked at number 5 nationally) was the star attraction, and was looking to win this event for the third time in succession. Would Michael O'Driscoll (ranked 10), Ismaila Akindiya (16) or Mitchell Jones (37) be up for the challenge?
Last Updated: