MASTERS INVITATION
The new plastic ball introduced at the start of the season caused some early shocks in the Northants Masters Invitation Tournament.
In the second game of the day Dan Smalley took Dawid Przybysz to a fifth end deuce before admitting defeat. Roumen Stefanov followed with a fourth end victory over County No. 2 John Fuller, while top seed Andy Trott was taken the distance by Przybysz before regaining his touch in a fifth end decider.
Then in the fifth set Nigel Metcalfe produced the surprise of the day when he accounted for his Kettering Town teammate Fuller in straight games.
Results then went according to ranking with Fuller finding his true form to beat Przybysz 11-6, 11-6 11-7. However the Burton player quickly recovered to edge out Stefanov in five ends and so finish in second place.
By this time Trott had made sure of his third Masters title to equal Silk's record. However a final surprise was still on the cards when Fuller led Trott 11-8, 11-8, only for the County No. 1 to fight back and take the fifth end decider 11-9.
Final Placings: 1. Andy Trott - 5 wins. 2. Dawid Przybysz - 3. 3. Roumen Stefanov - 3. 4. Nigel Metcalfe - 2. 5. John Fuller - 2. 6. Dan Smalley.
THORNTON'S SPORT COUNTY RANKING LIST
Andy Trott continues to head the latest Thornton's Sport County Ranking List with 3240 points, 494ahead of second placed John Fuller.
Latest Top 20. 1. Andy Trott. 2. John Fuller 3. Steve Silk 4. Roumen Stefanov 5. Miles Chan. 6. Dawid Przybysz 7. Przemek Sikorski 8.. Richard Elliott 9. Kevin Bird 10. Chris Ross 11. Nicole Bird 12. Alex Ramsden 13. Nigel Metcalfe 14. Dan Smalley 15. Lee O'Boyle 16. Ben Tombs 17. Richard Bashford 18. Chris Haynes 19. Peter Bannister 20.Aiden Smith
Dennis Millman (Northants County Press Officer)
18 October 2015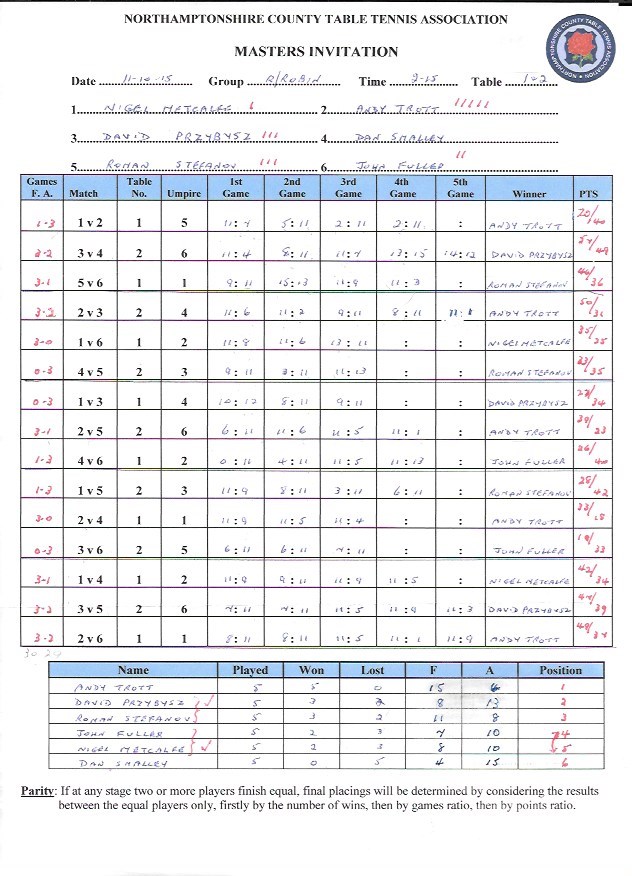 Last Updated: