COUNTY JUNIOR TEAMS
2018/19
The two Northants Junior teams will play in Div 2A this year and will play their first round of county matches on Saturday 3 November at Westfield. The date and venue of the second round of matches in 2019 have not yet been fixed but will be shown here as soon as they have been agreed. The other counties in this division will be Leicestershire, Lincolnshire 2, S Yorkshire, Cheshire 2, Durham 2 and Staffordshire.
2017/18
Northants Junior I match report:
Division 2a, Day 2, 24th March 2018
COUNTY JUNIOR TEAMS
Draycott Table Tennis Club also hosted Day 2 of the Junior County Championships (Div 2a). The Northants first team consisted of Sam Wilson, Shay Graham, Abin Islam, Anna Wilson and fourteen year-old debutant Lucy Sturgess.

Match 1: Northants I vs Lincolnshire II
Northants were always ahead in this match with the boys wining all their matches, only Abin being extended to a fourth end. Anna went 2-1 up to Steffi Poppa but Steffi improved her game and eased home in the fifth. Lucy settled quickly and looked competitive when rallying, but she did find Steffi's service challenging.
Final Score: Northants 6, Lincolnshire 4.

Match 2: Northants I vs Durham
Sam Wilson showed his class with a comfortable double. The rest of the team struggled against a strong Durham side. Northants only winning one leg (Anna) to Durham's twenty-four.
Final Score: Northants 2, Durham 8.

Match 3: Lancashire II vs Northants I
Sam was again our leading light, picking up two wins and justifying his high England ranking. The rest of the team understandably struggled against the eventual league winners, with only Abin able to win a leg
Final Score: Lancashire 8, Northants 2.

Match 3: Northants I vs South Yorkshire
Overall, a very competitive match. Sam won his customary two games and Abin was unlucky to lose 11-9 in the fifth to Adam Szabo. Shay also had a good game against Adam. Anna played her best table tennis, beating Lucie Smith but bowing out in four to Amy Marriott. Lucy nearly sneaked a deuce end against Lucie Smith. Northants fourth point was a concession due to injury. A much better performance and one which could have ended in a draw.
Final Score: Northants 4, South Yorkshire 6.
Summary
Another tough season for the Northants Junior team but one that showed promise for the future. We have a young team which can only get stronger with the experience they have gained. A special thank you to Lucy Sturgess, who stepped in at short notice, showed no nerves and played some great table tennis.
| | | | | | | | |
| --- | --- | --- | --- | --- | --- | --- | --- |
| Junior division 2A | P | W | D | L | F | A | Pts |
| Lancashire 2 | 7 | 6 | 0 | 1 | 47 | 23 | 12 |
| Derbyshire | 7 | 5 | 1 | 1 | 50 | 20 | 11 |
| South Yorkshire | 7 | 5 | 1 | 1 | 41 | 29 | 11 |
| Durham 2 | 7 | 5 | 0 | 2 | 51 | 19 | 10 |
| Leicestershire 1 | 7 | 3 | 0 | 4 | 32 | 38 | 6 |
| Northamptonshire 1 | 7 | 2 | 0 | 5 | 27 | 43 | 4 |
| Lincolnshire 2 | 7 | 0 | 1 | 6 | 18 | 52 | 1 |
| Cheshire 2 | 7 | 0 | 1 | 6 | 14 | 56 | 1 |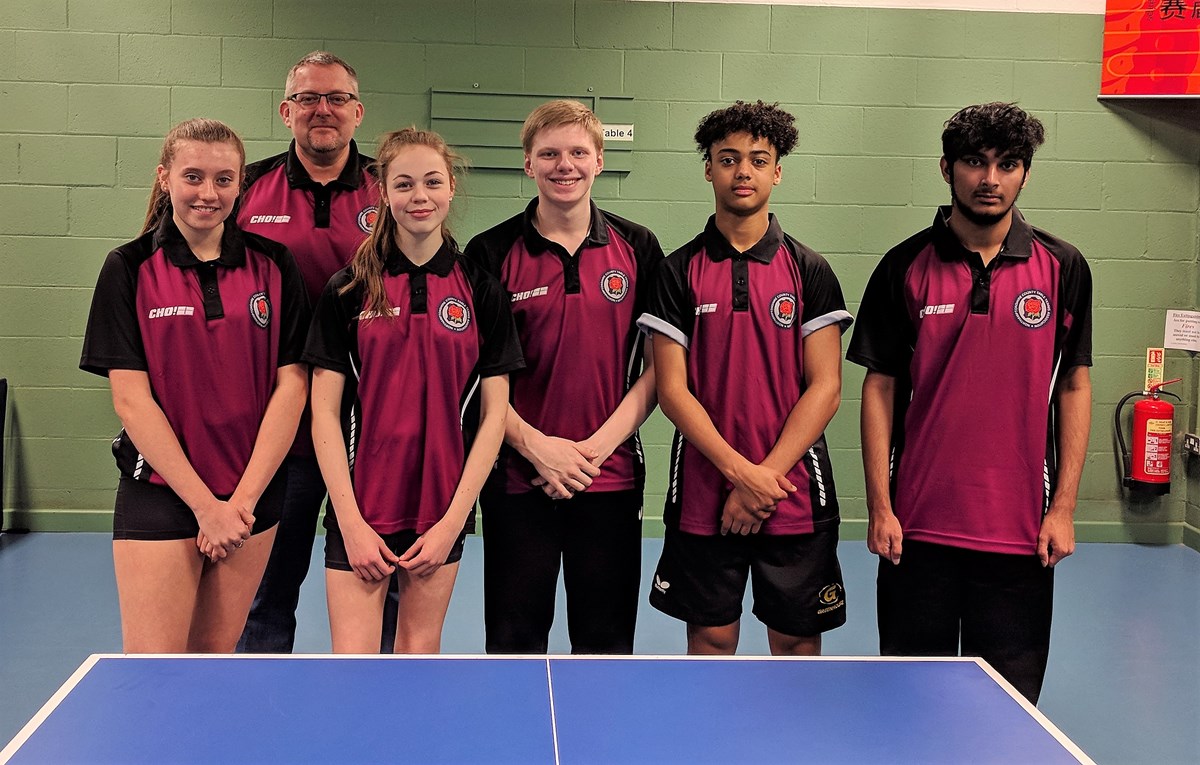 Kevin Bird (25.3.2018)
Northants Junior I match report:
From left to right Anna Wilson, Shay Graham, Sam Wilson, Abin Islam and Evie Elliott.
Division 2a, Day 1, 21st October 2017
Draycott Table Tennis Club hosted Day 1 of the Junior County Championships (Div 2a). The Northants first team consisted of Sam Wilson, Shay Graham, Abin Islam, Evie Elliott and Anna Wilson.
Match 1: Chesire II –vs- Northants I
The match started well for Northants, with Sam comfortably defeating Nathan Bradshaw 3-0. Abin soon made the score line 2-0, with a 3-1 win over the Cheshire number 3. Niamh Scarborough got Cheshire on the board, beating Anna 3-0. Shay restored the two-point lead when he beat the Chesire number 1, 3-1. Evie lost a close five-ender against the Chesire number 2, Ruby Bennett. Sam, Shay and Abin all won again, and Anna also got on the scoresheet, beating Ruby Bennett 3-1. Evie found the Cheshire number 1 in good form, losing 3-0. On balance, a reasonable opening match.
Final Score: Cheshire 3, Northants 7.
Match 2: Northants I –vs- Derbyshire
Next up Derbyshire, whose boys were well ranked. Shay continued his good form with a hard fought 3-1 win over Jack Finney but found Daniel Allen a tough nut to crack, losing 3-1. Abin found the going tough and was only able to pick up one leg in his two matches. Anna and Evie were also finding it hard, with neither able to gain a leg against Helena Dicken or Lauren Thirlwell. Sam's two 3-0 wins, highlighted the gap in the ranking between himself and his opponents. A much tougher match, ending in a 7-3 defeat. Looking around the room, the strength of the remaining counties look equivalent to Derbyshire.
Final Score: Northants 3, Derbyshire 7.
Match 3: Leicestershire I –vs- Northants I
Our third (and final) round of the day was against Leicestershire. Sam made it five out of five, with a comfortable 3-0 win over Rayan Kotecha. Abin played well against Dan Andrews but the Leicestershire man was just too consistent, and he eased to a 3-0 win. Anna lost to Frankie Hallam 3-1 and the vastly improved Jack Rogers made short work of Shay in a 3-0 win. Evie and Anna both beat the Leics Number 2 girl and Rayan beat Abin 3-0 to put Leics 4-3 ahead. Next up was Sam against Jack. After a slow start, Sam squeezed through 11-9 in the first end. The next three ends were all very close and hard fought, but it was Jack who came out on top in all three and secured a 3-1 win. Shay finished off a disappointing match for Northants by losing his match 3-2 to Dan Andrews (having led comfortably, then switching off).
Final Score: Leicestershire 7, Northants 3.
Summary
A bit of a mixed bag. Some performances of note, mixed in with some ordinary play as well. Looking back, I think the Girls will be disappointed with their performances (I have seen both play better). More practice will be required before the second round of matches in March.
Kevin Bird (23.10.2017)
NORTHANTS JUNIOR 2 REPORT
This the County Junior 2 Team that played in the County Championships in Essex on Saturday 21 October 2017. They are from left to right Daniel Mann, Travis Holly (Captain), Jacob Tattersall, Ashleigh Maynard and Swati Jethwa. They played against Sussex 2, Bedfordshire, Cambridgeshire 2, and Essex and although they lost each of these matches this was not perhaps surprising as they were one of the youngest Junior teams we have put out. Three of the team are in fact still Cadets and earned the right to be selected as a result of their performances in the recent County Under 18s tournaments. They fought hard and will have gained valuable experience from playing at this level for the most part against much older players.
Many thanks to Hitesh Jethwa who took over the management of the team at short notice.

Northants Cadets Report Matchday 2 (December 16th)
Draycott Table Tennis Centre played host to the final day of matches in this season's Cadet County Championships. Our cadet team had lost all three of their matches on the first day of matches back in November and knew that they were in for another challenging day with matches against two of the favourites in Durham 2 and Cheshire as well as a match versus the home County of Derbyshire. Our team was again made up of Bipasha Ganatra and Swati Jethwa (WHDTTA), Daniel Mann (Chesterwell), Jacob Tattersall (Burton Latimer Baptists) and Shay Graham (formerly of Malcolm Arnold).
Northants 3 vs Durham 2nds 7
Jacob (ranked at 193 on the National Cadet list) kicked proceedings off against Jamie Peacock (ranked at 44). Jacob put in a battling performance but could not withstand his opponents constant heavy attacking play and lost out 3-1. On the other table Daniel (290) was involved in a fluctuating match with Adam Hanby (149) but the victory was just out of his reach with Hanby winning it 12-10 in the decider.
Up next were our two girls with Bipasha (unranked) taking on Sophie Richardson (74) and Swati (unranked) playing Amy Mold (55). Bipasha put in a good showing losing 14-12, 6-11, 7-11, 9-11 but Amy was too good for Swati and scored a 3-0 win meaning that we found ourselves 4-0 down.
Next up was Shay, our number one cadet who is ranked at 119 and he played a very solid game to clinically defeat Hayden Gilmour (130) 3-0 to get his team on the scoreboard. At the same time, Jacob was up against Hanby and he produced a great result courtesy of some excellent tactical play to defeat his higher ranked opponent 6-11, 11-8, 11-8, 11-8 to reduce the over match deficit to 2-4.
Bipasha and Swati then played their reverse singles against Mold and Richardson and neither could make any inroads into their opponents which meant Durham 2nds moved into an unassailable 6-2 lead.
Shay produced perhaps his best ever win whilst playing for the Northants Cadet team with a stunning 11-5, 10-12, 16-14, 11-7 win over Peacock to lessen the defeat. Daniel put in another good display before losing out 14-12 in the fourth to Gilmour to leave the final score reading as a 3-7 loss. Durham would go on to win this division.
Cheshire 9 vs Northants 1
Next up was a Cheshire team that featured Liam Bibby (50), James Courtney (72) and Liam Murphy (151) for their boys with Niamh Scarborough (21) and Ruby Bennett (61) being their two girls. This proved to be the toughest match of the day for our youngsters. Daniel, Bipasha and Swati lost all their matches 3-0. Shay did marginally better taking a game in both his matches with the closest he came to picking up a win being an 11-9, 9-11, 10-12, 9-11 defeat against Courtney. Jacob easily lost 3-0 to Bibby but with the scorecard showing us 9-0 down, he produced another solid performance to defeat Murphy 11-8, 7-11, 11-9, 11-7. Cheshire ultimately finished second in the division when Durham defeated them in the last match of the day to take the title.
Northants 5 vs Derbyshire 1sts 5
And so onto our final match of the 2017-18 County Cadet Championships which would also be the final match for four of the five players on show with only Swati still eligible to play in the cadet age group next season.
Jacob kicked the match off against Sam Cooper (108) but found his opponent to consistent and lost out 3-0. But Daniel quickly levelled matters with an 11-0, 11-7, 12-14, 11-3 win over Bradley Tomlinson (378).
Bipasha and Swati again found the going tough, with both players losing 3-0 to Lucy Vernon (29) and Helena Dicken (19) respectively as Derbyshire edged ahead 3-1.
Shay then beat Joseph Cooper (159) 3-1 in an entertaining match before Jacob levelled the score at 3-3 with a 3-1 win over Tomlinson, Derbyshire quickly moved 5-3 ahead after defeats for Swati and Bipasha.
Shay produced another excellent performance to defeat Sam Cooper 11-8, 11-8, 10-12, 12-10 to keep us in the hunt for a draw. However, this would depend on whether Daniel could upset the odds and defeat Joseph Cooper, a player ranked 131 places above him. To everyone's surprise, Daniel took the first end 11-3 with his unorthodox style causing Cooper several problems. Cooper edged the second game 11-9 but Daniel kept plugging away and moved 2-1 ahead with an 11-8 win in the third game. Cooper held his nerve in the fourth end to take it 14-12 to leave the match result fully dependent on the final game of the day. Could Daniel sign off his County Cadet matches with a famous win and secure an unexpected draw for his team? Of course he could! Playing some of his most inspired table tennis of the day, and following another long deuce game, Daniel eventually emerged victorious 15-13 which saw some big smiles from his team-mates, a fist-pump from his team captain and absolutely no emotion from Daniel himself!
Season review:
Five defeats and one draw shows how much work we still have to do to catch up with other Counties. Shay, Jacob, Daniel and Bipasha have served the cadets well in the couple of years that they have represented the County but all three are aware of how hard the next challenge will be as they make the step into the next age group. Some great wins by the boys today gives us some hope and optimism for the future. There are some decent male cadet players at the various clubs to come into the team for next season but we are really struggling for girls for next season. As always, table time (both matches and training) is key for our young players to help them develop and try to narrow the gap between ourselves and the other Counties, as is the need for them to get out and gain more experience of tournament play against other young players. With most of our juniors only playing in the lower divisions of the senior leagues, and against older players who mainly play unorthodox table tennis, our young players often find themselves exposed against the faster, more attacking play of their contemporaries from other Counties.
Last Updated: