COUNTY CADETS
Northants Cadets 1st Team Report (day 2)
Both the Northants 1st and 2nd teams made the short journey to Draycott Table Tennis Centre to complete their fixtures in Division 2B of the Cadet County Championships. The 1st team were represented again by Anna Wilson (Malcolm Arnold), Evie Elliott (Westfield) , Shay Graham (Malcolm Arnold), Jacob Tattersall (Burton Baptists) and Tarun Mistry (WHDTTA) with Henry Arthur leading the team. On the first day of matches the 1st team had won two matches 10-0 and lost their 3rd game 10-0 which highlighted the huge gulf in standard across the division.
Northants 1st 1 vs Derbyshire 1st 9
We started off the day with a hugely disappointing 9-1 defeat against Derbyshire. This was a match I thought we could get something out of but this was not to be. Shay (ranked 147 on the Cadet boys list) was outclassed by a dominant Sam Cooper (ranked 198) and fell to a relatively straight forward 3-0 defeat. Tarun (242) produced a fantastic performance to pull us level when he edged out Jonathon Blake (180) 3-1. Helena Dicken (25) proved too strong for Evie (87) to put Derbyshire 2-1 up. On the adjacent table, Anna (81) was having a great battle with Lucy Vernon (40). Lucy led 2-0 only for Anna to mount a comeback to level at 2-2 and then carve out a 10-7 lead in the decider. Unfortunately, she just couldn't quite get over the line and eventually lost 5-11, 10-12, 12-10, 11-8, 10-12.
Jacob (158) lost in three straight to Rowan Jones (68) as we slipped further behind and when Sam beat Tarun 3-0 we already found ourselves 5-1 down. Evie's slow start to the day continued when she failed to really trouble Lucy. Anna put in a very credible display despite losing 11-9, 10-12, 5-11, 6-11 before a misfiring Shay was outgunned 3-0 by Rowan. The final match to finish was Jacob's match with Jonathan and Jacob came very close to adding to our tally before being edged out by the narrowest of margins 9-11, 11-7, 12-10, 10-12, 12-10.
Although on paper the Derbyshire players looked to be stronger overall, I do believe this was a game we could have won but most of the team just couldn't seem to get started with the obvious exceptions of Anna and Tarun. Depsite Tarun registering our sole point, I actually think Anna was our best player in this match and was unfortunate not to pick up at least one win.
Northants 1st 6 vs Durham 2nd 4
Up next was Durham and Jacob led the team out and put in a steady performance but lost in four close games to Ben Savage (100). On the other table, Tarun produced a classy performance with an impressive 3-0 success against Adam Hanby (201). Anna continued her impressive form and finally picked up the win she deserved when she defeated Rebecca Savage (106) in straight games. Shay also loosened up and began to find his range and he moved us 3-1 ahead with a steady 3-0 win over Kieran Bowes (346).
Evie was still struggling to find her true form and went down to a 3-1 defeat against Anya Milne (67) and with Jacob going down by the same score to Adam, Durham had quickly levelled the match at 3-3.
Evie then produced the kind of performance I know she is capable of as she despatched Rebecca 3-0 but with Ben was just a bit too knowledgeable for Shay and levelled the match at 4-4 with a 3-1 victory.
Anna moved us to the brink of victory with an emphatic win over Anya and Tarun sealed the 6-4 win with another excellent win, seeing of Kieren 3-1.
Northants 1st 3 vs Cheshire 7
Our final match of the 2016-17 County Cadet Championship season saw us take on a Cheshire team that included Harry Watson, ranked at 21 in England at cadet level. Jacob faced this difficult challenge in the first match and put in a good performance despite his 3-0 defeat. With Tarun going down 3-0 at the same time to Liam Bibby (182), we knew we were in for an uphill battle to get anything out of this match.
With Anna needing to get away, we played the four girls matches next. Anna won her third match of the day with a 3-1 success against Liz Poyner (80). Evie found the talented Anais O'Connor a bit too sharp for her though as we fell 3-1 behind. Anais also edged out Anna in three close games (12-14, 7-11, 14-16 as we slipped further behind. On the other table, Evie was playing her last ever match for the Cadet team and it looked like she would be leaving on a sad note when she trailed 1-2 and 8-10 to Liz. However, she obviously decided she was not going to go down without a fight and promptly took the next four points to take the clash to a deciding fifth end. In another close game, Evie managed to hold on and claim the spoils 14-16, 11-9, 4-11, 12-10, 11-9 to sign off in style.
Shay finally got his first piece of the action and in a fluctuating match he finally saw off James Courtney (85) 9-11, 3-11, 11-5, 11-7, 11-6. A fantastic comeback win with Shay keeping his composure and playing some excellent tactical table tennis against an opponent who was clearly getting more and more frustrated the longer the match went on.
With the score now standing at 4-3 to our opponents, we really needed Jacob to produce a big performance against Liam. In what was probably Jacob's best performance of the day, Liam just had the edge this time to take the win in the deciding game. Cheshire confirmed the win when Harry defeated Shay and the 3-7 loss was confirmed with Tarun's defeat to James.
We finished the season with 3 wins and 3 losses overall. As team captain, I saw a big improvement in our ability to compete with, and defeat our rivals from the other counties. This squad of players was the best we have had for a few seasons and I believe will only get stronger now that players from across the various clubs in Northants are now going out and experiencing more competitions at national level. With Evie no longer being a cadet next season, there is a space to be taken in the first team and I'm intrigued which of the young ladies playing across the County will step up and make that place their own. The chance is there for that one player who really steps up their game between now and August 2017.
Final averages for 2016-17:
Anna…………Played 12……………..Won 7………………….Lost 5………………..Average 58.3%
Evie…………..Played 12……………..Won 6………………….Lost 6………………..Average 50%
Shay………….Played 12……………..Won 6………………….Lost 6…………………Average 50%
Jacob……..…Played 12……………..Won 4………………….Lost 8…………………Average 33.3%
Tarun………..Played 12……………..Won 7………………….Lost 5…………………Average 58.3%
Finally a big thankyou to all the players, parents and supporters for their help (and coffee) over the season and to Sidney Wright for again being our volunteer umpire.
Henry Arthur (Team Captain)
First session is Saturday, 1st October 2016 at Draycott TTC., Derby Road, Draycott, Derbyshire. DE72 3NJ.Northants 1st 1 vs Derbyshire 1st 9
Northants County Cadet 1st Team
The new County Championship season saw our two Northants Cadet teams travel to the excellent Draycott Table Tennis Centre to compete in Division 2B of the Cadet championships. Of the 10 players selected to play, five of them were making their County debuts. The first team consisted of Anna Wilson (Malcolm Arnold), Evie Elliott (Westfield), Shay Graham (Malcolm Arnold), Jacob Tattersall (Burton Baptists) and Tarun Mistry (WDHA). The second team had Olivia Ross (Burton Baptists), Lakshmi Hemanth (Burton Baptists), Dev Patel (WDHA), Felix Bradbury (DCA) and Lewis Hillery (Corby Smash). The first team were captained by Henry Arthur with the second team led by Himanshu Ganatra.
Lincolnshire 2nds 0 vs Northants 1st 10
A fantastic start to the day for the 1st team as we were recorded a convincing 10-0 win over Lincolnshire 2nds. Shay (ranked at 135 on the national cadet list) got off us to a flyer with a 3-0 win over Frazer Winfield (ranked 325). Tarun (unranked) swiftly despatched Jai Mistry-Moulton (369) by the same 3-0 scoreline to put us 2-0 ahead.
Anna (ranked 93 on the girl's list) kept the momentum going with a 3-0 win over Steffania Poppa (unranked). Jacob (unranked), fresh from winning the Northants Cadets Top 16 tournament the previous week, marked his debut with a fine 3-1 win over Flynn Connolly (299) to put his team 4-0 ahead.
Evie (84) extended the lead with a convincing 3-0 win over Lucy Dridle (unranked). Tarun then gained his second win of the day with another 3-0 win over Frazer. We went 7-0 ahead when Anna secured her double with a 3-0 win over Lucy and the score became 8-0 when Shay also won 3-0 against Flynn. Evie added her second win with her own 3-0 success over Steffania to put us one result from achieving the whitewash.
The final match featured Jacob against Jai and was by far the closest encounter of the match. After a tough 5 set battle, Jacob finally emerged victorious 6-11, 11-6, 12-10, 9-11, 11-7 to confirm the 10-0 victory for the loss of just three games. What a start to the season!
Northants 2nd 0 vs Northants 1st 10
The Northants first team proved themselves to be too strong for their second team compatriots as we recorded another 10-0 success. Jacob opened up with a 3-0 win over Dev but Tarun had a battle on his hands against Lewis. Eventually he recovered from 2-0 down to secure a 6-11, 3-11, 11-5, 11-3, 11-6 success to put the 1st team 2-0 up.
Anna showed her experience to quickly despatch Lakshmi 3-0 and Shay made it 4-0 with a 3-0 win over the talented Felix Bradbury, Shay winning the first two ends at deuce in this match. Evie saw off Olivia 3-0 and Jacob followed suit against Lewis to move the 1st team 6-0 up before Evie returned to the table to make it 7-0 with a 3-0 win over Lakshmi.
Dev put up an excellent display against Shay but couldn't quite get over the line in the close games as Shay secured an 11-6, 12-10, 13-11 verdict to continue the 1st team's winning streak. Anna made it 9-0 with her own 3-0 win over Olivia and it was left to Tarun to complete the clean sweep of wins when he saw off the challenge of Felix 3-1. Another 10-0 win and only six games dropped in two matches and we were all on a high going into our last match of the day against Yorkshire 2nds.
Yorkshire 2nds 10 vs Northants 1st 0
After two relatively one sided 10-0 wins, it was our turn to now be on the receiving end of one as Yorkshire showed what a strong table tennis county they are with their own fully comprehensive victory for the loss of only one game. Charlie Turner (ranked 36), Nicholas Miller (52) and Joshua Poulson (68) all proved too strong for our boys as they won all their matches 3-0. On the girls side, Zoe Hewitt (17) and Muke Warburton (42) had all the answers against Evie and Anna with Anna gaining our solitary game in this 10-0 defeat.
So a day of fluctuating results. Two excellent 10-0 wins before being brought back down to earth with our own 10-0 defeat. This is my fourth year being involved with the cadets and one of the big things that I've mentioned in previous reports is our player's lack of movement and poor serving and return of serve compared to their contemporaries from other counties. I'm very pleased to say that this was much less of an issue this time around with the improvements in this area there for all to see. There is still work to be done but credit must be given to the players and their coaches for the improvements that have been made. The "big match" experience is still lacking when compared to some of the other counties but I'm much more hopeful about our future now and can see some good things being put in place across many clubs within the County. Well done to all players concerned. Keep practicing hard and getting match experience and I look forward to seeing the improvements by the time of our next matches on December 17th.
Henry Arthur (Northants 1st team Captain)
Today's report is as follows for Northants Cadet 2nd
Results report 01/10/2016
County Cadets 2B
Northants 2 vs Lincolnshire 2
Northants 4 - 6 Lincoln loss
Winners from Northants
Felix 1
Dev 2
Lakshmi 1
Games Difference
Northants 16 - Lincoln 20
Tough matches but very well played and good fight to come back and win 4 matches.
Considering Lincoln 2 were of a slightly higher standard, Northants 2 were focused and played very well.
Northants 1 vs Northants 2
Northants1 10 - 0 Northants2 loss
Game Difference
Northants1 30 - Northants2 3
Very well played by both teams, very close games and matches Northamptonshire 1, won by experience.
Durham 2 vs Northant
Durham 9 - 1 Northants
Winners from Northants
Dev 1
Game Difference
Durham 28 - 7 Northants
Tough matches but good learning points, we saw a good variation in serves which helped winning points.
Focused on advising back hand back hand forehand and 3rd ball attack which helped also.
Need to work on more of the above in training sessions.
Dev had the one win for Northants a very good fight for this point
Well done to all players, were very well behaved and focused and played well, were happy to umpire extra games also.
The photos below show the Cadet First team with from left to right: Henry Arthur (Team Captain), Jacob Tattersall, Tarun Mistry, Evie Elliott, Anna Wilson and Shay Graham. Below that is the Cadet Second team showing from left to right: Lakshmi Hemanth, Felix Bradbury, Lewis Hillery, Dev Patel and Olivia Ross.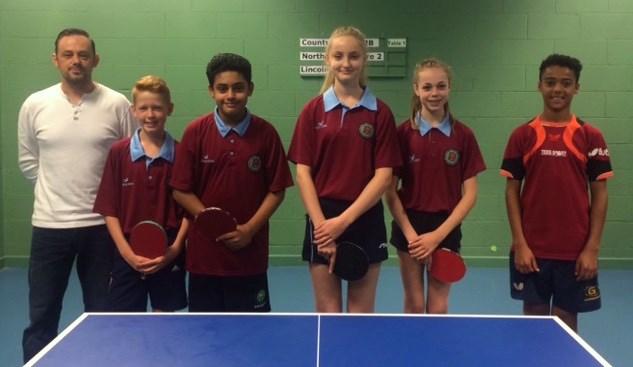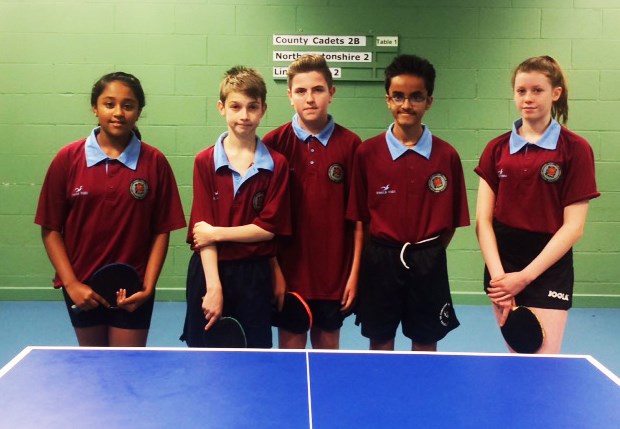 SEASON 2015/16
Saturday 12th December saw our two cadet teams travel down to Cippenham TTC in Slough for their first round of matches in the Division 1B of the 2015-2016 County Championships. Henry Arthur, having mentored the 2nd team for past two years, moved up to take on the 1st team responsibilities with Shyam Bavalia stepping into Henry's role as the 2nd team's captain.

Northants 2nd vs Northants 1st
As is usual, the first match was the clash between the two Northants sides. Tarun Mistry kicked things off for the 2nd team against Jack Bain, the winner of the Northants Cadets Top 20 tournament that was held at the start of the year. Tarun quickly raced in to a 2-0 lead (11-9, 11-4) and a big upset looked highly likely. A slight change of tactic saw Jack get back to 2-2 thanks to close wins (11-9, 12-10) before finally sealing the win in the decider 11-7. Jack came off the table very relieved and Tarun was obviously disappointed but his performance was encouraging for the future.
On the adjacent table, Milan Pandya saw off Jake Townsend 6,8,8 to put the 1st team 2-0 ahead. Next up was the girl's matches with Evie Elliott and Anna Wilson (1st team) taking on Kaitlin Curt and Swati Jethwa respectively. We knew that there was very little to choose between Anna, Evie and Kaitlin following their results in the Northants Girls event which saw Anna take the title with Evie 2nd and Kaitlin 3rd but only after countback as all three girls had lost once. As it was, Kaitlin saw off Evie 3-1 to register a point for the second string team, and despite playing well, Swati was outclassed by Anna as the firsts moved 3-1 ahead. Virat Patel recorded a clear cut 3-0 win over Rahul Jethwa to extend the lead but it was the match on the other table that we were all watching as Tarun again went to 5 ends before ultimately falling just short as Milan picked up his second win with a 9-11, 11-6, 9-11, 11-8, 11-9 victory.
This moved the first team into a 5-1 lead and confirmed the win but there was still much to play for. Back came the girls with Evie picking up a 3-0 win over the improving Swati with the scores being much closer than many would have thought. Again though, it was the other table that all Northants eyes were focussed on as Kaitlin took on Anna. With nothing separating the two girls, it was no surprise that this also went to a decider. Kaitlin drew first blood (11-9). Anna took games two and three (both 11-9) to sneak into the lead. Kaitlin was having none of it though and refused to go quietly picking up the fourth game 11-6. The decider was just as close as the first three ends had been but after an excellent match it was Kaitlin who won it 11-9 and in doing so recorded fantastic double to pick up the player of the match award. Jack confirmed his own double success with a 3-0 win over Rahul and Virat closed the match out with a 3-0 win over Jake as the first team completed an 8-2 victory.
Northants 2nd 2 (Kaitlin Curt 2) Northants 1st 8 (Jack Bain 2, Virat Patel 2, Milan Pandya 2, Anna Wilson 1, Evie Elliott 1)
Northants 1st vs Bedfordshire
Next up for the 1st team was a Bedfordshire team captained by none other than John Alsop, a well know player and coach in Northants circles and especially the Westfield table tennis scene. Virat tasted his first defeat of the day when going down 3-1 to Luke Manning but with Milan winning 3-1 against Ben Baguley on the adjacent table the scores were quickly levelled. In fact, this was to remain the story of the match with first one team moving one set ahead before the other team quickly levelled. Anna beat Maddy Kent 3-0 to put us 2-1 up but with Jack losing 3-0 to Ben Reddy the match became tied at 2-2. Evie lost 3-0 to Rebekah Barry but at practically the same moment, Virat defeated Ben Baguley to make the overall score 3-3. Evie then beat Maddy 3-0 but Jack went down 3-0 to Luke to maintain parity at 4-4. Anna then ensured that we would get at least a draw with a fine 3-0 win over Rebekah which meant that Milan had the opportunity to seal the win if he could get the better of Ben Reddy. After taking the first end 12-10, the victory was on, but Ben fought back to take the next two ends 11-6 before clinching the victory with an 11-9 fourth end to ensure a closely fought match ended as a 5-5 draw. Surprisingly, considering how close the match was, eight of the sets were won 3-0, with the other two sets being won 3-1.
Northants 1st 5 (Anna Wilson 2, Evie Elliott 1, Virat Patel 1, Milan Pandya 1) Bedfordshire 5 (Manning 2, Reddy 2, Barry 1)
Norfolk vs Northants 1st
After the win over the Northants 2nd team and the draw against Bedfordshire, the day's events took a downward turn in our next match against a classy Norfolk team. Before we knew what had happened we found ourselves 9-0 and the whitewash looked on the cards. Virat ensured that we didn't suffer that ignominy (at least not yet anyway!) when he scored an excellent 3-0 win over Bradley Burgess in the last set of the match. We did have our chances in some of the other games, notably when Milan led 2-1 against Burgess before slipping to a 3-2 defeat. Evie came even closer when she led Carrie Last 9-7 in the decider. Sadly, Carrie took four points on the trot to condemn Evie to defeat in a game that she knows that she should have won. I'm sure she will learn from this though and come back stronger. I too will learn from this as looking back in hindsight, if I had called a timeout towards the end of the match, I believe the result could well have been different.
Norfolk 9 (Moyes 2, Nicholls 2, Patterson 2, Last 2, Burgess 1) - Northants 1st 1 (Virat Patel 1)
Northants 1st vs Middlesex 1st
And so onto our final match of the day against a superb Middlesex team that were, in all honesty, a class apart from our team, though their attitude left a lot to be desired! This match was over very quickly with all 10 sets lost in straight games. Virat and Anna were perhaps our better performers in this match but the quality of the Middlesex team was there for all to see as they ran out comprehensive 10-0 winners.
Northants (1) 0 Middlesex (1) 10
So one win, one draw and two heavy defeats. This is now my third year captaining the cadet teams and every year the same things seem to crop up. Our lack of movement (and maybe overall fitness) is a worry, and the quality of serve and receive (the only two shots you are guaranteed to play in a rally) is lacking against the better teams. It has to be said that the Middlesex team especially looked like serious athletes who obviously spend a great deal of time not just perfecting their technique but also working on their strength, flexibility and fitness. A question for all of us, whether it be County coaches or those who run the clubs, is what can we do to move our setups forward so that we can give our young players the opportunities to compete with the best that England can offer? Northants does have a decent record in developing some fantastic players such as Tim Yarnall, Chris Doran and even more recently Sam Maybe and Alex Ramsden, but what can be done to develop a squad of players rather than just an individual? That is our challenge! Finally, I would just like to say a thank you to Sidney Wright for volunteering her time to be our official umpire yet again, and to all the parents for their support on the day.
Henry Arthur (Team Captain) 22/12/15
CADETS 2 REPORT
Game 1: Northants (2) 2-8 Northants (1):
A good contested match between two talented sides with Northants 1 running away with the victory. The first game between Tarun Mistry and Jack Bain went down to the wire. The first set saw Tarun take an 11-9 lead over Jack and he continued his fine form in the 2nd set by winning 11-4 to take a surprise 2-0 lead over Jack. Moving onto the 3rd game, we started to see Jack play his best and win the set 11-9 giving him the slightest chance of a comeback from 2-1 down. The fourth game saw Jack win again 12-10 in which was an entertaining game and saw Jack come from 2-0 down to go into a decider. In the final set it was a back and fourth game which eventually saw Jack comeback to win. The final score Tarun Mistry 2-3 Jack Bain. Another great game was this time between Kaitlin Curt and Evie Elliott. The first set saw Evie win 11-9 to take a 1-0 lead. The second set saw Kaitlin fight her way back to level the match at 1-1 with an 11-6 win. Kaitlin then went on to win the second set with an 11-7 win. The third set saw Kaitlin seal the victory with an 11-3 win. The final score at the end Kaitlin Curt 3-1 Evie Elliott. This game saw Kaitlin Curt win both of her matches and the only two for Northants 2. But, there were also wins for Jack Bain, Virat Patel and Milan Pandya.
My thoughts of this game were first of all well done to Northants 1 who played really well. However, I have to say Kaitlin Curt played great, she never gave up if she lost a set. She kept on fighting and finding a way to come back and win her matches. She did everything that was asked of her and took on advice really well, I was pleased with her.

In terms of all the players, I think they gave it their best shot, they played some really good shots. However, the biggest problem I found was serving. The serves the players were doing were not varied in type of service or length. Our players tend to use the same serve which allows the opponent to figure out the serve and movement was really static. So serving and movement needs working on a lot in future county sessions.
Game 2: Northants (2) 0-10 Buckinghamshire:
Our second game of the day saw our side beaten heavily as stated in the scoreline. However, some good games played by Tarun Mistry as he played another five set thriller which he lost again 3-2. However, I was also pleased with the efforts of Jake Townsend who although lost played really well taking some of the sets to 10-10 which was pleasing to see. Rahul Jethwa produced good table tennis on some occasions but was really pleased with his efforts. In order for us to win matches we need to vary serves, I may mention this time and time again but I cannot state how important serving is, we must ensure that we get varied serves to apply to our game to make life harder for our opponents.
Game 3: Cambridgeshire (2) 7-3 Northants (2):
Our third game saw us play Cambridgeshire 2, who are a really good side and to lose 7-3 is not bad indeed. There were wins for Jake Towsend and two automatic wins for Kaitlin Curt and Swati Jethwa as the opponents second girls did not play. Jake Townsend surprisingly went on to win his game against Matthew Pryke 3-2. Jake played great table tennis to keep his opponent at bay. He listened to what was needed of him to win, also he never gave up. But during this game I felt the players were giving up when they were losing comfortably which resulted in them giving many points away. Giving up is never the attitude we want to see but we can always work on that.
Game 4: Middlesex (2) 10-0 Northants (2):
Our fourth and final game saw us play Middlesex 2 and we were whitewashed throughout the game. Their players proved to be strong for our players but players did fight to win a few sets to their name. But overall, happy with the players focus, desire and effort to play the way they did. But, in order for us to improve we need to stop giving up and keeping hopes up as well as varying serving and moving for the ball not stretching.

Shyam Bavalia (Team Captain)
COUNTY CADETS 2 MATCH REPORT
Game 1: Northants 2 vs Norfolk (0-10 loss)

Our first game of the day saw us face Norfolk and after watching the game I honestly would say the players gave their 100% on the table. Although we were beaten 10-0, there were quite a few positives to take away from this game. The first was all the players gave superb effort towards each set and played really well. In particular I was really impressed with Jake Townsend the most along with the others of course. He played really well in both of his games he understood what was asked of him and had of plan of how he wanted to beat his player. Saying that every other player in my team like Rahul, Tarun, Bipasha and Swati played great table tennis.
Game 2: Northants 2 vs Suffolk (0-10 loss)
Our second game of the day saw us take on Suffolk and we lost 10-0 again. Although we lost however, I liked the players attitude throughout today, even if they lost they would not give up and focus on getting the next win which shows they're determination for success at a young age which will only help in the future. Also, players in this game were very consistent in getting their points, some of them managed to build a streak of 4-5 points which is a massive bonus in a set. In addition, there were some great rallies and it's always good as a coach to see any player on your team perfect a stroke as it shows the work in practice is being implemented into their matches. Another defeat but still didn't stop us from giving up for the next two games.

Game 3: Middlesex vs Northants 2 (10-0 loss)
Our third game saw us face a very good and experienced Middlesex side. We lost unfortunately 10-0. But to be honest, the girls started to become more confident in getting points and were starting to produce much better table tennis. The boys showed they're never willing to give up easily and showed great determination and spirit to win. There were some wins in sets for some of the players. Jake Townsend and Rahul Jethwa did manage to get a game off two of the Middlesex boy's players which was good to see. The future for our players is looking good but still more work is needed to be done to reach their full potential.
Game 4: Northants 2 vs Bedfordshire (0-10 loss)
Our fourth and final game of the day saw us take on Bedfordshire and we lost 10-0. However, I have to say this game saw our players give the Bedford players a run for their money. For example, Rahul Jethwa took one player to the fifth end and came up short and also the girls got a good range of 8-10 points in their matches which was pleasing to see considering they are new to county table tennis along with their other team mates. In addition, I also sensed that the players started becoming more confident and start freeing their arms for some really good shots which was once again great to see as a coach and spectator.
To conclude, I was really happy with my players and their effort shown in all matches. In addition, I was happy with the player's performances and the attitude they showed towards each and every game throughout the day. We saw some really good table tennis from the players and hopefully in the future they can become like the standard we were up against. In order for us to do that we have many things to go over and consider.
My first issue is practice time. After seeing the talent and opposition we were faced with, finding out they practice 4-5 times a week and we only practice once a week is a disadvantage. I feel we need more practice as the only way they can get better is by more practice whether that's 1 to 1 or grouped coaching it's no problem and hopefully we can look into this and consider it.
Secondly, I say this endless times but our footwork needs to improve. Today I saw many players glued to the floor, we need to be on the balls of our feet and be prepared to move for the ball when needed.
Thirdly, our players tend to give up once they lose a set. The idea we need to tell them is that even if you lose one set it doesn't mean we give up, we put that one behind ourselves and push ourselves in the next one to win that one. Also, giving up means that you are allowing your opponent to win and we don't want that and hopefully after telling the players they will understand not to give up.
Moving on, I don't know how many times how we talk about service and return. This is the most vital part of playing table tennis. We have to vary our serves as I saw some players doing some simple serves which allowed their opponent to come in and attack the serve and win the point. Also, return of serve is crucial along with the serve. In my opinion I think the players have a habit of returning the serve high which means you're asking for trouble.
Finally before I close I believe the players need to be more confident in themselves. A good example I could give you from today is when the players saw who they will be playing they came up to me said they will lose. I stopped them and said don't go into a game like that because you never know the opponent may have a bad day today, you have just to believe in yourself. Overall, I was really impressed with the team, they did a great job considering the players they played against. By playing more tournaments they will get better and I hope to make them more prepared for the future but, other than that I was really happy.
Shyam Bavalia
County Cadet 2nd Team Captain.
Match report Saturday 16th April 2016:

Our rearranged match saw us take on Warwickshire a side that had good talent. Unfortunately we lost 9-1. But, I was really impressed with the performance and effort. Looking at the performance of the boys, new debutant Daniel Mann played extremely well. He gained more than 7 points in every set and he's got a long way to go in terms of county table tennis.
Tarun Mistry has improved so much ever since the first game we played. His sort of aggressive style of play helped get a good amount of points but with the lack of experience he just lost. Jake Townsend has proved to me time and time again his consistency helps him to perform on the biggest of stages. He gave his absolute best and I can't be more pleased.
Moving onto the girls, they've been great this season. Today Kaitlin was superb; she was the only one in the team to register a 3-2 win - over Ciara Hancox. But the way she did it was amazing. She came from 2-1 down to win 3-2 and her style of play is great and one county girls player we hope we can take to the next level.
Swati Jethwa is another rising star who is getting better by each game. With more and more experience she will only go and get better. She got a good amount of points in each game she played and was pleasing for me.
After watching all of the games played today I thought the guys gave outstanding effort. They used their skills they learnt in training really well. Also I'm starting to see more development of serves which is great. But, our fight and spirit was brilliant, no one gave up and was hungry for each point although we lost 9-1. Overall lots is positives to take away.
However, there are a few things we do need to go over. I've already stressed that our delivery of service is getting better but, when receiving serve our players don't tend to read the spin that is coming on the ball for them to think how to return the serve. So that will need work. Also we may need to go over forehand and backhand so we can get them to perfect the stroke. I believe as a captain by repeating things it helps players to perfect it. But overall, a great day.
Shyam Bavalia
County Cadet 2nd Team Captain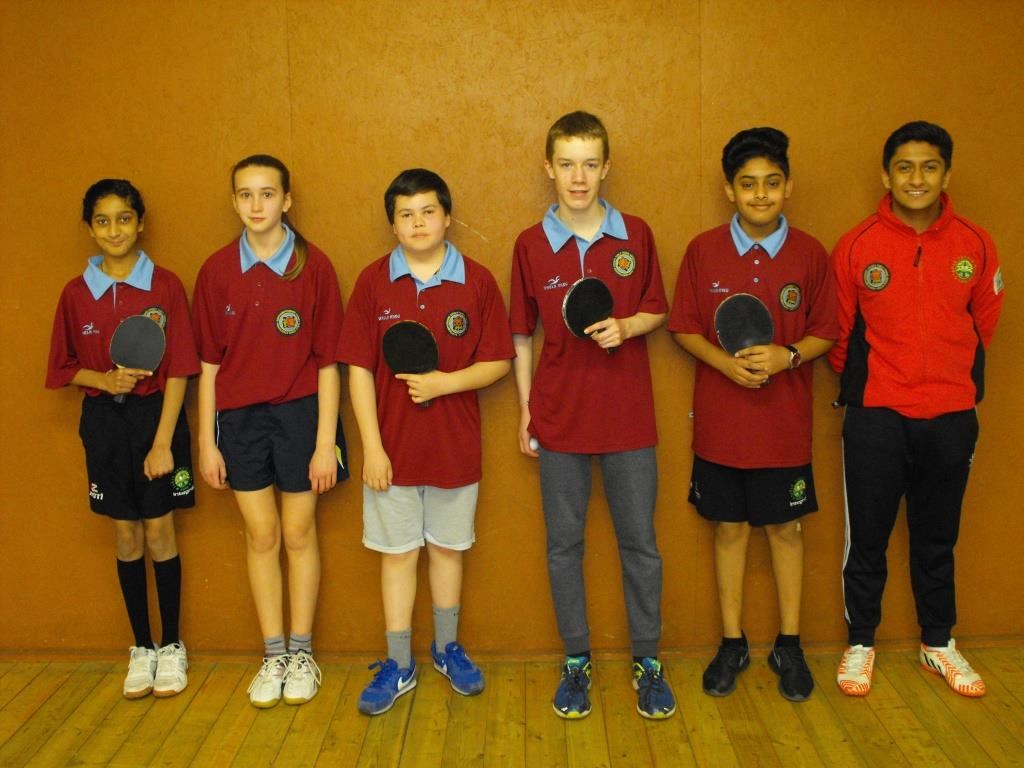 Last Updated: