ROUND FOUR - SATURDAY 28TH JULY (final round)
Divisional tables at the end of the fourth session
10 attendance points less divisional points (division + position)
Plus an extra two bonus points for each divisional winner of the first round of the morning - Div 1 - Josh Redfern, Div 2 - Chris Bishop, Div 3 - Paul Gillard
Division 1
| | | | | | | | | | |
| --- | --- | --- | --- | --- | --- | --- | --- | --- | --- |
| Pos | Player | Pld | Won | Lost | Gms For | Gms Ag | Points | League Points | |
| 1st | Josh Redfern | 3 | 3 | 0 | 6 | 0 | 6 | 10 - (1+1) = 8 + 2 | |
| 2nd | Chris Bishop | 3 | 2 | 1 | 4 | 2 | 4 | 10 - (1+2) = 7 + 2 | |
| 3rd | Henry Greet | 3 | 1 | 2 | 3 | 4 | 3 | 10 - (1+3) = 6 | |
| 4th | Ben C-Y | 3 | 0 | 3 | 1 | 6 | 1 | 10 - (1+4) = 5 | |
Division 2
| | | | | | | | | | |
| --- | --- | --- | --- | --- | --- | --- | --- | --- | --- |
| Pos | Player | Pld | Won | Lost | Gms For | Gms Ag | Points | League Points | |
| 1st | David Olver | 3 | 3 | 0 | 6 | 0 | 6 | 10 - (2+1) = 7 | |
| 2nd | Marc Winstanley | 3 | 2 | 1 | 4 | 2 | 4 | 10 - (2+2) = 6 | |
| 3rd | Paul Gillard | 3 | 1 | 2 | 2 | 4 | 2 | 10 - (2+3) = 5 + 2 | |
| 4th | Corbyn Gillard | 3 | 0 | 3 | 0 | 6 | 0 | 10 - (2+4) = 4 | |
Division 3
| | | | | | | | | | |
| --- | --- | --- | --- | --- | --- | --- | --- | --- | --- |
| Pos | Player | Pld | Won | Lost | Gms For | Gms Ag | Points | League Points | |
| 1st | Sam Todd | 3 | 3 | 0 | 6 | 0 | 6 | 10 - (3+1) = 6 | |
| 2nd | Toby C-Y | 3 | 2 | 1 | 4 | 2 | 4 | 10 - (3+2) = 5 | |
| 3rd | Amy Smith | 3 | 1 | 2 | 2 | 4 | 0 | 10 - (3+3) = 4 | |
| 4th | Helen C-Y | 3 | 0 | 3 | 0 | 0 | 6 | 10- (3+4) = 3 | |
The fourth & final round of our Saturday morning summer singles challenge took place thismorning with 12 players taking part.
In the first group of matches Josh Redfern topped the first division, Chris Bishop topped the second division while Paul Gillard won the third, Paul edging home on games difference over his son Corbyn & Toby C-Y all 3 players winning 2 matches each.
The second round of matches saw Sam Todd winning Division 3 fairly comfortably, with Toby C-Y finishing Runner Up. David Olver took the 2nd Division title defeating Marc Winstanley (Runner-Up) in the crucial match. Josh Redfern was again too strong for everyone in the First Division, taking the title on the day and the overall Champion of the Saturday Summer Singles League, Congratulations Josh. Chris Bishop played really well to take the runners up spot on the day. David Olver ended up Runner Up in the final league table.
Trophies were presented to the winners of all the Divisions with medals to the Runners Up. Ben C-Y won a T shirt for his efforts in climbing up to Division One, with other prizes of chocolates awarded to Amy & Katie, Henry & Marc.
Many thanks to all who took part in an enjoyable event giving competitive play to many youngsters for the first time. Well done to everyone.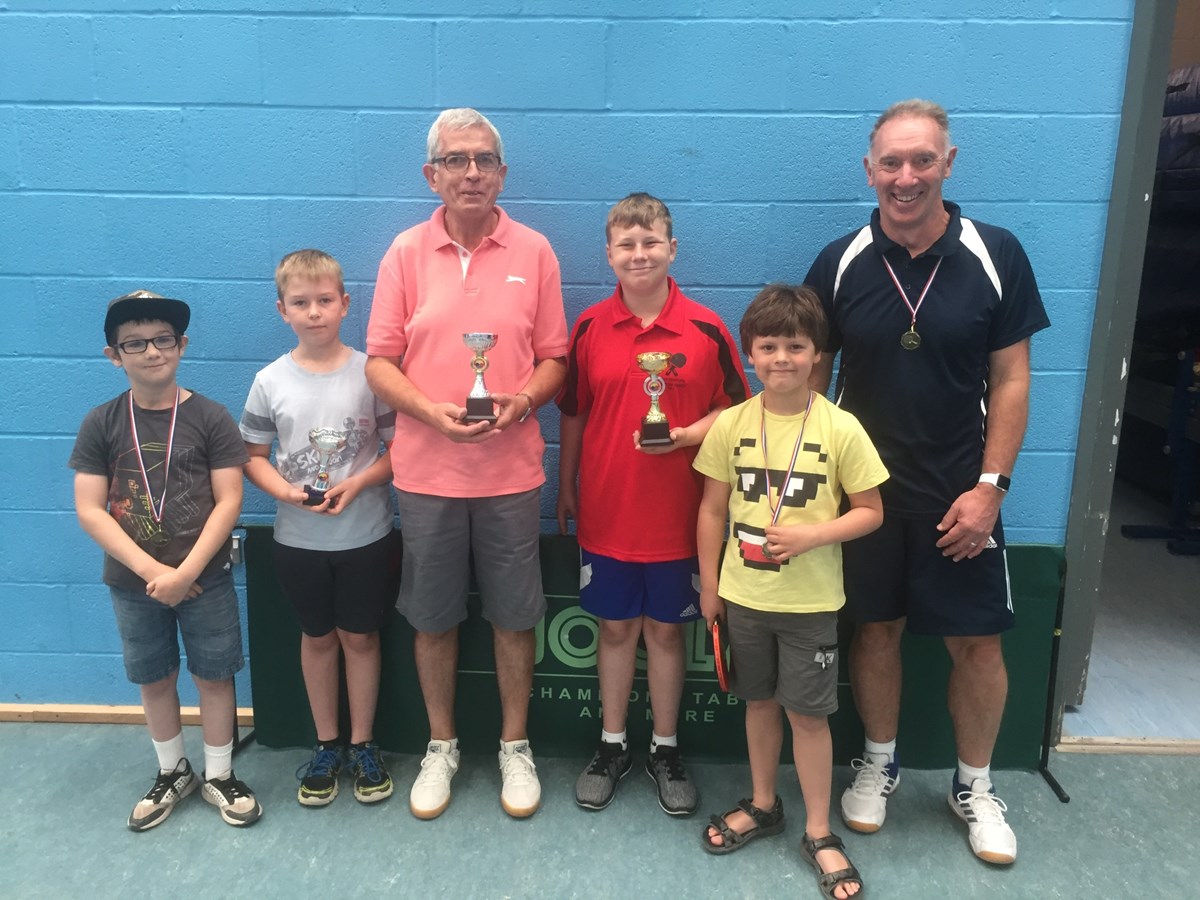 Last Updated: