ROUND FOUR - FRIDAY 5TH JULY

20 members took part in the fourth round of the Albany Florists Cup enabling 5 divisions of four players to be formed. In the first round of matches there were divisional wins for; Rowan Bayliss, Ivor Copley, Jasem Abu Ali, Henry Greet & Di Hobson who all picked up two bonus points which are added to the final divisional standings below.
Division prize winners were: Marc Winstanley - Div 5, Quillan Wilson - Div 4, Henry Greet - Div 3, Andy Guy - Div 2 and Rowan Bayliss - Div 1
Rowan Bayliss has now opened up a substantial lead at the top of the League table after four rounds, with just one point separating Fred Wakefield, Michael Bow, Andrew Davies and Rob Ferguson, all fighting for the runners up spot.
One more round to go.........
DIVISION ONE
Pos
Player
Pld
Won
Lost
For
Ag
Pts
Night Points
1st
Rowan Bayliss
3
3
0
6
0
6
10-(1+1)=8+2=10
2nd
Rob Ferguson
3
2
1
4
2
4
10-(1+2)=7
3rd
Andrew Davies
3
1
2
2
4
2
10-(1+3)=6
4th
Ivor Copley
3
0
3
0
6
0
10-(1+4)=5+2=7
DIVISION TWO
Pos
Player
Pld
Won
Lost
For
Ag
Pts
Night Points
1st
Andy Guy
3
3
0
6
1
6
10-(2+1)=7
2nd
Jasem Abu Ali
3
2
1
4
3
4
10-(2+2)=6+2
3rd
Michael Bow
3
1
2
2
4
2
10-(2+3)=5
4th
Laurie Girling
3
0
3
2
6
0
10-(2+4)=4
DIVISION THREE
Pos
Player
Pld
Won
Lost
For
Ag
Pts
Night Points
1st
Henry Greet
3
3
0
6
1
6
10-(3+1)=6+2=8
2nd
Eve James
3
2
1
5
2
4
10-(3+2)=5
3rd
David Olver
3
1
2
3
3
2
10-(3+3)=4
4th
Ian Richards
3
0
3
0
6
0
10-(3+4)=3
DIVISION FOUR
Pos
Player
Pld
Won
Lost
For
Ag
Pts
Night Points
1st
Quillan Wilson
3
3
0
6
1
6
10-(4+1)=5
2nd
Kevin Payne
3
2
1
4
3
4
10-(4+2)=4
3rd
Sue Upsdale
3
1
2
4
4
2
10-(4+3)=3
4th
Di Hobson
3
0
3
0
6
0
10-(4+4)=2+2=4
DIVISION FIVE
Pos
Player
Pld
Won
Lost
For
Ag
Pts
Night Points
1st
Marc Winstanley
3
3
0
6
1
6
10-(5+1)=4
2nd
Joe
3
2
1
5
4
4
10-(5+2)=3
3rd
Tony Hobson
3
1
2
2
4
2
10-(5+3)=2
4th
Amy Smith
3
0
3
1
6
0
10-(5+4)=1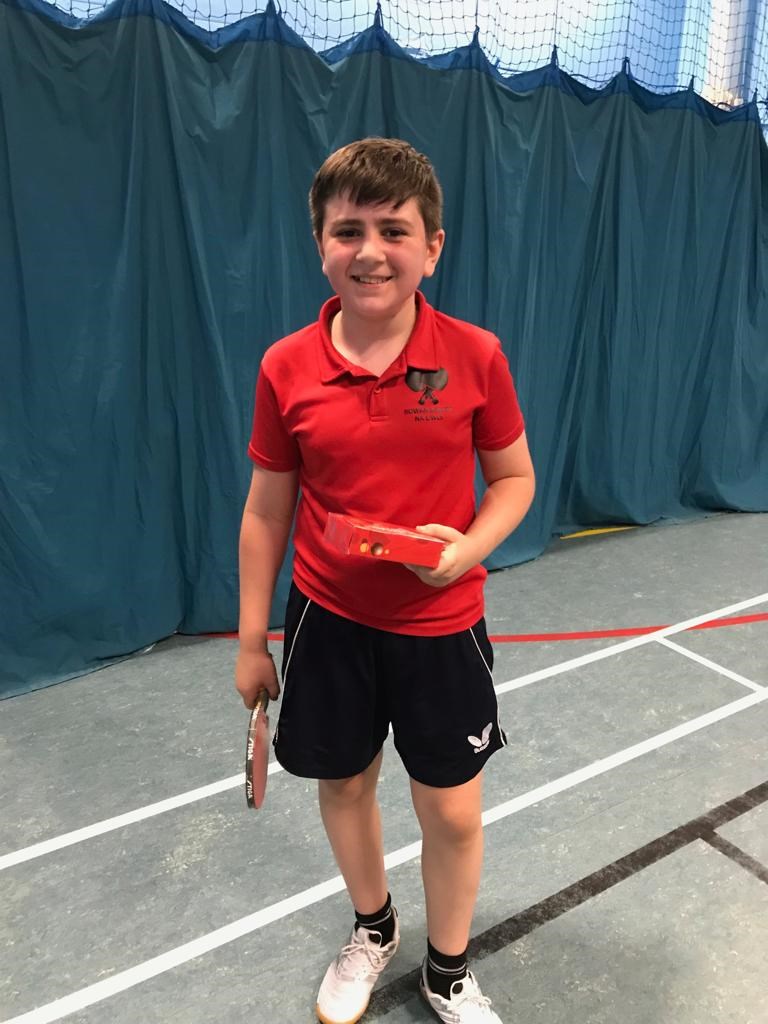 Last Updated: