ALBANY FLORISTS CUP 2021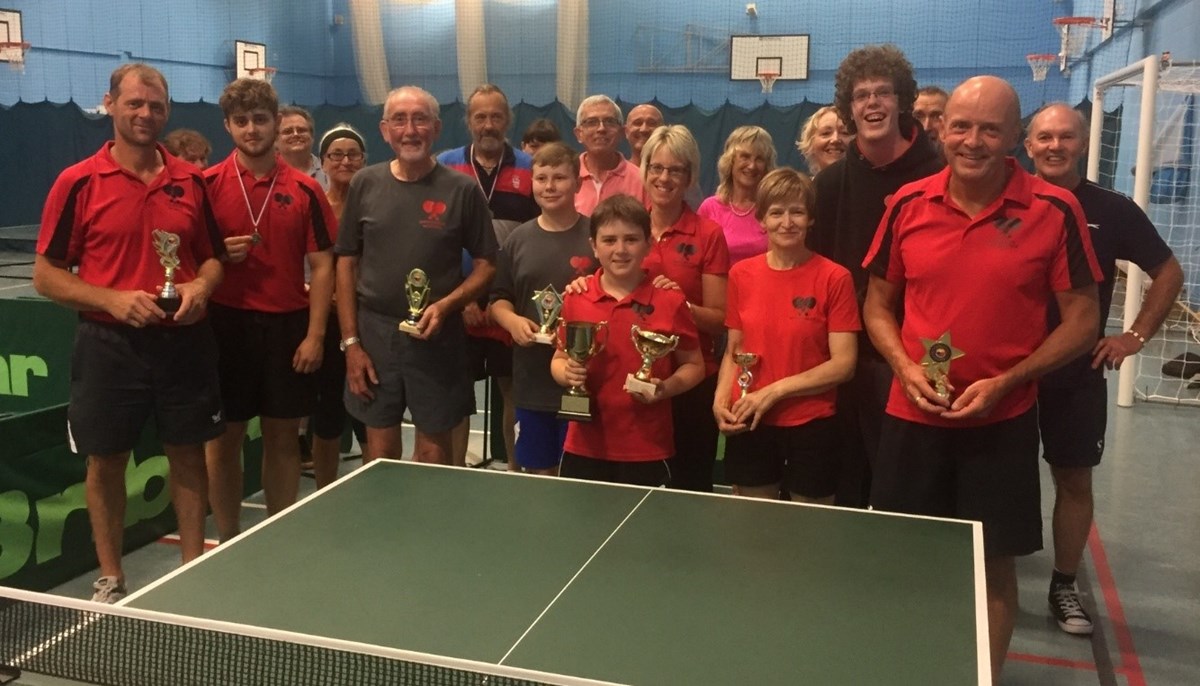 Albany Florists Cup Winner 2019– Rowan Bayliss with Sonja Ryland (sponsor) other competitors and trophy winners
We will again be running the Albany Florists Cup Competition at Teign School during September, open to our beginners, non-league players, and Division 3 & 4 standard players.
This will take place on every Friday night from 10th September till the end of the month as part of our normal club session. Later start this season so there will only be three rounds.
The plan is to have a number of Divisions of four players playing a round robin best of three legs. The top players to be promoted with the bottom players relegated. This will be followed by a second series of matches with further promotion and relegation to determine the points for the round and the Divisions for the next round, 2 weeks on. This will ensure everyone will get 6 matches an evening. The competition is free to enter (normal session fee applies) and will hopefully run between 6:45-9:45. Points will be awarded to each player based on their position in the Divisions at the end of the night, on top of their session attendance points.
There will be trophies for winners of each division at the end of the tournament.
I am aware that attendance at every session may not be possible. Provision will be made for non-attendance, although it will mean losing points and possible relegation. Those with full attendance will be rewarded.
New players could join after the competition has started with extra divisions being added as required.
If you would like to be involved please let me know. I need to have a minimum of 12 players to run this successfully so I hope you will support this competition.
Round One – Friday 10th Sep - 2 Players promoted and relegated in both sessions
Round Two – Friday 17th Sep - 2 players promoted and relegated in 1st session, 1 player promoted and relegated in 2nd session
Round Three – Friday 24th Sep – 1 player promoted and relegated in first session
POINTS
Each player starts with 100 points. You receive 10 attendance points for each round you take part in. Points are deducted from your total relating to your finishing position at the end of the evening. Examples below:
Division 1 top player 1 + 1 = 2 points deducted
Division 1 3rd place 1 + 3 = 4 points deducted
Division 2 2nd place 2 + 2 = 4 points deducted
Division 3 4th place 3 + 4 = 7 points deducted
2 bonus points will be awarded to the winners of each division at the end of the first round of matches in the evening.
The person with the highest number of points at the end of the 3 rounds will be the overall winner. Trophies will be awarded to all the Divisional winners at the end of the 3rd Round.
At the start of each round the Divisions will be formed with the players in attendance, based around their finishing positions from the previous round (due to non-attendance and/or additional players joining, you may unexpectedly move up or down a division)
This is a new idea, so there might be some issues that have not been thought through, it may be necessary to tweak the above during the competition. This will be at the discretion of the organiser.
Each round's results will be published on the club's websites.
IMPORTANT – YOU MUST ARRIVE BY 6:40 TO BE INCLUDED IN THE ROUND. BE EARLY TO ENSURE YOUR PLACE, MULTIPLES OF FOUR ARE NEEDED.
Last Updated: