Don Blatchford
It is with great sadness that we have learnt that Don Blatchford passed away on Saturday 25th Sept at the age of 97.
Don was born in Torquay and having served in the R.A.F. became a teacher at various schools, and a headmaster at Southampton, before retiring to Newton Abbot just over 30 years ago.
In his younger years he played table tennis at St. Georgians, Torquay with Tiggy Gill and he played for the county of Bedfordshire when he was living there. He stopped playing table tennis seriously for quite a few years and then took up golf, where he excelled, reaching a handicap of 2. It was only when he moved to Newton Abbot that he immersed himself in the game again. He served on the South Devon & Torbay committee for nearly 20 years as a divisional secretary and press officer, typing out the results and his report and dropping it off weekly to the Herald Express office in the days before email. His amazing vocabulary and use of the English language always meant it was an interesting read! Don was made a life member of the South Devon & Torbay Table Tennis league in 2003.
He was an accomplished player well into his seventies and was part of the Legionnaires and Batmen teams that won the first division title in the mid 90's
He will be mostly remembered locally for his incredible work and patience, setting up and running table tennis sessions at Dyrons Sports Centre, Newton Abbot, which was the forerunner to the formation of Newton Abbot TTC now based at Teign School, Kingsteignton. Don was so good with all the youngsters who came to his Saturday morning club that an annual junior event, for the Don Blatchford Cup, is now run at Teign School
Many local players were fortunate enough to be able to practise in his garage and would've been influenced and helped along their way in table tennis, and in life, by an amazing man who will be sorely missed by all those who were fortunate enough to have known him.

Don on the right with one of the early young Newton Abbot teams playing out of Dyrons Leisure Centre.
Not only did we play table tennis with Don at Dyrons on a saturday morning, for several years there were weekly Badminton sessions where Sonja and myself were given the runaround by Don (reaching his 80s) and a 15 year old Nick Halse. Don was a massive help to Sonja when she first arrived in the country from Germany helping her settle into life in South Devon. Many of us have spent hours practising TT in Don's garage and Dennis visited Don weekly, playing up until he reached his 85th year and just chatting in more recent years. We will all remember him fondly.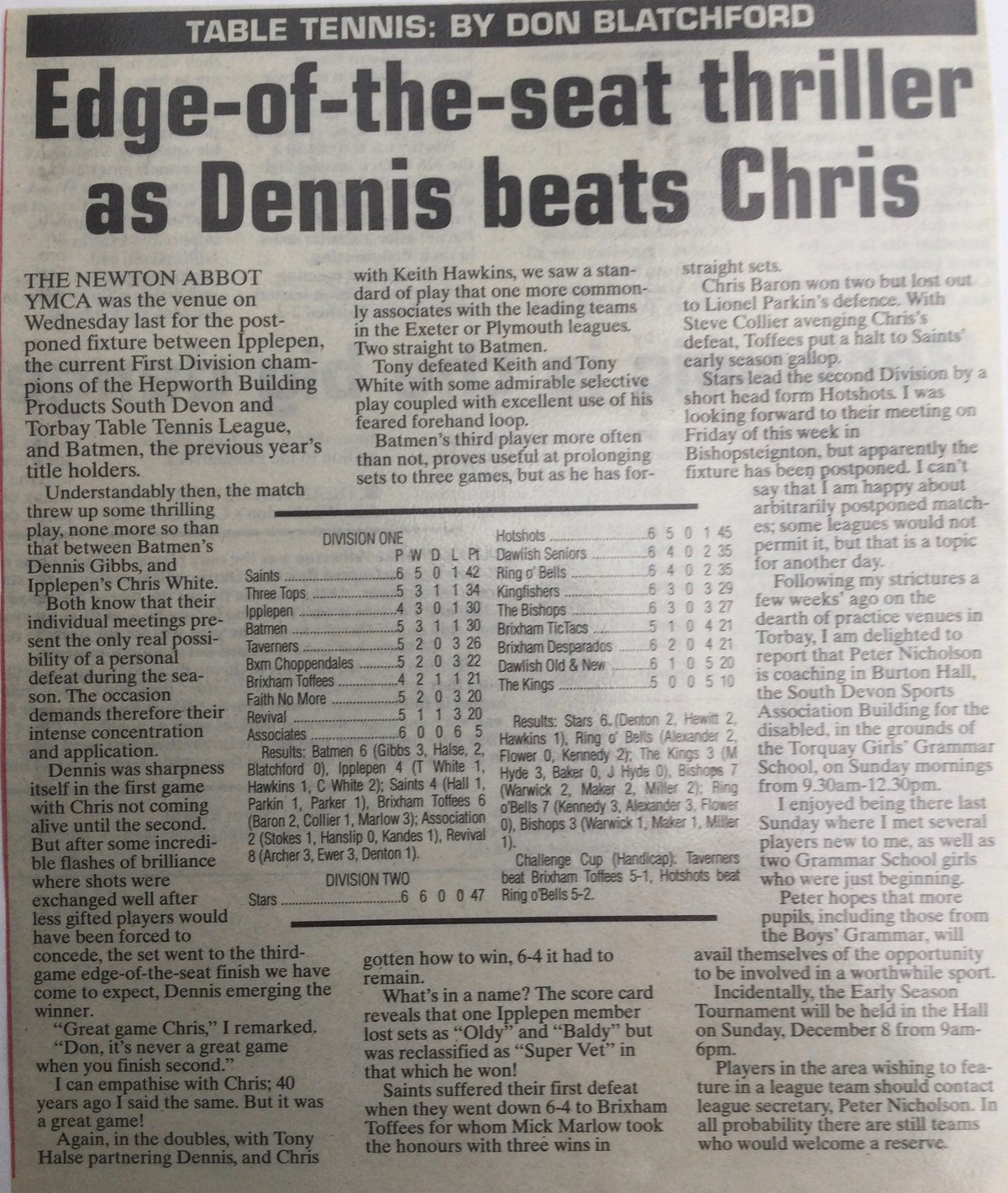 A fairly typical Don Blatchord Table Tennis report although there was a rare mention of Batmen's third player who had 'forgotten how to win'
Author:
Tony Halse
via Newton Abbot Table Tennis Club
Article Published:
Last Updated: