The season so far
There have been some excellent performances from Newton Abbot Table Tennis Club in the Albany Florists sponsored South Devon and Torbay Table Tennis League during the first half of the season.
NA Batmen sit at the top of the first division with a ten point advantage over club mates NA Buzzards. The ever-present Gibbs father and son team, Dennis & Shaun, together with Naomi Jackson rarely losing sets and have yet to lose a match.
The only defeat for NA Buzzards, sitting in the runners-up spot, being a narrow 6-4 defeat by the Batmen. Kevin Nicholls, Sonja Ryland and Luke Bennett joined occasionally by Nick Halse and Herbie Sage have all contributed with some fine victories.

Newton Abbot TTC also lead the second division table. NA Falcons team of Mike Dummett, Chris Baron, Louis Wilshire and Ed Crawford have a five point lead over Marldon in a very competitive second division.

Although not leading the third division NA Owls trail by just a point behind Torre Titans. These two are a dozen points ahead of the chasing pack. Rob & Rowan Bayliss with Josh Redfern and Matt Cyron will be looking forward to a battle with the Titans as the league season resumes in 2020.
The fourth division, generally for new, inexperienced and junior players, have several seasoned players involved this year making it very tough for our teams. Our Ospreys team of youngsters, Henry Greet, Ethan Lee, Benj & Ollie Pead is the best placed Newton Abbot Team, with our Merlins and Vultures gaining useful experience in league table tennis.
With many of our teams also going well in the cup competitions it has been an excellent first half of the season for our club.
We have a Newton Abbot TTC team competing in the National League and several of our players representing Devon Veterans along with a team made up of Newton Abbot TTC players leading the Exeter League's top division, things are going well for the local club.
NA Buzzards player Kevin Nicholls has recently collected a silver and bronze medal in an international veterans event in Cardiff.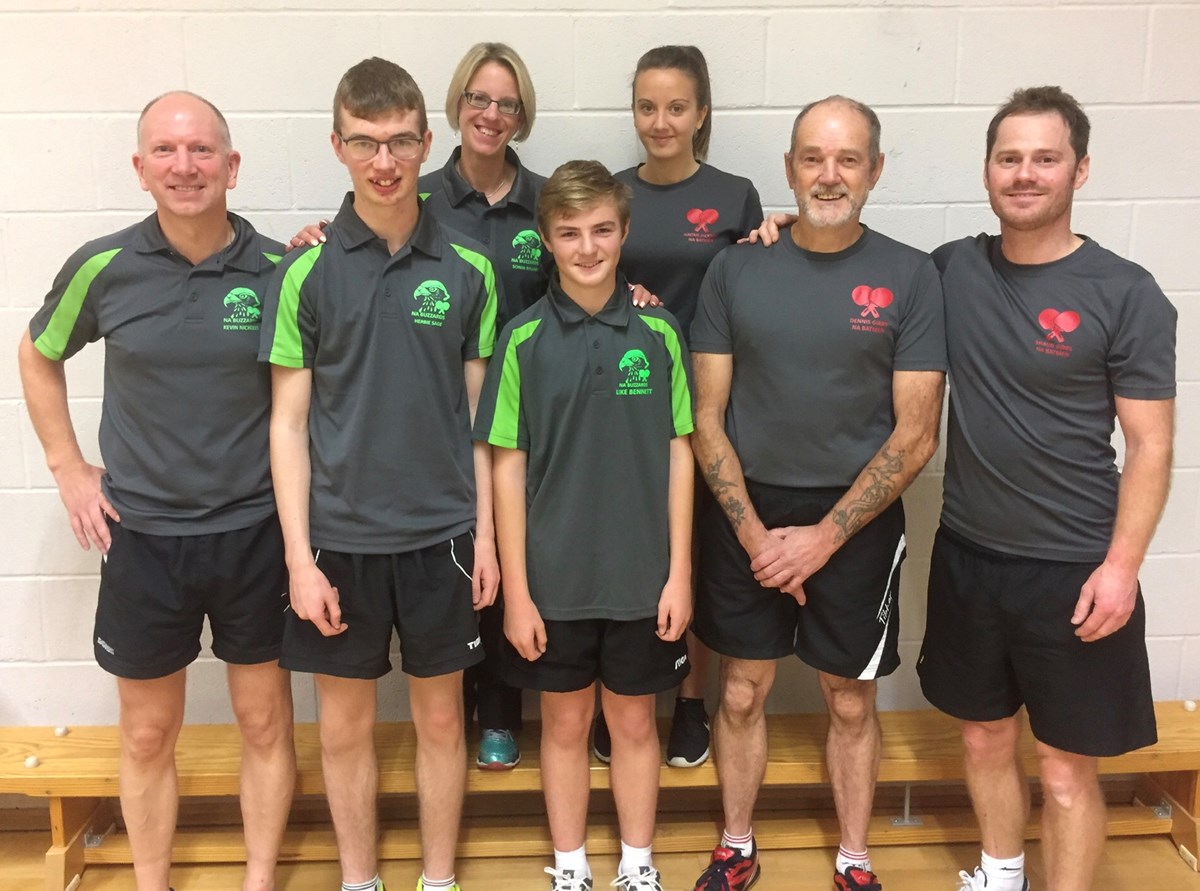 Left to right – Kevin Nicholls, Herbie Sage, Sonja Ryland, Luke Bennett (NA Buzzards) Naomi Jackson, Dennis Gibbs, Shaun Gibbs
Author:
Tony Halse
via Newton Abbot Table Tennis Club
Article Published:
Last Updated: