Open Singles Winner:
Chris Edwards was presented with his prize money by Middlesbrough League Chairman Alan Ransome
Ormesby junior, Chris Edwards, won 3 titles, including the Open Singles title, in the Middlesbrough Table Tennis Championships which were played at Ormesby on Sunday 14 May, beating Ryan Nassau by 3 games to 1 in the final and Michael Young by 11-9 in the 5th games in the semi final.
This was a very good performance by Chris who plays in the team immediately below his two opponents in the Ormesby British League teams.
Ryan Nassau had a very close match in the semi final to beat David Pashley 11-5 in the decider.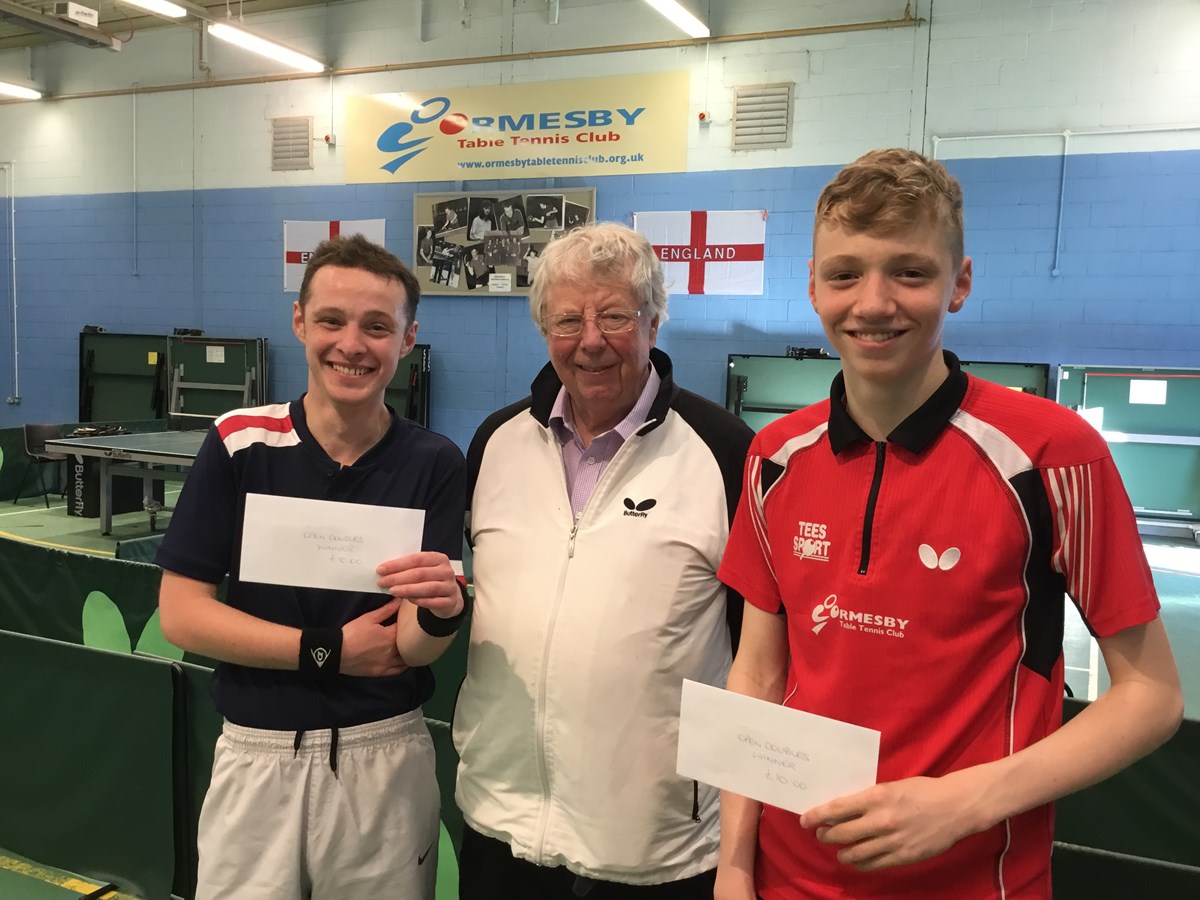 Open Doubles winners:
Ryan Nassau on the left with Alan Ransome and Chris Edwards
Chris Edwards won his second title in the Open Doubles when he combined with Ryan Nassau to beat Michael Young and Gary Whyman by 3-1 in the final and the Webster brothers, Phil and Tommy, by the same score in the semi.
Edwards' third title came in the Handicap Singles when he scored a very narrow victory over Olly Flight who enjoyed a large handicap start. Olly won the first game 21-17 before Edwards recovered to win the second 21-19 and the decider at 21-20.
The Division 1 Singles title was won by Michael Young who scored a very narrow victory 11-9 in the 5th, over Ryan Nassau. Michael Young beat David Pashley 3-0 in the semi. The Open Singles winner, Edwards, failed to qualify from his group, losing a countback with Michael Young and Ryan Nassau.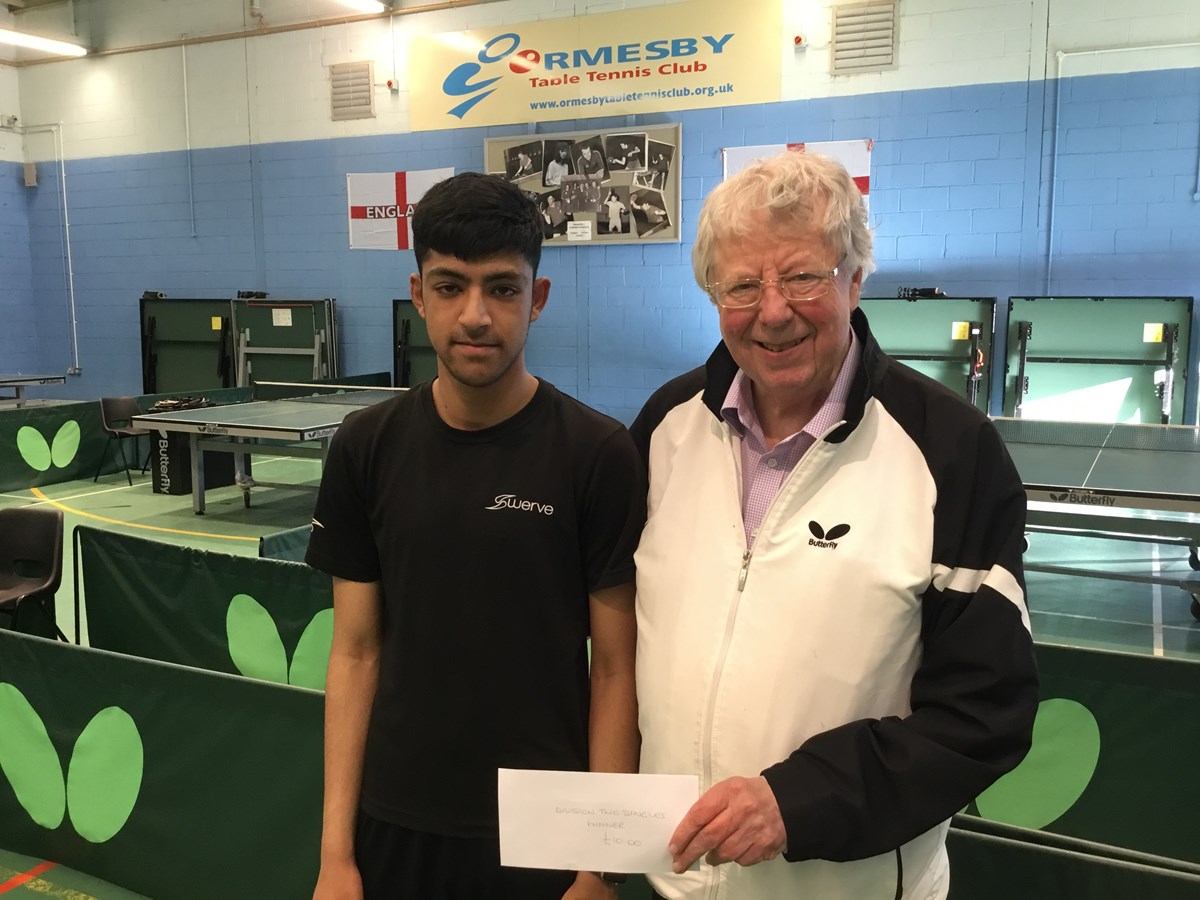 Division Two winner
Kashif Mahmood
The Division 2 title was won by Swerve's Kashif Mahmood who beat Beaumont Accountancy Nomad's Bruce Lowther 3-0 in the final.
Michael Young won his second title, the Veterans Singles, scoring a comfortable victory over Swerve's Jemal Mohammed in straight games in the final.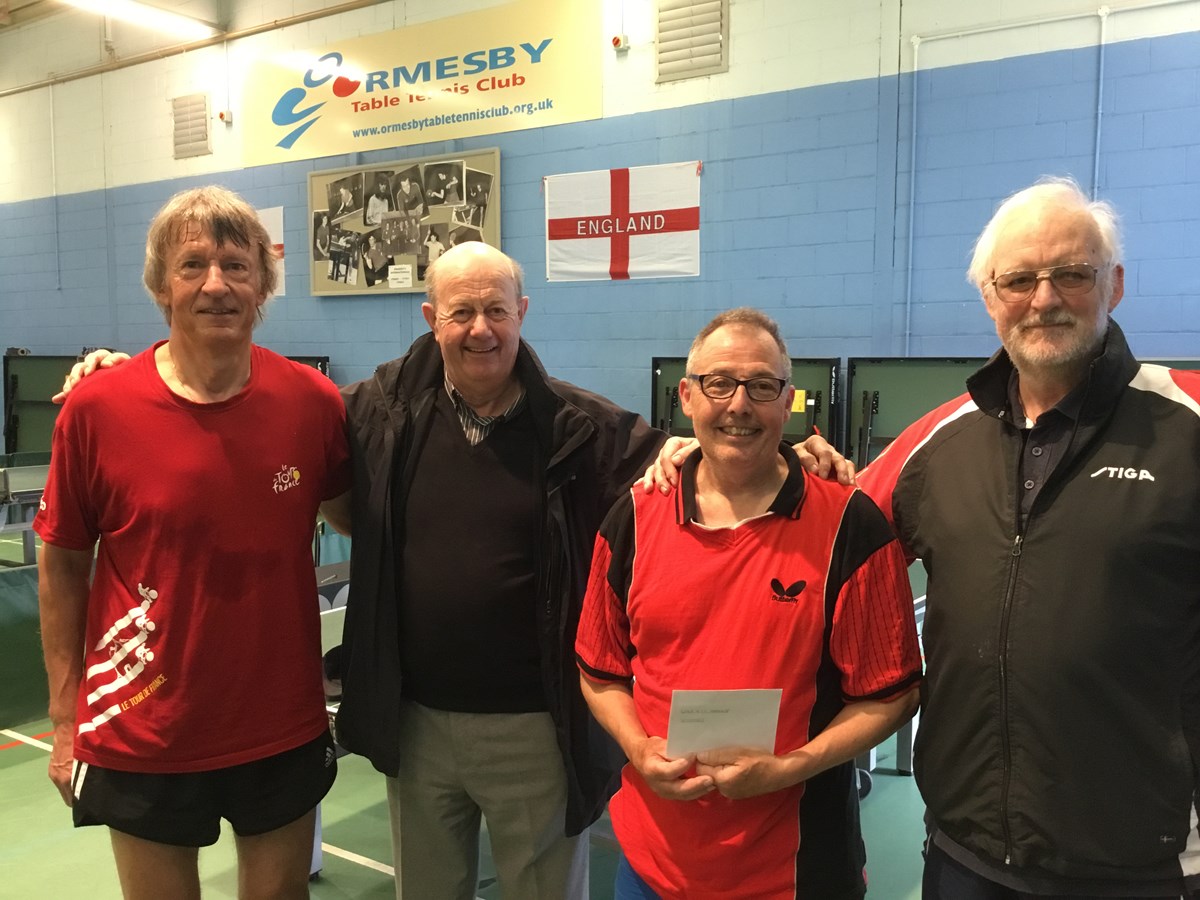 60+ Event players left to right:
Nick Miller (semi finalist), Barry Pearson (event sponsor), Tommy Webster (60+ winner) and Paul Moppett (runner up). Eric Smallwood, not pictured, was the other semi finalist.
The Over 60 Handicap was won by Tommy Webster who beat Paul Moppett after the match was tied after 3 games. Webster won the one point decider.The Wheelchair Singles was won by Mark Bonnar who beat Brian Holloway in the final match.
The Hard Bat competition produced a third title for Michael Young with Nunthorpe's David Pashley in second place.
RESULTS
Open Singles
Winner - Chris Edwards (Ormesby) 11-9, 9-11, 11-9, 11-8
Runner up - Ryan Nassau (Ormesby)
Open Doubles
Winners - Chris Edwards/Ryan Nassau (Ormesby) 11-13, 11-6, 11-7, 11-6
Runners up - Gary Whyman/Michael Young (Ormesby)
Handicap Singles
Winner - Chrissie Edwards (Ormesby) 17-21, 21-19, 21-20
Runner up - Olly Flight (Ormesby)
Division 1
Winner - Michael Young (Ormesby) 11-8, 11-4, 6-11, 5-11, 11-9
Runner up - Ryan Nassau (Ormesby)
Division 2
Winner - Kashif Mahmood (Swerve) 11-8, 11-9, 11-7
Runner up - Bruce Lowther (Beaumont Accountancy Nomads)
Veterans Singles
Winner - Michael Young (Ormesby) 11-6, 11-7, 11-7
Runner up - Jemal Mohammed (Swerve)
Over 60's Handicap
Winner - Tommy Webster (Nunthorpe) 17-21, 21-17, 38-38 (+ 1 extra point)
Runner up - Paul Moppett (Ormesby)
Wheelchair
Winner - Mark Bonnar (Ormesby) 17-5, 14-12, 11-4
Runner up - Brian Holloway (Ormesby)
Hard Bat
Winner - Michael Young (Ormesby) 31-28
Runner up - David Pashley (Nunthorpe)
Last Updated: