Concert in memory of Ian Bell
In Memory of Ian Bell . . .
One Equal Music
The lay clerks of Hereford, Gloucester and Worcester Cathedrals will gather in Worcester next Saturday (6 February) to pay tribute to their colleague Ian Bell, who sang at Worcester for nearly 30 years until his untimely death last year and took part in many Three Choirs Festivals. The concert of music which Ian loved takes place in Worcester Cathedral at 8 pm on 6 February. Tickets priced at £10 are available in advance from Worcester Cathedral Shop or on the door.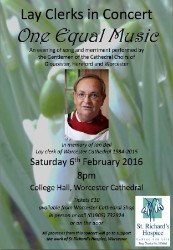 Author:
Richard Cullis
via Malvern Table Tennis League
Article Published:
Last Updated: