MTTC-Essex County team news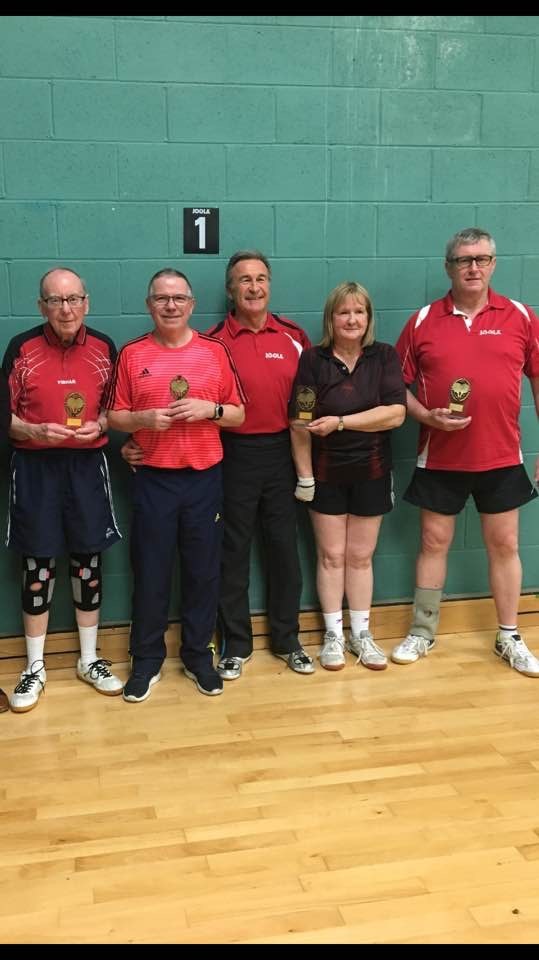 The over 60's Essex County team playing in the Premier division stepped forward last weekend (16/17th March 2019) to play at Milton Keynes table tennis centre in the second half of the seasons County weekend.
MTTC is proud to say that the team consisted of 3 MTTC members.
John Poysden captained the team and those selected to play, were:
Alex Abbott and Trevor Lloyd from MTTC ( newly turned 60) plus the experienced Peter Redford and sole lady Gill Lock.
After the first weekends games back in November the team had 2wins and 2 draws under their belt, but such is the standard in the Premier division, this could still have meant there was the potential to get relegated if things did not go well.
However, Saturday saw matches against Lancashire and Hertfordshire and as a result of some fantastic personal wins, Essex chalked up a 6-4 win over the undefeated Lancashire team and a 9-1 win over Hertfordshire.
So, by the end of Saturday, Essex were now vying for the division title not relegation!
Sunday saw matches for the team against Hampshire and Yorkshire, but the top spot was now a battle between Essex and Lancashire.
A win of 10-0 against Hampshire in the morning meant the title would be decided on the last game of the day as both Lancashire and Essex were on 10 points and equal in sets, it would come down to games difference.
Essex played Yorkshire and won 8-2. Lancashire played Cheshire and won 6-4, the title was Essex's!
Playing at number 1 - Alex Abbott played some fantastic table tennis and defeated all 4 England ranked (in the top 5) over 60's men he played , He was undefeated all weekend.
Alex Abbott and Trevor Lloyd played men's doubles together and were again undefeated all weekend.
Playing at number 3 - Trevor won 7 from 8 singles and 3 from 4 mixed doubles.
Playing at number 2 - Peter Radford won 4 singles and 2 from 4 mixed doubles
Gill Lock won 3 of 4 singles matches and 5 of 8 mixed doubles
Congratulations to Essex and to Maldon TTC for fielding such high Caliber players and for winning the Premier league.
****************************************************************************************
Essex County 2nd team (over 40's) also played two weekends ago and once again MTTC produced the players who mainly made up the team.
John Poysden, Trevor Lloyd and Jan Fuller (standing in for Dawn Bawdry) from MTTC were joined by Jgango D. to produce wins against, Sussex and Surrey winning 8-2 and 7-3 respectively.
Well done Essex County 2nd team and the MTTC players
****************************************************************************************
For a small venue club, the quality of players we produce that represent the County is amazing, MTTC members are making a huge contribution to promoting the sport of TT . Well done all.
Report from Jan Fuller
18/03/19
Author:
Colin Napper
via Maldon Table Tennis Club
Article Published:
Last Updated: