Stamford Junior wins 4 star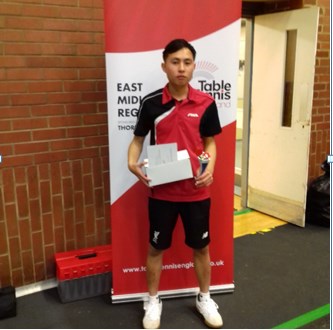 Long Li wins 4* Tournament
In his first ever tournament, Bourne club player, Long Ly, of the Stamford and Rutland League beat Jack Stockdale of Romford 3-2 in a closely fought final. Jack's powerful forehand loops were countered by Long's solid defending, mostly from the back of the court in a display of skill that you'd expect from more experienced players. The ends were closely fought with the 3rd end going to deuce but it was Long's ability to stay calm and focussed that enabled him to clinch this important end.
Long who was previously unranked, had some difficultly in registering for what is a top 4* junior event but came away with 8 first class wins and suffered only 2 losses. He also progressed in the main event draw by beating group seed Benjamin Hee convincingly 3-1, his best scalp to date as he is TTE Junior ranked number 28.
Long is pictured with his trophy and he also received a voucher to be spent on Table Tennis equipment, provided by the event sponsors.
Long is eyeing up other Junior tournaments as he has just turned 17, giving him a full year of competition at this level before he progresses into the senior leagues.
S. Smith 08/01/2018
Author:
David Arnold
via Lincolnshire County Table Tennis Association
Article Published:
Last Updated: