HARRY JUTLE INTERNATIONAL UMPIRE
Congratulations to Hereford's Harry Jutle who has gained his Blue Badge, the highest International Umpire award.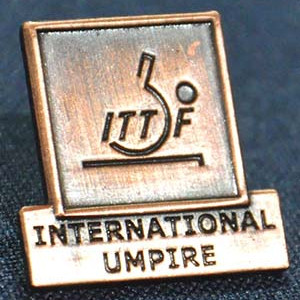 Harry Jutle described his Blue Badge journey:
Three English International Umpires started on the Blue Badge program at LIEBHERR 2016 ITTF European Table Tennis Championships Tuesday 18th – Sunday 23rd October 2016 in Budapest, Hungary. It was not an ideal start having to attend the first day's AUT course at 08:00 on the Monday after travelling late and only 3.5 hours sleep. I also missed out on lunch as I had to sort out all my accreditaion that had not arrived. But I managed to get through and was delighted to find I passed the ARE and had 2 meets.
My next event was The ITTF 2016 World Tour Open held in Linz, Austria between 9th and 13th November 2016. This was one of 20 events to commemorate the 20th anniversary of the ITTF World Tour.
Here my first evaluation result was not good. This particular evaluator has a reputation for being tough and so it proved for me. But I did learn a lot from him and I passed another evaluation for a total of 3 meets.
My final event was The World Junior Championships 30th November - 7th December 2016 in Cape Town, South Africa. Here I passed my first evaluation and was congratulated by the evaluator because I'd achieved the 4 evaluations required for the Blue Badge program. To complete the program I would be interviewed by another evaluator to test my English on a telephone conversation, which occurred on 27th December 2016. From the 3 of us who started the program, I am the only one to have passed so far.
So I am now one of only 6 Blue Badge Umpires in England. I feel very proud to have been the 1st National Umpire, the 1st International Umpire and the 1st Blue Badge Umpire in Herefordshire.
Author:
Rosemary Chatterton
via Hereford Table Tennis League
Article Published:
Last Updated: