Molly Hebditch
(updated with news of funds raised)
We understand that over £450 were raised in Molly's collection. Thanks to all concerned - a tribute to a very notable former member of our league.
--Message of 14 June--
Molly's funeral will be on Thursday 25th June 2 pm at the crematorium. Family flowers only, any donation to cancer research. There will also be an announcement in the Express and Echo.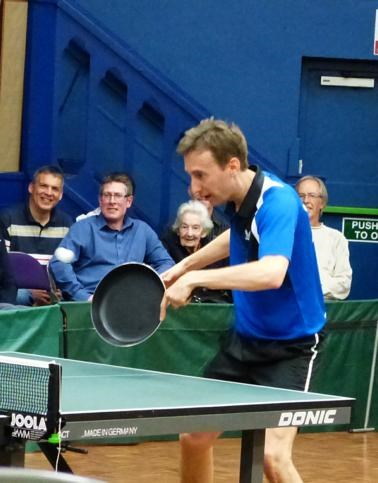 Molly enjoying the exhibition play of Alex Perry and David McBeath at our Centenary
--original message--
We have sad news from Max Schmider about our old friend and former member Molly Hebditch.
Having been frail for some years, Molly passed away peacefully on the evening of the 8th of June.
Molly was familiar to players from all clubs as an avid spectator of league matches at various venues, showing her appreciation for good play from whichever side.
It was one of the highlights of our 2014 Centenary Event that Molly was able to attend and enjoy the whole evening's table-tennis as well as a catch-up with her many friends.
We will post any more information when we have it.
Steve
Author:
Steve Derbyshire
via Exeter Table Tennis League
Article Published:
Last Updated: