Twins Win National Schools Titles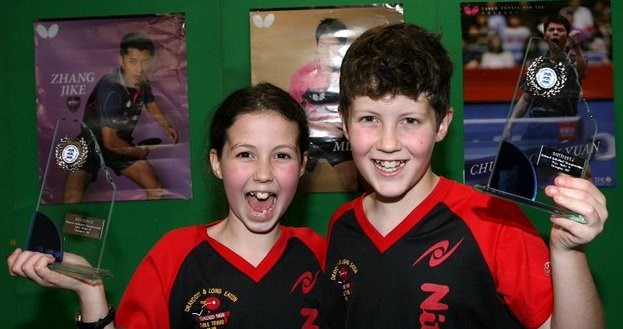 Anna & Connor Green - National Schools Under 11 Champions
Aldersley Sports Vilage in Wolverhampton was the venue for the National Individual Schools Championships and the Draycott Junior squad had nine players who had qualified as County Schools champions for their age.
Jeremy Henty (U/19 Boys) was in an extremely tough group losing to Josh Bennett and George Hazell - England ranked No.5 and No.16 respectively and was unable to qualify through the group. Sam Cooper (U/13 Boys) also was unable to progress through the group stage finishing in 4th place
His 9 year-old brother – Joseph competed in the U/11 Boys and played really well to progress into the knockout stage where he faced No.1 seed Adam Zsabo and held a 2 games to 1 lead before finally being beaten in the 5th end.
Molly Hancock (U/13 Girls) scored a victory in her group over the higher ranked Charlotte Weatherby and progressed through the group stage and then in the last 16 was beaten in three very tight ends by Lancashire's Alice Dillon.
In the U/13 Girls Erin Green also progressed through the group wining 3 out of 4 matches but also beaten at the last 16 stage 3-1 by No.3 seed Amy Marriot (Ys)
Naphat Boonyaprapa (U/16 Boys) stormed through his group and then reached the Q/final and at 2-0 down and facing match points against Kian Burgess he fought back to take it to the 5th end but eventually went down 3 games to 2
In the U/13 Boys his 12-year-old brother and No.2 seed Poww Boonyaprapa won all of his group matches 3-0 but then was surprisingly beaten by Somersets's Bertie Kelly 3-1 in the last 16.
In the U/11 events Nottinghamshire twins Anna and Connor Green were seeded No.2 & No.3 respectively and were confident of picking up medals. Anna cruised though her group and then after recieving a bye in the last 16 beat Bethany Ellis (La) 11-6, 11-5, 11-3 to reach the semi final.
Here she defeated unseeded Sophie Barcsai 3-0 to set up a final against No.2 seed Katie Bates. Anna led 2-0 and then had match points in the 3rd end but failed to take advantage but in the 4th end Anna pulled away to win 11-5 and win the National Schools U/11 Girls singles title following Emma Vickers who won the same title in 2002.
Connor also cruised through the group stage winning all five of matches and also won his last 16 round 3-0. In the Q/final he was tested by Oxford's Todd Stanmore only losing the 3rd end before closing out victory 11-9 in the 4th end. The semi-final was another tight match but Connor edged home against Oliver Maric-Murray 3 -1 to set up a final with Toby Ellis who was in top form having beaten top seed Adam Zarbo in his semi-final.
Connor won the first two ends 11-5,11-8 but then lost the 3rd end 11-8 but fought back to the 4th 12-10 and win the National Schools U/11 Boys singles tile following Poww Boonyaprapa who won last year.
It was an historic triumph for Connor and Anna becoming the first twins is the 56 year history of the event to win both titles on the same day.
Author:
Phil Vickers
via Draycott and Long Eaton Table Tennis Club
Article Published:
Last Updated: