Draycotts Juniors Excel Again
Naphat and Diana reach finals at the East Midlands 4*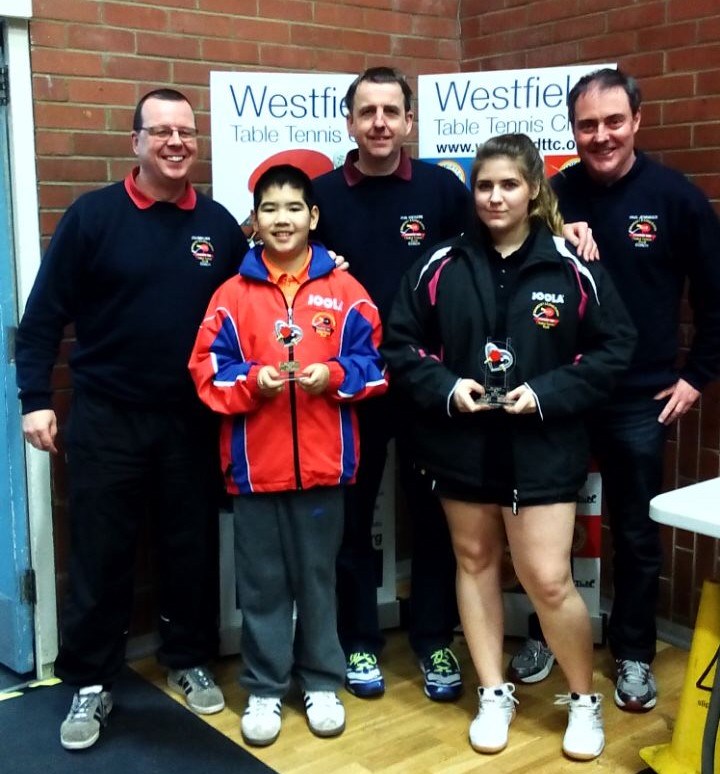 This weekend showed how far the latest young
players from the club have progressed at the 4 star tournament in Wellingborough
With 5 players playing on the Saturday in the
under 13 and the under 15 events.
Brother and sister Kinar and Jinious Sheth had
tough groups in the under 13 boys and girls events with Kinar (ranked 17 in
England u13) narrowly loosing to Kate
Holt ( ranked 5th England u13) 11-8 in the 5th game. And Jinious just losing
out to Dylan Tynan ( ranked 66 u13)
Nine year old "Pow" Boonyaprapa (
ranked 20 u13) again showed his
potential by reaching the quarterfinal of the under 13 boys just loosing out to Scotland no1 u13 boy
Dylan Curry 11-9 in the 3rd however beating Aadil Aaand (ranked 10 u13 ) in the
group stages.
In the u15 events Jack Finney (95 in the u15 boys) had two tough groups 1st the banded where
despite finishing 3rd only two went through,
however in the open Jack showed his true form with a tremendous win
against A Andil ( ranked 28 u15 boys) and just loosing to Sam Chesterton ( no8
u15 boys) 11-8 in the 5th to get through to the first round however lost out to
Dylan in 3
"Pow's brother Naphat ( no15 England boys
in the u15) had an 8 hr wait and although played well to set up a quarter final
against Durhams Joe Cope ( no 4 under 15
boy) could not get any further loosing a close 4 sets.
On Sunday the older players were in action with
Lauren Evens ( 65 England u18 girl) Amy
Humphries (22 u18 girl ) and Diana Rusinova ( no3 ranked u18 girl ) with Naphat
( 91 u18 boy) stepping up to the under 18 boys competition.
The girls group stages went as planned with all
players reaching the first round. Lauren had a really tough draw meeting
Letitia McMullen from Hampshire ( no 10 England u18 and second seed) looking a close 3 sets. Amy
then met Amy Blagborough ( 35 u18 girl) loosing a five set thriller 12-10 in
last game. Diana the number 1 seed progressed to the final with relative ease
to set up a 1st and second seed final with Letitia - the first two games went
to Diana, Letitia then fought back to level
at two all with a tense 5th set going Letitias way 11-8. In the boys Naphat
progressed in the open to meet Ethan Walsh in the last 16 it was a trilling
match with Ethan just winning 3-2. Naphat then played in the banded u18 event
beating Scotland's no1 under 15 boy Callum Morrison in 4 sets to progress to
the quarter finals again Naphat played above his ranking to win through to the
u18 banded final just narrowly loosing in 5 sets to Romayne Stewart 11-9 in the
5th. It was a great day for Naphat as he beat 4 players ranked above him to
show why he is currently the clubs number 1 junior boy.
Author:
David John Greaves
via Draycott and Long Eaton Table Tennis Club
Article Published:
Last Updated: