National Umpires Tournament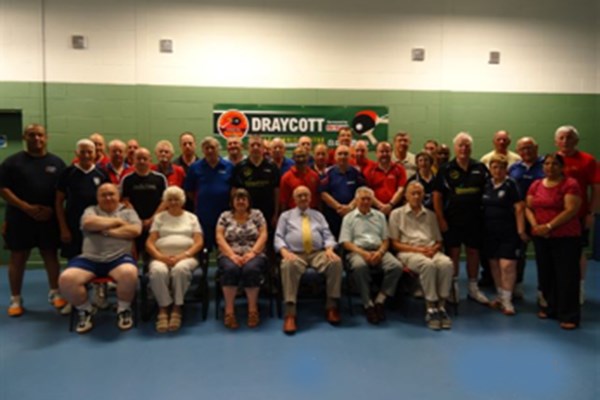 Draycott Table Tennis Centre hosted the 7th annual Association of English Table Tennis Umpires (AETTU) tournament staged over the weekend of 21-22nd June 2014.
This year there were 29 players competing in 10 events and the level of play continues to rise with a number of new umpires joining the AETTU competition for the first time.
The top performer across the weekend was Lancashire's Dave Griffiths who won the main Open Singles event – the Ken Armson Trophy with a comfortable 3-0 win over Scotland's Roy Claxton. Dave also won the Open Doubles partnering Lincolnshire's Steve Welch, the Over 50's singles again beating Roy Claxton and finally the Hardbat event where Gary Whyman (Cleveland) was the runner-up.
The most improved player of the weekend was Dot MacFarlane from Warwickshire. She beat all three players in her group in the Over 60's event and reached the quarter finals of the open singles event. She also reached the semi-finals of the Plate competition and was the losing finalist in the women's competition where Worcestershire's Lynda Reid took the title.
Bob Evans from Cleveland, the losing finalist in the Over 50's event last year, moved into a new age category and won the Over 60's event beating Ray Jackson, from Lancashire, in the final.
The Plate competition was won by Tom Purcell, from Lancashire, beating Lyndon Griffiths from Kent in the final.
On the Saturday night 38 players and guests attended a very enjoyable dinner at the Hallmark Hotel in Derby and on the Sunday Derby's very own Tony Chatwin, President of the AETTU presented all the trophies to the successful players plus Margaret Welch and Lillian Payne were on hand to provide the refreshments during the competition.
Author:
Phil Vickers
via Draycott and Long Eaton Table Tennis Club
Article Published:
Last Updated: