Over 50s Christmas Fuddle
The Over 50's Christmas Fuddle
This is an annual event and takes place after the end of the normal Friday playing session. The food for the Fuddle is provided by the members who choose an item from a list of foodstuffs needed. This provides a substancial buffet which was enjoyed by approximately 35 members.
The entertainment was provided by John Maynard on Electric Keyboard, David Holness on Guitar and Ukulele and singers Sue Gooch and David Peacock.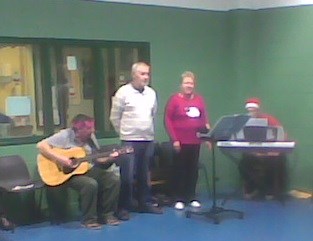 As part of the event the presentation occurred to the winners of The Jack Winder Doubles Tournament winners and runners up by Mrs Ann Winder who provided the Cup.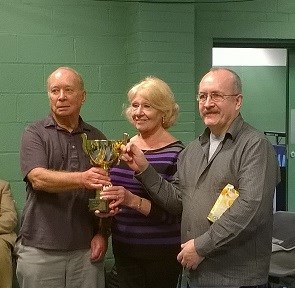 The Cup was won by Malcolm Barlow, on the left and Lewis Chadwick on the right. The runners up were David Wright and Guan Zhang.
It was good to see Ann Winder at the Club for only the second time since Jack sadly passed away on the premises. Jack was taking part in one of our Over 50's Tournaments approximately 2 years ago.
Author:
Graham Gobey
via Draycott and Long Eaton Table Tennis Club
Article Published:
Last Updated: