Draycott Star plays for England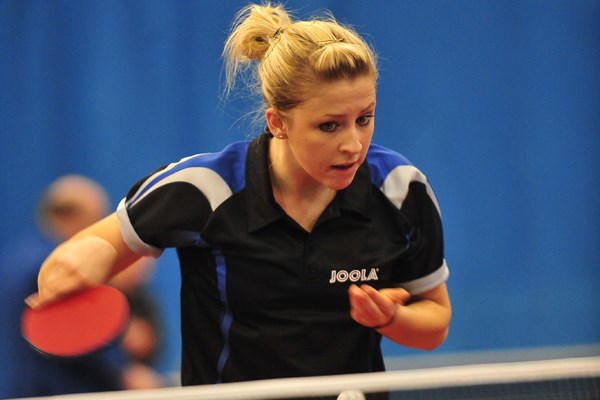 Senior 6 Nations: England double title glory
England's men and women have both won the team titles the Senior Home 6 Nations event in Largs, Scotland.
The men's team of Chris Doran and David McBeath beat Guernsey 3-0 in their first match on Saturday, keeping up their record of not yet dropping a set – on Friday they romped to successive 3-0 victories over Wales and Jersey.
The women's line-up of Karina Le Fevre and Emma Vickers beat the Channel Islanders 3-2 in the corresponding fixture, although neither English player could get the better of Alice Loveridge, and they had to come from 2-1 down to win the doubles.
On Friday, Le Fevre and Vickers were taken the distance by Wales before winning 3-2, and then had a walkover against Jersey, who have not fielded a women's team.
England then won all four matches against Ireland and Scotland on Saturday afternoon to seal their titles.
The women made short work of Ireland, winning all three matches 3-0. Scotland's Corinna Whitaker took a set off Vickers, and the English pair also needed four to win the doubles, but they were not to be denied the title.
Scotland were second, with Wales third, Ireland fourth and Guernsey fifth.
The men dropped a match against Ireland – McBeath losing to Paul McCreery – but came through 3-1 to set up a title-decider against Scotland.
McBeath and Doran enjoyed respective 3-1 wins over Craig Howieson and Chris Wheeler but the hosts won the doubles in a five-set thriller to keep themselves in the hunt.
But Doran's 3-0 win over Howieson clinched the title for England, with Scotland second, followed by Ireland, Wales, Guernsey and Jersey.
Vickers, Doran add singles titles to team gold
England completed a superb clean sweep of the medals at the Senior 6 Nations as Emma Vickers and Chris Doran won the singles titles.
Both finals were all-England affairs in Scotland, with Karina Le Fevre and David McBeath the beaten finalists – and the medals added to the golds that both the men and women had won on Saturday.
Both finals went to five but both by different means. Vickers was never behind as she took the odd-numbered sets to seal victory, while Doran twice levelled before taking the decider.
Vickers said: "It's quite a big event – all the nations are playing and everyone wants to beat each other, so it's obviously great to win all the events.
"We all played well and we all supported each other."
(For all scores see Table Tennis England Website)
Author:
David John Greaves
via Draycott and Long Eaton Table Tennis Club
Article Published:
Last Updated: