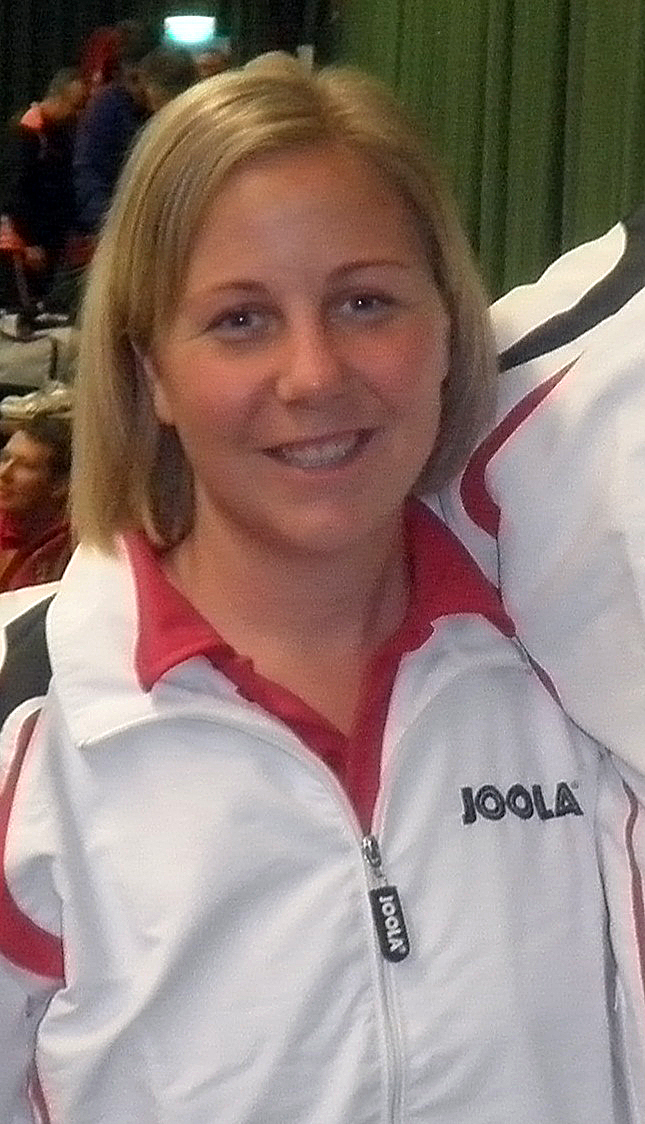 Name Kate Hughes
D.O.B 1982
Nick Names – Tiny Tot (recently acquired!)
Style of play – Close to table attack; quite aggressive play!
Blade – Butterfly: Korbel (straight handle)
Rubber/s – Stiga: Boost TX (red – max; black 2 mm)
How old were you when you first played TT – 9 / 10 years
How did you start & where – My parents took me to a club at Droitwich Leisure Centre; as well as playing for fun on the table at my local tennis club.
Who have been your coaches – Don Evans, Jill Harris
Current coach – no current coach ( though IF advises )
Current clubs – Colebridge (Birmingham Prem; Leamington Div 1), Harriers (in Kidderminster); St Andrews TTC (Women's British League)
Previous clubs – Droitwich (Bromsgrove & Redditch)
What is your greatest TT success: Being selected to play England Cadets (U14) in the Six Nations in France (1997), and achieving highest ranking of 4 in the Cadets.
What is your greatest TT disappointment: not sure (potentially have too many!)
What players do you most admire
Locally – having only played one season in Birmingham, I am still getting to know people!
Nationally – Andrew Baggaley (if I had to pick someone. He played England Cadets when I did, and has continued to stay in the Senior Top 10 ever since!)
Internationally – not sure!
What is your favourite;
Food/Drink: Italian & Chinese / Cider & blackcurrant!
Film/Actor – The Shawshank Redemption
Music/Song – No major preferences
Holiday Destination? Australia & Italy
What other sports do you enjoy? Tennis, badminton
What is your TT ambition? Top 40 Senior Women
Last Updated: