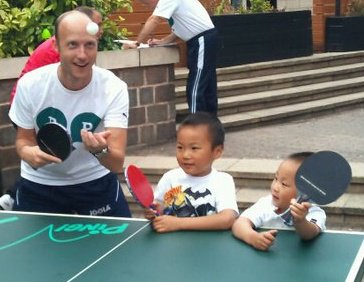 Edward Lynn ( left )
---
D.O.B 1976
How old were you when you first played TT

11
How did you start & where

Turned up to a session for a laugh at the
Birmingham Sports Centre. Met Jim Peakman – Legend!
Who have been your coaches

Jim Peakman, David Goldstein, Neil Wheatley, plus more.
Current coach

Don't have one. I would be happy with Chen Xinhua
again. Beast coach I ever had. Unfortunately it was for
two weeks only at Tees Sports when I was 15.
Current clubs

Colebridge – Birmingham Prem, Leamington 1
Smithswood – Brit League div 3 (North East )
Previous clubs

Colebridge, Wheelers
What is your greatest TT success

Beating Jun Tsuji three times in my last year as a junior.
Jun Tsuji was an ex-England no.1 as a junior, all be it for a short spell
What is your greatest TT disappointment

Giving up at the tender age of
17 for 12 years and not being the player I could have become.
What players do you most admire
Locally

Too many to mention. I will not give anyone a big
head! haha
Nationally

Tin Tin Ho, Liam Pitchford, Paul Drinkhall
Internationally

Ma Long, Zhang Jike. I think Zhang Jike is unreal when
he is on form. Takes the ball ridiculously early at times. Great to
watch!
Waldner was the most effortless player that
has ever lived. Made incredibly difficult shots look simple! Genius!
What is your favourite;
Food/Drink

Italian/Pina Colada
Film/Actor

Man on Fire/Denzel Washington
Music/Song

Too difficult to answer
Holiday Destination

China with a few Monks will do, so that I canplay
table tennis at high speed and think i'm playing
slow!!!
What other sports do you enjoy

Boxing, Snooker, Tennis, Cricket
What is your TT ambition

To coach a national champion.
Last Updated: