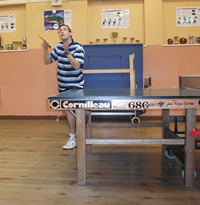 Name - Steve Taylor
Nick Names –
Style of play – Defender
Blade – Joola Flame
Rubber/s – Tackiness C, both sides
How old were you when you first played TT – 11
How did you start & where – Played at the local tennis club with my dad & brother
Who have been your coaches – Tony Peseto (Brent), Paul Tarrant (Hertfordshire),
Current coach – Ferg
Current clubs – Colebridge Dinosaurs
Previous clubs – Barnet Tigers, Colebridge Lions
What is your greatest TT success - Hertfordshire County Junior Champion umpteen years ago
What is your greatest TT disappointment: Losing deuce in the decider in the final of the London Youth Games
What players do you most admire
Locally – Mike Standen (always nice, even when he's losing)
Nationally – Matthew Syed. Darius Knight (but only because he thrashed me when he was 10 and I was 16)
Internationally – Honestly don't know any current players
What is your favourite;
Food/Drink: Steak, chips & proper beer (Marstons Pedigree, Adnams Broadside etc.)
Film/Actor – Usual Suspects, Kevin Spacey
Music/Song – The Liberty of Norton Folgate, Madness / Now that's what I like, Chas 'n' Dave
Holiday Destination? Aqaba, Jordan
What other sports do you enjoy? Football & squash when given the chance.
What is your TT ambition? To see my daughters play better than I do
Last Updated: