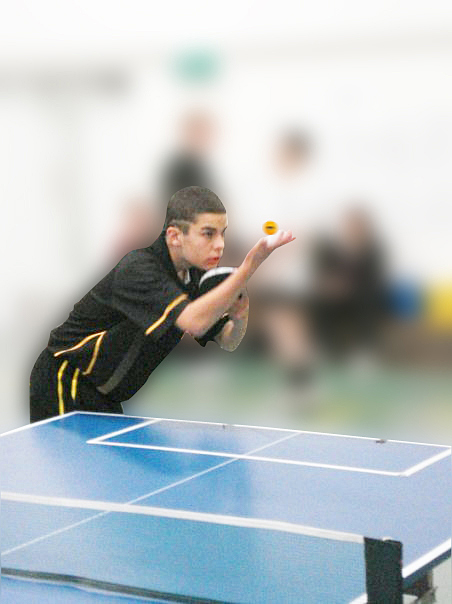 Lee Holtham - loves the buckets
D.O.B - 1993 (18)
Nick Names – Little Lee, Slapper, Leemo Burgess , can't remember the others, aha.
Style of play – Close to the table block and counter hit with occasional top spin loops, and my beasty backhand.
Blade – Old school TSP allround (nearly broken, Heaven help me when it does!!)
Rubber/s – Joola Express 1 2.0 / Tibar Nimbus sound 2.0
How old were you when you first played TT – 12? 14 when I took it seriously.
How did you start & where – Found my brothers bat in his wardrobe, thought I'd give it a try , Baverstock School previously Maypole School.
Who have been your coaches – Ron Anson/ Jim Ferguson got me to play at an okay standard, went to Colebridge, Neil Wheatley got me to a good standard, and Ian Ferguson.
Current coach – Myself and youtube ( a popular internet site for viewing video clips ) best way!!
Current clubs – Colebridge
Previous clubs – Baverstock
What is your greatest TT success.... Too hard to choose; one B'ham Schools winner 2006 with Stefan Brown and Ryan Percival, also winning the Steve Smith Cup with the same two players in 2007.
Recently, beating Matthew Outhwaite last year in Midland League 3-1 and Dominic Sussex in the Carter Cup, he was ranked 34 in England.
What is your greatest TT disappointment hmmm....... not sure, but travelling to Burton last summer to get knocked out in the groups did annoy me.
What players do you most admire ?
Locally - Jack Williamson, top player! (when he wants to be) can beat anyone when he puts his mind to it , e.g 2010 December beating Xio Yang in 5 (Warwick junior, ranked number 1) and Lewis Williams number 3 Junior in Wales , in the same day, when he had not trained in months.
Nationally - Liam Pitchford , time and effort everyday, and it has paid off.
Internationally - MICHAEL MAZE, he is just simply amazing; his serves and backhand rallies, and some of the balls he returns are just unreal! Must watch on youtube to see for yourself.
What is your favourite;
Food/Drink KFC LOVE the buckets I do!
Film/Actor – Adam Sandler
Music/Song – Skepta/ Rescue Me
Holiday Destination ? Turin/Milan, wish I could go back
What other sports do you enjoy ? fishing, pool, football, basketball, cricket , badminton, because that's what I'm also good at, aha.
What is your TT ambition ?
No point chasing it now, I should have done it sooner, but if I get to Bristol ( Bristol Table Tennis Academy ) this September... WHO KNOWS.....
Last Updated: