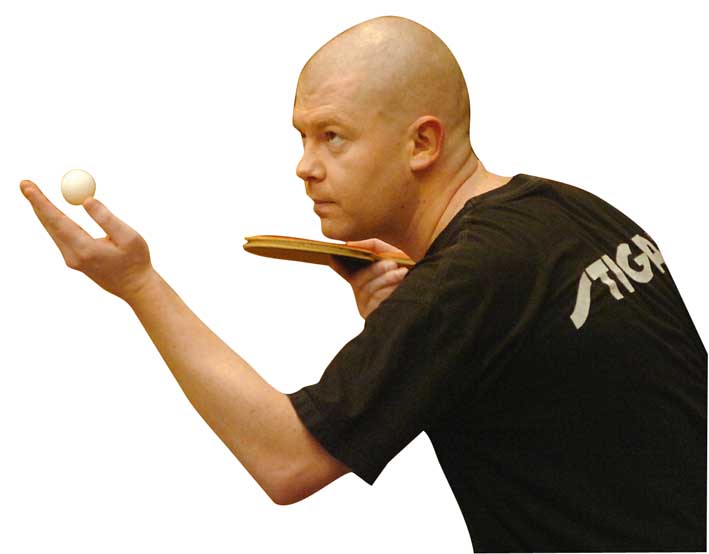 Name - Ian Ferguson
D.O.B - 1975
Nick Names - Fergie, Big Poppa Shango, Lord Vader, TB (if you ask me I'll tell you what that stands for!).
Style of play - Anything to get the job done! Generally attack and counter attack.
Blade - Donic Waldner Dicon (straight handle)
Rubber/s - Stiga Calibre LT (Red & Black)
How old were you when you first played TT - 11/12
How did you start & where - At school, gambling for my dinner money
Who have been your coaches - Adrian Kozlowski, Roy Prosser and Jim Peakman
Current coach - Don't really have one, but I would listen to Jim Peakman if I was ever playing and he was watching! He has the best TT brain I know along with a certain old school Colebridge member who I won't name as he will live off it for years (you know who you are!).
Current clubs - Colebridge (Birmingham Prem, Leamington 1), Draycott Elgre (British League Div 2)
Previous clubs - Holly Lodge, Curdworth (Birmingham), Kingshurst Bribar, Metropolitan Police, Uxbridge Burton (British League)
What is your greatest TT success - Not really sure. I'm proud to have won 7 Mens Warwickshire closed titles, reaching 10 finals in a row and 11 Birmingham Premier Individual titles in 11 seasons played but not sure what greatest success is. Possibly beating someone who in turn beat Jan Ove Waldner!!!! Alex Perry.
What is your greatest TT disappointment - Easy, not fulfilling my potential and taking my ability and the coaches who worked with me for granted!
What players do you most admire Locally - (the late Mark Read was ridiculously gifted) & Mike 'Chunky' 'Zed' Browne has done well to stay at the top for so long considering his diet and lifestyle!!!)

Nationally - struggling sorry, there are plenty of great players but the ones I admired are long gone (Neil Bevan is the greatest talent England arguably ever had post war and he just packed it all in one day!??!? Crazy! )
Internationally - There can be only one! Evergreen. Jan Ove Waldner - light years ahead of anyone before him or since. Handfuls of Chinese players, although out of the current crop of Chinese players, Ma Long is technically perfect which as a coach I admire and look at more these days, but I preferred Wanq Liqin and Ma Lin a few years previous. In my day, Ma Wenge was one of my favourites as he had some amazing matches against Waldner.
What is your favourite;
Food/Drink - Italian food, cider or Guinness
Film/Actor - Unforgiven, Gary Oldman
Music/Song - Hip Hop and 80's indie! Stone Roses, Beastie Boys, The Clash (too many to choose a winner!).
Holiday Destination - Dublin or Paris. I also love playing golf on the Costa Del Gangster! ( presumably this is somewhere on the Iberian peninsula - Ed. )
What other sports do you enjoy - Boxing, Tennis, Football, Snooker, Golf and Chess (if you can call it a sport)
What is your TT ambition - To maximise my coaching potential, unlike how I took my playing career for granted (you live and learn!!!). If I could pass on one small bit of advice for the kids at the club, it would be to enjoy it more and give 100% No such thing as failure if you give it your all. As my late father once told me; "It is better to regret something you have done, than something you haven't. Even better still, have no regrets at all."
Last Updated: