Knaves rich promise
COLEBRIDGE JAGUARS 5, IVY LEAF B 5 - report by Neil Wheatley.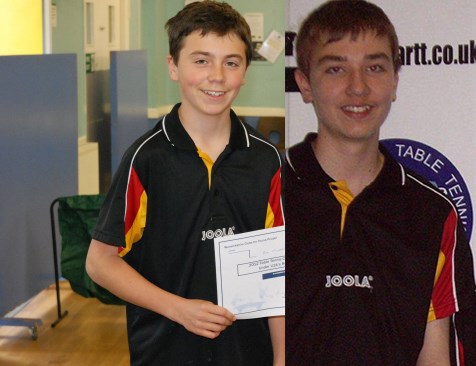 Ben Matthews ( left ) and Sam Minton.
It is rare to find all 3 members of a Colebridge league team making their debuts in the same match, but this happened last Thursday when the Jaguars team's Division 4 season got under way.
The team is skippered by Graham Rhodes, a former South Birmingham League player attempting to resurrect his career after many years absence. On this occasion his team mates were teenagers Ben Matthews and Sam Minton. Their opponents the gentleman from Ivy Leaf B
Nerves played a major part in all 3 opening matches. Sam was up first and narrowly lost the two opening games to the wily Alan Winspur, before finding his form to reel off a splendid 11-5 set followed by a 12-10 nail biter. Unfortunately a bit too much caution and some under hit drives cost him the decider.
Ben is nothing but consistent and this led to another 5 game match against hitter, Derek Palser, whose experience just about saw him home in the 11-8 decider.
A very nervous Graham struggled with his timing throughout the match. Having got off to a fairly good start by winning the opening game against Colin Benton 12-10, his form went rather pear shaped, leaving his opponent an easy winner. Match score 0-3
With their nervy openers behind them, the two boys settled down to play more constructive table tennis. It took Ben one game to get used to Winspur's steady pushing, before taking charge and recording an -9, 8, 6 and 3 win. A similar pattern was followed in the doubles,.this time -6, 5, 5, and 8. in favour of the two boys. Sam then levelled the scores, coming back from 1-2 down against Benton to win the last two games, 2 and 6.
No luck for Graham though with a 0-3 defeat by Palser, but Ben, now exuding confidence levelled the scores again with a 3-0 demolition of Benton.
Sadly, Jaguars' skipper lost the penultimate set 3-1, to complete a miserable night for him and leaving Sam to win the last one against the unbeaten Palser to secure a draw. A poor opening game, lost 5-11, did not augur well, but this made Sam realise that he had to go for his shots and he duly obliged, winning the next three games 8, 3 and 7.
Two sets each, plus the doubles, in their first senior match, represents a promising start by Ben and Sam, and surely it cannot be long before Graham gets back some of his old form? .
.
Author:
Mike Evetts
via Colebridge Table Tennis Club
Article Published:
Last Updated: