Eagles crow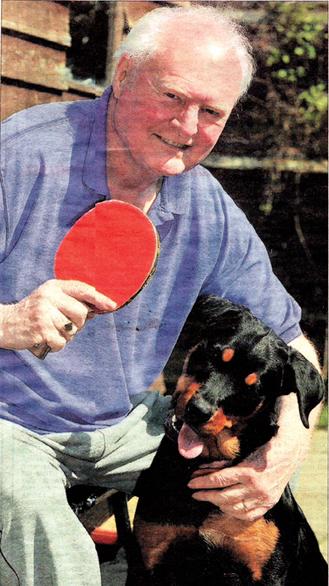 Bernard Oliver - pictured left.
Colebridge Eagles launched themselves into the white heat of the Division Two promotion furore with a resounding victory over club mates , and promotion rivals, Colebridge Dinosaurs on Monday evening.
Man of the match , the ageless Bernard Oliver, produced three wins , characterized by a powerful combination of penetrating serves and dynamic flat hitting , which proved too much for Dan Ranford , Brian Morris and Jim Connor.
Team mates Dean Hicks and Mike Evetts both contributed braces , and the Oliver/Hicks doubles pairing was a fruitful one.
Jim Connor was steadfast with wins over both Hicks and Evetts , but they were to be Dinosaurs only reward on an evening when they were to be on the wrong end of a 2-8 scoreline , their first defeat of the season.
Mrs Oliver produced tempting sweetmeats for refreshment , for which many thanks , and all at Colebridge would wish her well for her forthcoming operation , which takes place today ( January 9th ) .
Author:
TT365 System
via Colebridge Table Tennis Club
Article Published: